Valentine's Day Treats…
FEBRUARY 13TH, 2017
Happy Valentine's Day From Iain Burnett Highland Chocolatier – The Perfect Last Minute DIY Gift Idea!
We're all loved up with these adorable little biscuits, dipped in gourmet white chocolate and decorated with a sprinkling of dried raspberry. This quick and easy recipe for these scrummy little biscuits can be served as the sweetest of Valentine's Day desserts, something to accompany that cup of tea you take to your Valentine in the morning, or the perfect DIY Valentine's gift!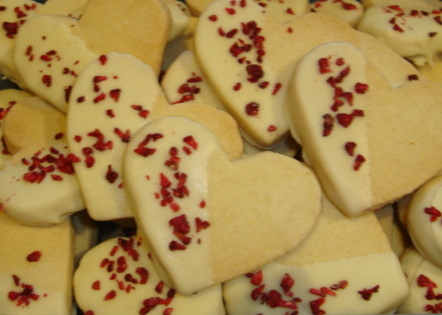 For this Recipe you will need:
125g unsalted butter, at room temperature, cut into small cubes
55g caster sugar, plus extra for sprinkling
1 tsp vanilla extract
180g plain flour
1 100g Bar of Blonde Chocolate
Dried raspberry or optional decoration to sprinkle
Heart shaped cutter
Method:
Mix together the butter and sugar, until pale and smooth. Add the vanilla extract, then mix in the sifted flour until completely incorporated. Form into a ball of dough.
Dust the surface with flour and roll the dough out to about 5mm . Cut into heart shapes and lay on a baking tray lined with baking parchment. Chill for 15 minutes to rest.
Pre-heat the oven to 160C and bake for 15-20 minutes. Watch carefully so that the edges do not colour.
Cool on a wire rack.
Meanwhile prepare a sheet of baking parchment and have the decorations to hand.
Break up the chocolate bar and melt in a bowl above a pan of boiling water.
Dip each heart approximately half way trying to keep a consistent angle. Before the chocolate is fully set sprinkle with dried raspberry or a decoration of your choice.
If raspberry isn't what you fancy, try sprinkling flakes of dark Belgian chocolate instead?
Now enjoy! Serve with a rich cup of Belgian Hot Chocolate, for the ultimate romantic indulgence!
Lots of Love this Valentine's Day – from Iain Burnett
xxx