The Perfect Blend of Chocolate Covered Fruit
JULY 13TH, 2016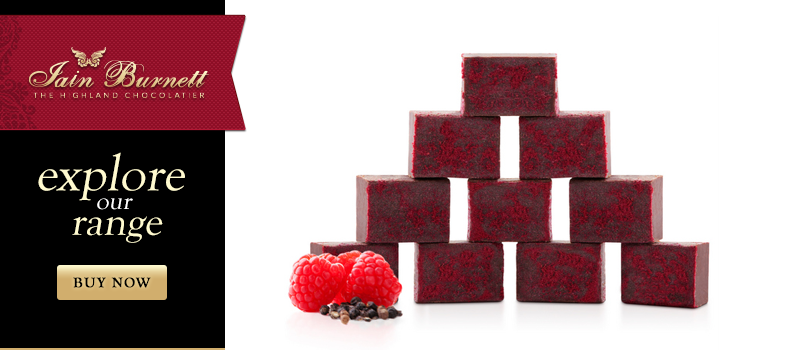 When our luxury Highland Chocolatier chocolate is mixed with fruit it creates the perfect combination. It is not only a popular dessert but the ultimate comfort food, and by mixing these two delicious ingredients together, a very special chocolate dish is created. At Iain Burnett's Highland chocolatier, we use only the finest chocolate and fruits that are a match made in heaven, when paired right.
Dipped Fruit and Special Chocolate
The characteristics and flavour notes of milk, dark and white chocolate bond with a variety of fruits. At Highland Chocolatier our experts have created pairings which are perfect for summer picnics or dinner party desserts.
The rich taste of white chocolate is both sweet and creamy, therefore it makes the perfect addition to a tangy citrus dish. One of our favourites at Highland Chocolatier is our Lemons Slices Dipped in White Chocolate. These candied slithers of real lemon are hand-dipped in smooth white chocolate and are presented in a single layer in a luxurious gold embossed round red box. This elegant chocolate box would make the perfect addition to any special occasion.
Dark chocolate and orange is a real chocolate connoisseur's favourite. The taste of dark chocolate is powerful therefore it is neutralized by sweeter fruits. At Highland Chocolatier we love the strong taste of rich dark chocolate. We only use juicy, real orange which are exquisitely candied over days and then dipped and dressed in São Tomé 70% dark chocolate. Orange chocolate is a family favourite over the festive period and would make a wonderful Christmas food gift for those who love the combination of fruit and chocolate.
Chocolate Fruit Dipping Tips
Would you like to create your own milk chocolate dipped fruit? Getting the timing just right on melted chocolate can be tricky! Here is our secret for getting melted chocolate and fruit just right. When choosing a fruit which will complement our Highland Chocolatier milk chocolate, here is a list of our most recommended fruits: peach, strawberries, banana and pineapple.
To create the smoothest mixture, use the Milk Chocolate Fondue Buttons 700g (£9.95) which have caramel notes that enhance the sweet fruit flavours to a new level. Simply, melt the chocolate in the bowl, and whisk until it is even. It is important to immediately remove the pan from the heat as soon as the chocolate has melted.
When dipping, tilt the bowl and dip each piece into the chocolate and cover about two-thirds of the fruit. Try to turn the fruit which will give it an even coat and then lift it out of the chocolate, gently shake off any excess.
When setting your chocolate covered fruit carefully lay the fruit on waxed paper and let the pieces stand at room temperature for 15 minutes. If necessary, refrigerate until the chocolate is set.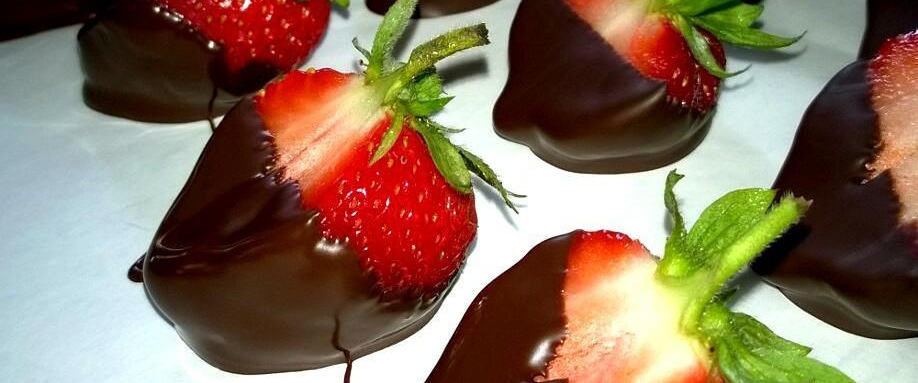 Fruit and Chocolate Hampers
At Highland Chocolatier we have a selection of the finest fruit and chocolate hampers. For the ultimate indulgence for a special occasion or Christmas chocolate treat, we recommend the masterpiece, Opulence Chocolate Hamper.
This special collection of chocolate encompasses an enticing selection of artisan chocolate delicacies and even features the piece de resistance, forty-eight Award Winning handmade chocolates made with São Tomé cocoa and fresh Perthshire cream and containing no preservatives or additives. The ideal chocolate gift for a chocolate connoisseur or for the family to share.
The Chocolatier's Selection – Box of 48 Chocolates (487g)
1 Decorative Tin of Luxury Nougat (170g)
1 Decorative Tin of Dark Hot Chocolate Flakes (200g)
1 pack juicy cherries dipped in 70% Dark São Tomé chocolate (100g)
1 Pack of Brazil nuts rolled in Milk and 70% Dark Chocolate (115g)
1 Cranberry & Apricot Milk Chocolate Bar (100g)
1 Almond & Pistachio 70% Dark São Tomé Bar (100g)
1 Iain Burnett Highland Chocolatier serving plate.
Hamper measures approximately 35cm across.
You are spoiled for choice when it comes to fruit and chocolate with this delicious chocolate hamper. If you have any special instructions or preferences, please enter them at checkout as "Special Product Requests" and we will substitute an equivalent to suit your needs. The full range can be seen by visiting our Gourmet Shop.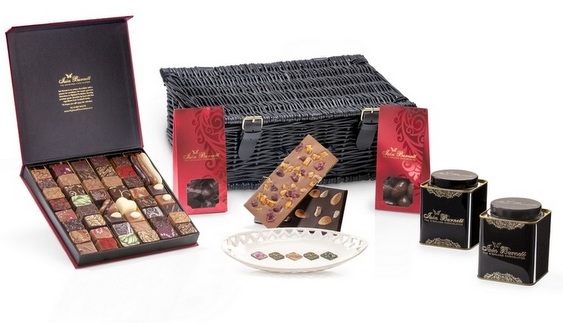 Chocolate Covered Fruit UK
All of our milk and dark chocolate covered fruit and fruity chocolate truffles are made in Scotland. We have spent time testing combinations of chocolate and fruit to get it just right for our customers. If you enjoy the rich taste of fruit infused chocolate, we will have something just right for you. If you have any questions feel free to call our chocolatier and we can advise you on all of our fruit and chocolatier gifts.