The Most Romantic Valentine's Day Presents
JANUARY 8TH, 2016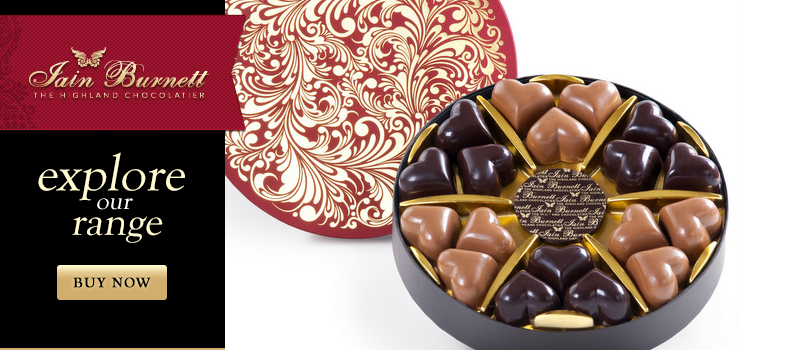 Many people struggle with finding romantic Valentine's Day Presents for their loved ones and end up wasting a lot of time and efforts into their search. That is why the Highland Chocolatier decided to help all those desperate romantics who want to give the perfect gift but just do not know what to choose. The answer is simple – Valentine's Day Chocolate expertly made by the Highland Chocolatier Iain Burnett. We have created an amazing selection of gifts ideal for anniversaries, special celebrations, random romantic gestures and of course everyone's favourite St. Valentine's Day.
Woo Her with Salted Caramel Hearts
If you want to seduce your favourite person with a special Valentine's Day chocolate gift then the Highland Chocolatier's Dark and Milk Salted Caramel Hearts are ideal for you. This luxury chocolate gift contains a selection of caramel filled hearts. The Sea Salt crystals added to the caramel perfectly match with the intriguing flavour and texture of the 70% Dark São Tomé Chocolate and the Milk Chocolate. These amazing valentines chocolates are beautifully arranged and presented in a red and gold round box with a disk of 70% Dark São Tomé Chocolate at the centre.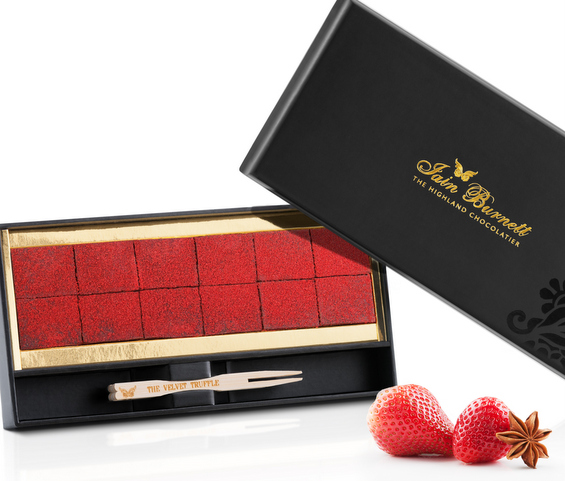 The Gentle Touch of Velvet Truffles
The Velvet Truffle Strawberry and Star Anise are a Valentine's Day Chocolate classic. These expertly made award-winning truffle has the exquisite structure of pure ganache infused with sweet star anise and crushed strawberries. The Highland Chocolatier Iain Burnett has balanced the single-origin chocolate with the natural fruits, leaving out alcohol, additives and artificial flavours. These Valentine's Day chocolates are presented in a box with eye-catching, hand-tied ribbon and sealed in a foil gold box. The packaging is designed to keep the natural cream truffles fresh until you serve them to your loved one.
Award-winning Luxury Chocolates Just For Her
If the woman in your life is a true chocolate lover then our Award Winners Selection – Box of 20 Chocolates is the ideal gift for her. This extremely popular gift contains a selection of Highland Chocolatier's award-winning gourmet chocolates. This box contains all our favourite luxury chocolates – the Dark Velvet Truffle, Milk Velvet Truffle, Lime Truffle, Raspberry Truffle, Chai Truffle & Rose Truffle. This selection makes for an unforgettable St. Valentine's chocolate surprise.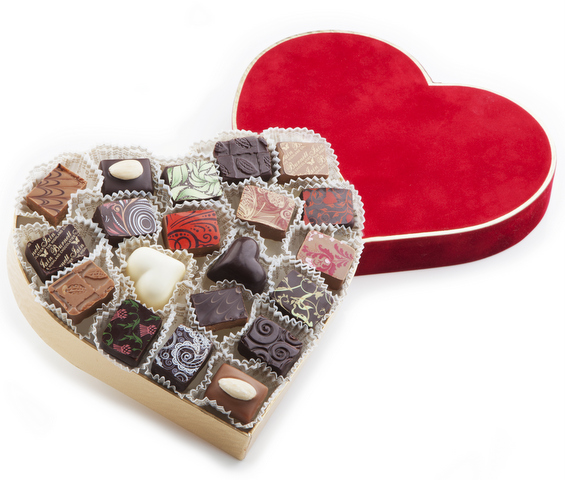 This Valentine's Day Give Her Your Heart
The best Valentine's Day gift you can make to a woman is to tell her you love her. But you should remember that no woman would refuse a box of luxury chocolates. That is why the Highland Chocolatier created the most Romantic Selection – 39 Chocolates in a Heart Shaped Box. This ultimate romantic gift contains 39 beautiful gourmet chocolates presented in a gorgeous red velvet and gold heart shaped box. Because we know that personalised chocolates make the best Valentine's Day presents we give you the opportunity to indicate your preferences at checkout. You can select from Just Milk, Just Dark, Enrobed Truffles or Hazelnut Praline Selection.
Personalised Chocolates from Highland Chocolatier
If you are looking for the perfect Valentine's Day presents then you should take a look at the Highland Chocolatier's Romantic Gifts. Our selected products are ideal for any romantic occasion and make for an unforgettable present. We also offer you the opportunity to get personalised chocolates. Select the product you are interested in and let us know what special preferences you have at checkout. We will make sure that your personalised chocolates gift is exactly what you want. If you have any questions contact us.