The Highland Chocolatier's Luxury Chocolates are perfect for Wedding Season
JULY 8TH, 2016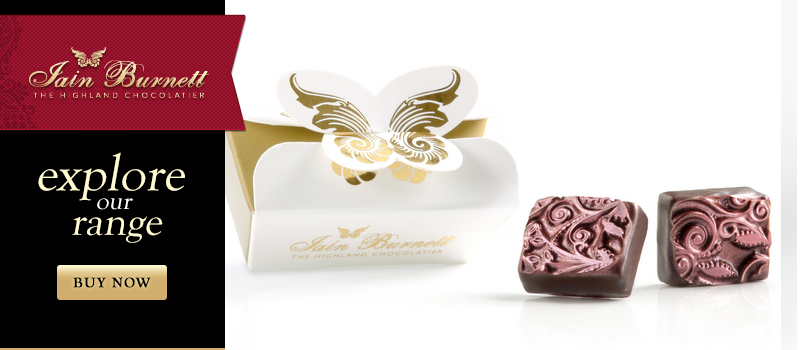 Summer is upon us and that means one thing: wedding season. Thanks to the gorgeous weather and long holidays, this time of year has proven popular for years as the ideal time to get hitched. With so much to plan the Highland Chocolatier knew we could use our expertise to lend a helping hand and create luxury chocolate wedding favours to wow your guests.
Wedding favours have become an automatic "must" for couples to add to their to do list. In fact, sourcing the perfect minder to thank your guests for attending is steeped in history. The tradition can be dated back to the 16th Century when the French aristocracy would gift their wedding guests with jewel encrusted boxes which encased sugared almonds. This wasn't just a chance to show off their riches, but from the belief that sugar is life-giving. The bitter-sweetness of these treats was meant to symbolise the bitter-sweetness of the wedding day. As one family member leaves their home to join another, even today, weddings are still full of smiling tears.
This symbolism resonated with the master chefs at the Highland Chocolatier who specialise in crafting delicacies using our signature 70% dark cocoa; the bitterness of our chocolate is paired perfectly with sweet flavours . We knew we could create delighting flavours perfect for any big day.
When looking for luxury chocolate wedding favours we know couples are looking for small gifts that will thrill their guests. What could be better than edible favours? Anything else will typically be left behind, unappreciated, but we're confident that these divine flavours will be enjoyed before the first course!
Butterfly Box
These individual gift boxes will grace any table. The white box echoes the wedding theme and will compliment any colour scheme. They are decorated tastefully with gold accents and a 3D butterfly clasp which secures the chocolates beneath. With one of these stunning boxes places at each table your wedding venue will be brought to life thanks to the glimmering gold boxes which catch the light perfectly.
These can be used as individual favours for each guest, or as a special thank you to your bridal party for all their hard work. What's more, all our chocolates are alcohol free and suitable for vegetarians -Ideal for large parties.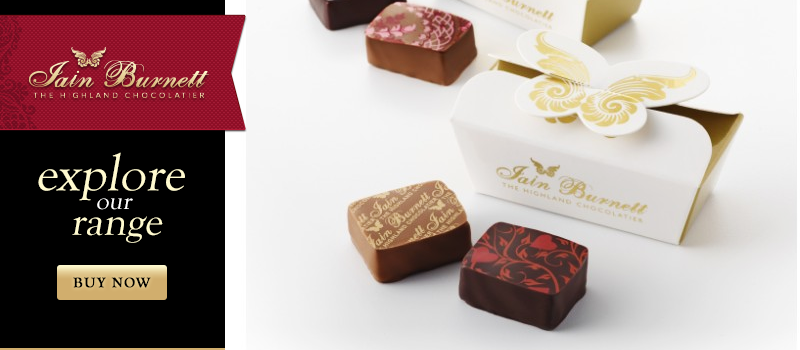 We know flavours are the most exciting part of biting into a chocolate so each butterfly box is completely customisable. Browse the gourmet chocolate selection and indicate your preference at the check-out. We guarantee there are no preservatives used in any of our chocolates and you and your guests will enjoy the complete luxury chocolate experience, unparalleled to typical confectionery.
What flavours can I choose?
We offer a spectacular range of classic and unique flavours to dazzle your guests;
Dark Velvet Truffle – Palet d'Or fresh cream truffle of intense São Tomé flavours
Raspberry Truffle – Crushed fruit ganache with a hint of black pepper
Orange Truffle – Dark chocolate ganache of orange and clove
Lime Truffle – Tangy limes crushed over white chocolate with a hint of chilli
Dark Praline – Smooth gianduja of pure hazelnut praline and chocolate
7 Lemongrass Praline- With a hint of lime for a surprisingly citrus experience
Orange Crunch Praline – Sorrento orange, chocolate and hazelnut with roast wheat flakes
Selection of 6 Filled Hearts – Lovingly made in 3 Flavours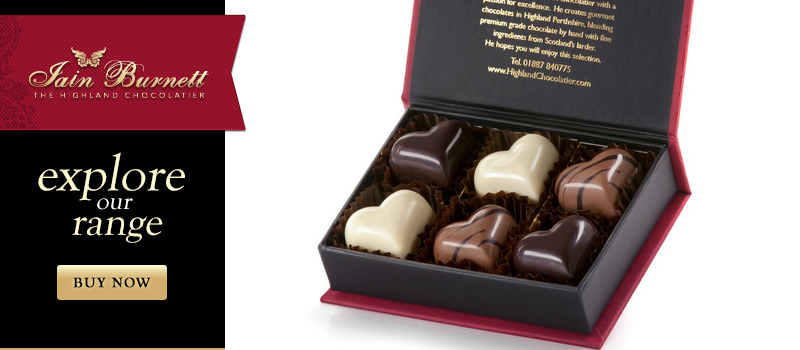 Of course, wedding favours are not just strictly for your guests, so we've crafted some exquisite love tokens you can offer to your friends and family as a thank you for all their help with planning your big day. We wanted to mirror the romance themes of the day and lovingly created our filled caramel hearts.
Caramel Heart Flavours
Hearts of Gold – This handmade chocolate has been crafted used our signature caramel noted milk chocolate that , made with fresh cream from a specially selected herd of Perthshire cows. When you bite into the hard shell you're met with a melting centre, oozing with luxury caramel.
Pure White Velvet Heart – Our blonde chocolate is a firm favourite with our customers and compliments the dark chocolate in the box beautifully creating a stunning presentation. Inside there's a creamy ganache centre, guaranteed to bring delight to all those who are lucky enough to receive this box as a gift.
Dark São Tomé – The Highland Chocolatier are famous for their single origin Dark São Tomé, and our luxury chocolate boxes would not be complete with one of our dark chocolate creations. The bitter-sweetness of weddings are matches perfectly with this creation. Inside the dark chocolate shell is a melting caramel centre with a pinch of sea salt crystals which an intriguing flavours and texture.
The Highland Chocolatier & your Wedding
Contact us today so discuss any requirements you may have, we love hearing from our customers and do all we can to accommodate your specific needs. Each of our chocolate boxes are customisable to ensure each of your guests is delighted by the sweet treats inside their favour box.