The Connection Between Luxury Chocolate and Happiness
JUNE 29TH, 2016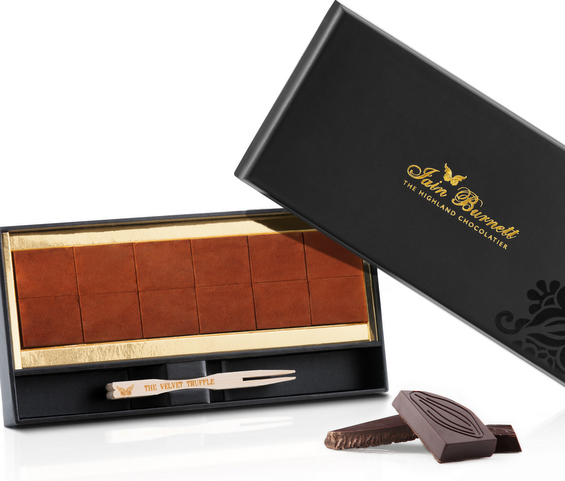 At Iain Burnett Highland Chocolatier we create luxury chocolate using only the finest ingredients. Each special box of chocolates is made in the heart of Scotland and is designed to give each of our customers a chocolate experience they will love.
Chocolatiers have often said that by eating chocolate we can boost our happiness. As pioneers of innovative chocolate tastes we have decided that it is time to explore one of the claims behind chocolate creation.
Dark Chocolate Can Boost Happiness
Often too much of our favourite things can be bad for us, however it is recommended to enjoy a small amount of dark chocolate every day. Dark chocolate has the ability to make us feel happier as it can boost the production of "feel-good" chemicals called endorphins.
These Endorphins connect with brain receptors which create the feeling of euphoria, similar to the ones created by exercise. Endorphins also have the ability to reduce pain and diminish the negative effects of stress. Dark chocolate also contains a compound called 'phenylethylamine' which has often been referred to as the "love drug" because it creates a brain buzz similar to being in love.
To get the best effects of dark chocolate it is recommended to eat a chocolate bar which has a cocoa percentage of 60-70%. Our award-winning, Intense São Tomé dark chocolate, satisfies with its notes of spice and cocoa. The rich taste of cocoa is naturally balanced to create a flavour combination of sheer perfection.
Iain adds São Tomé cocoa to fresh Scottish cream to create delicious luxurious chocolates with no alcohol or artificial flavours or additives – making his beautiful boxes the perfect gift to make someone in your life that little bit happier no matter what the circumstances!
We offer a selection of luxury chocolate with individual chocolates and bars that are perfect for gift giving. Our naked truffles are carefully hand-tied with ribbon and sealed in a foil gold bag, ready to give as the perfect confectionery present.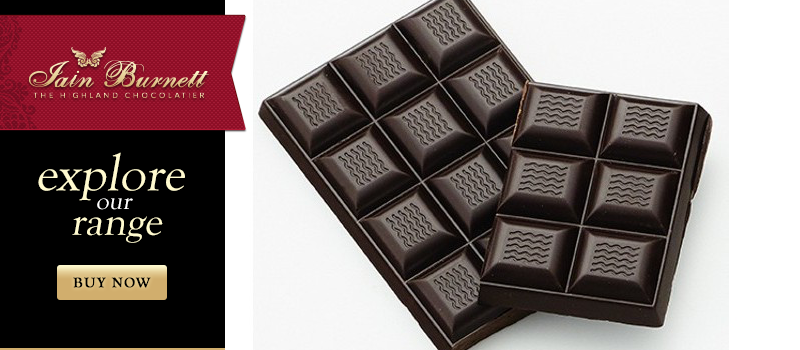 Celebrating with Chocolate
We associate chocolate with happy times and festive holidays such as Christmas and Easter. In the UK we love giving chocolate to our loved ones at these times – Easter chocolate sales account for 10% of Britain's annual spending on chocolate with 80 million eggs sold and eaten.
This goes back through history when chocolate was a popular choice for celebration. In the past Mayans would share cocoa with their guest during baptisms and marriage ceremonies. If you enjoy the rich taste of luxury chocolate, why not choose a Highland Chocolatier wedding favour for your guests.
Today favours are a personal detail which should both look and taste great. Our delicate white and gold embossed butterfly box is perfect for a traditional touch to your big day – guaranteed to impress your guests.
Friends and family can take a piece of your happy day home with them. Each butterfly box holds two of our famous Iain Burnett chocolates or pralines of your choice. Chocolates can be selected from our gourmet chocolate selection. Here at the Highland Chocolatier we create chocolates for favours such as:
Dark Velvet Truffle – Palet d'Or fresh cream truffle of intense São Tomé flavours
Mocha Truffle – Milk chocolate, fresh Scottish cream and a shot of espresso
Milk Velvet Truffle – Famous silky truffle of fresh Scottish cream and rich chocolate
Dark Praline – Smooth gianduja of pure hazelnut praline and chocolate
Cocoa Nib Praline -Crunchy nibs in a rough hazelnut praline on a layer of marzipan.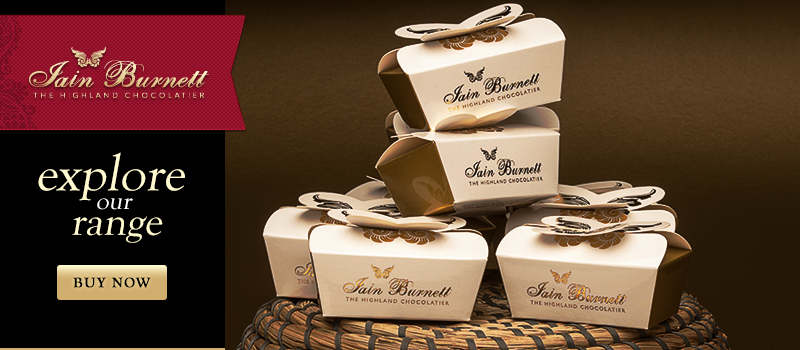 The Benefits of Eating Dark Chocolate
Not only does dark chocolate make us feel happier but it improves blood flow to the brain. The compounds which make up dark chocolate boost memory, attention span, reaction time, and problem-solving skills by increasing blood flow to the brain. At Highland Chocolatier we have a range of chocolate products packed with rich cocoa goodness.
Our 100% cocoa bars, contain no sugar, but are tempered until they are beautifully smooth. Cocoa makes a wonderful addition to savoury and sweet sauces, and can be used for baking and all kinds of desserts. This makes a great gift for a friend who may desire a vegan, dairy or nut free recipe.
Looking to try a piece of our delicious dark chocolate but don't know where to begin? Why not try one of our dark chocolate bars? These UK Freepost luxury chocolate items are made with single origin 70% dark chocolate and are available enhanced with a scattering of crunchy peppermint crystals, dried raspberry or pistachio and almond whole nuts.
Luxury Chocolate At Highland Chocolatier
For hundreds of years Chocolatiers all over the world have been creating chocolate to be given as gifts or to be eaten in times of celebration. At Highland Chocolatier we create the finest, purest, Scottish chocolate which can be enjoyed any time of year. Whether you are looking for the perfect Easter, wedding or chocolate Christmas gift, we hope to put a smile on all of our customer's faces after they try one of our unique luxury chocolate products.