Tea and Chocolate – The Ultimate Comfort Food
MAY 5TH, 2016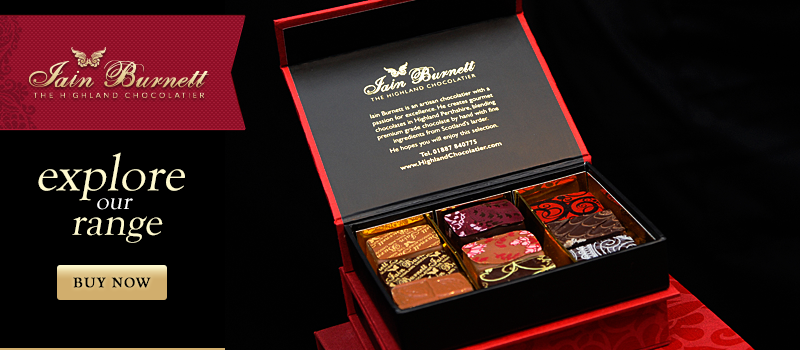 "Tea" – Just the word alone sends shivers down Brit's spines! Tea defines the way we socialise, relax and is embedded in the history of the UK, we are in love with the stuff! We Brits each drink 3 ½ cups of tea a day, with over 25% of the milk we use going into our humble cups. Here at the Highland Chocolatier we know the only thing our customers love more than tea, is chocolate. So what could be more divine than our expertly crafted chocolates painstakingly paired with our favourite tea flavours from the Wee Tea Company?
Breakfast Tea Pairings
Waking up in the morning is a task many of us dread, blinking into the sun we stagger into the kitchen feeling for the kettle. With every second we wake up slightly more, but as we all know we won't truly be awake until we've had our first sip of the all-important cup of tea. Now picture this, rather than staggering towards the kitchen, you skip, you hop, you might even jump! Why? Because in your kitchen, nestled near the teabags you have an exquisite chocolate created specifically for you to enjoy with your tea. If that doesn't wake you up in the morning I don't know what will!
When sipping on your morning cup of Assam & Ceylon tea by the Wee Tea Company enjoy one of our award winning mild velvet truffles, the bitterness of the cocoa is balanced beautifully with the hand chosen fresh Scottish cream used in each of our hand crafted luxury truffles. This delighting chocolate took over three years to perfect and uses single origin cocoa from the volcanic island of São Tomé.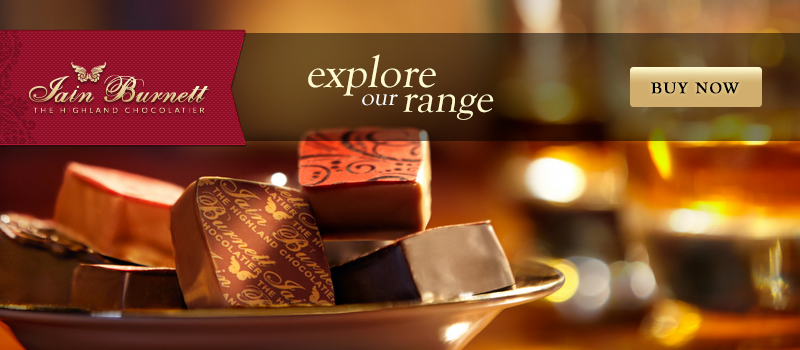 Earl Grey and Lemongrass
We Brits love Earl Grey, and though it doesn't have as much as a kick as coffee, it still packs an energy boosting punch. It's full of bergamot which has been used for years to de-stress ad we couldn't agree more, what is more calming than a nice cup of tea? A nice cup of tea paired with a hand crafted chocolate perhaps? Earl Grey is known for its light floral nature, so we paired it with lemongrass to accentuate this lightness. Lime notes compliments the bergamot and the whole experiences is finalised with a crisp layer of signature 70% single origin chocolate. We can definitely see how this would relax anyone lucky enough to enjoy this gourmet chocolate combination.
Green Mint Tea and Garden Mint Velvet Truffle
Chinese green tea has long been known for its ability to aid digestion and help detox, and with all these health benefits its only right to treat yourself to a luxury chocolate at the same time, life is all about balance after all. Sinking your teeth into this exquisite ganache envelopes your mouth instantly in sweet garden mint and dark chocolate flavours. Your palate is perfectly prepared for the stronger flavour of a menthol tea. Each sip of the bitter green and sweet mint tea is mirrored with the bitter and sweet taste of the velvet truffle. This refreshing treat is perfect after dinner.
Sweet and Spicy Velvet Truffle
When looking for something to warm your core on cold British nights, look no further than the pairing of ginger chai tea and truffles. The aromatic blend creates a fiery, sweet drink based on the traditional Indian Masala Chai flavours. Iain Burnett expertly matched his very own truffle combination with these chai notes in his specially created ganache, infused with Assam tea, ginger, cinnamon and cardamom. This creamy, warming flavour compliments the heat and fire of the tea expertly. This makes the perfect gift as the recipe is alcohol, nut and gluten free. Anyone who loves the warming taste of chai tea will be thrilled to receive such a chocolate selection.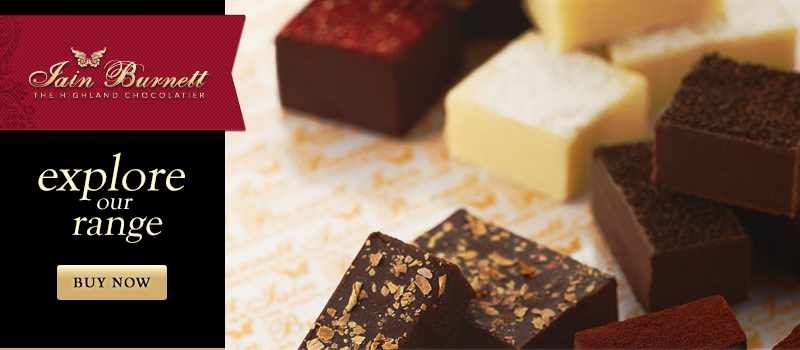 Darjeeling Tea and Rose Truffles
Darjeeling tea is a firm favourite in Britain, not to mention the rose of which, of course, is the English national flower, making this pairing truly perfect. The earthy, nutty taste when drinking this tea provides instant relaxation, and the floral notes of rose create a heady aroma that transports you to heaven while you sip. The chocolatiers who hand craft the truffles here at Ian Burnett's Highland Chocolatier have enrobed this dark floral ganache in their signature 70% dark chocolate to create a divine melting experience to be enjoyed with the floral bouquet of a Darjeeling tea.
Chocolate Orange Green Tea Paired with Orange and Clove Truffle
Chocolate and orange is a flavour pairing matched in heaven, and for those who love these combinations with the familiarity of green tea, then this combination is for you. A truly unique blend and flavour experience has been complimented by the expert chefs at the Highland Chocolatier, we added the subtle taste of clove to this already delightful combination to give another subtle flavour layer. This combination is perfect for those who love to experience new flavours and expand their chocolate horizons.
No matter the flavour combination you choose, we can't hide from the fact Britain is a nation of tea lovers, we hope these exotic flavour pairings tantalise our taste buds of you and your loved ones. Whether as an indulgent treat for yourself, or a chocolate by post gift for someone far off and missing the comforts of home, we know there is a pairing here to satisfy each and every tea lover. For advice on chocolate flavour pairings contact us today.