Tantalising Sweet Treats Perfect for Entertaining Guests.
APRIL 1ST, 2016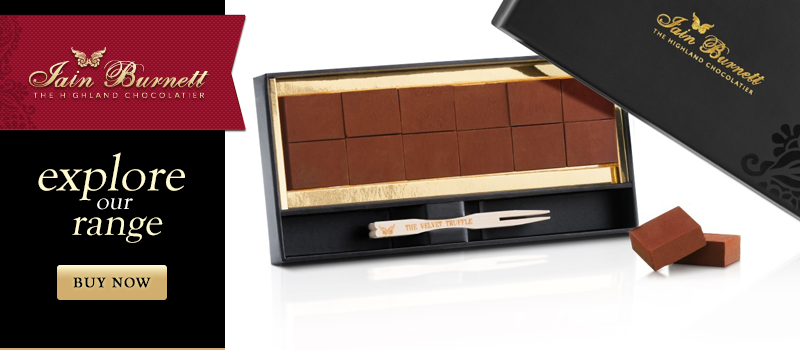 When having friends or family over for a meal, impressing your guests is something all hosts aim for, often with dessert being the highlight of the evening. Waiting with eyes glistening and mouths watering as the grand finale is paraded into the room with pride, regardless of how full you and your guests are, there always seems to be room for a mouthful of something sweet.
Whether enjoyed formally round a table in the dining room or shared round casually with loved ones in a comfortable sitting room after the meal is over at Iain Burnett Highland Chocolatier's we have just the right selection of tantalising gourmet chocolate treats as a perfect after dinner accompaniment. All our luxurious chocolates are alcohol-free and vegetarian allowing them to be shared gladly with all your guests.
Praline Selection
Our signature praline chocolates recipe has been fine-tuned over the years to bring maximum pleasure when eaten. The soft creamy texture melts away into pure bliss. Our sharing boxes are guaranteed t o thrill at any dinner party as they are passed around, each guest selecting their ultimate flavour combination. Our exquisite hazelnut pralines are coated in single origin 70% dark chocolate with subtle caramel notes to entice any taste buds.
Why not try a sharing box of 20, 30 or 40? Our completely natural and preservative free flavours include interesting additions designed to dazzle your guest such as lemongrass which offers a fresh citrus burst, it's flavour paired perfectly with the silky smooth texture of the praline. Designed to be enjoyed with Macallan Amber, Bunnahabhain 12 Year Old, Glenkinchie 12 Year Old and Caol Ila Moch whiskies. What could be more delightful as an after-dinner indulgence than this?
For those who enjoy the warming spiced flavour of cinnamon, a unique rich flavour is balanced expertly by our in-house specialist chocolatiers with our cinnamon praline with a hint of clove. This warming gluten free recipe has been chosen to be paired with Glenfiddich 18 Year Old, Lagavulin 16 Year Old, Tobermory 15 Year Old, Benromach Peat Smoke and Mortlach Exclusive whiskies.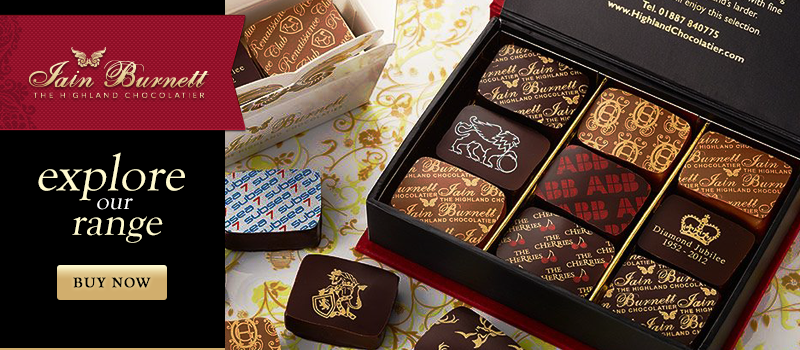 Your guest may prefer a more traditional flavour, and for this, we recommend not only our signature hazelnut praline, but also the cocoa nib praline. This delicate flavour provides a unique texture for those who enjoy a subtle crunch and the marzipan layer compliments the bittersweet notes beautifully.
All Iain Burnett Highland Chocolatier pralines come in beautiful presentation boxes in luxurious red and gold shades, finished with a secure magnetic fastening.
Award Winning Truffles
Pure naked truffles were once only available to Michelin Star chefs, but now these can be shared by our customers proudly as a final flourish at any dinner party or event. Iain Burnett Highland Chocolatier's signature Velvet Truffle Classic was the winner of Gold against tens of thousands of chocolates from all the world in the International Chocolate Awards 2015 "best dark chocolate" category. These truly exquisite truffles come sealed in a foil gold bag with an oxygen-absorbing bag to preserve our delicate creations and keep them free from artificial preservatives, every delightful box is finished with an expertly hand-tied ribbon.
Your guest may wonder why they're called "naked truffles" with the perfect balance of flavour handcrafted by our chocolatiers we had no need to cover them in anything, leaving the delectable ganache the star of the show. Each box of truffles comes with a special truffle fork with which to serve them, ideally on a cool porcelain plate.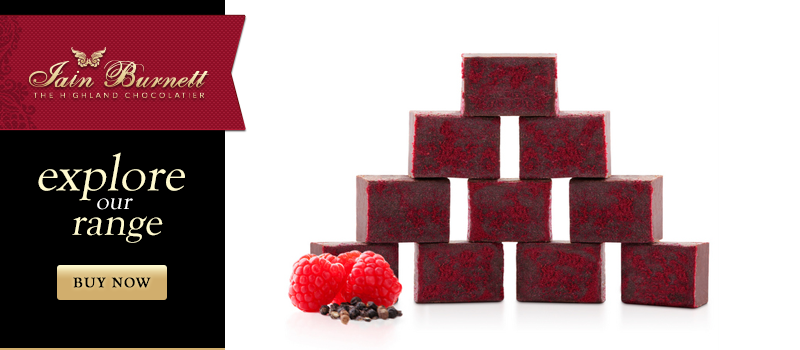 Why not tantalise your guest with a speciality flavour of award winning truffle? Our Velvet truffle with passion fruit and a touch of mango was awarded silver in the 2015 International Chocolate awards. This refreshing flavour is a blend of crushed passion fruit, real mango combined in a silky cream ganache. This flavour combination is perfect for those who enjoy the sharp zing of citrus.
For those guests who love nothing more than to try new and unique flavours, our raspberry and black pepper velvet truffle is the ideal after dinner treat. Once again an award winning combination at the 2015 International Chocolate awards the crushed raspberries are infused with black pepper to create an expertly balanced flavour combination like no other.
Turkish Delight
What could be more enticing than the prospect of your favourite flavours enrobed in silky luxury chocolate? Your guests will be transported back to their childhood sweet shop memories when offered one of these generous fragrant pieces.
Though this is not the usual Turkish delight of your childhood, here at Ian Burnett Highland Chocolatier the rose and lemon hinted treats are encased in either our signature São Tomé a single origin 70% dark chocolate or an expert blend of caramel noted milk chocolate.
Our Turkish delight chocolates come in a beautiful decorate tin, that is bound to fill your guest with pleasure as they dip their hand in and taste the exotic aromatic notes.
When next entertaining, and in need of a show-stopping dessert or after dinner accompaniment look no further than Iain Bennet Highland Chocolatier. Our award winning naked truffles to exquisite special chocolate covered treats we have something to satisfy every taste your guests may have.