Spectacular Easter collection produced by Iain Burnett the Highland Chocolatier
MARCH 1ST, 2016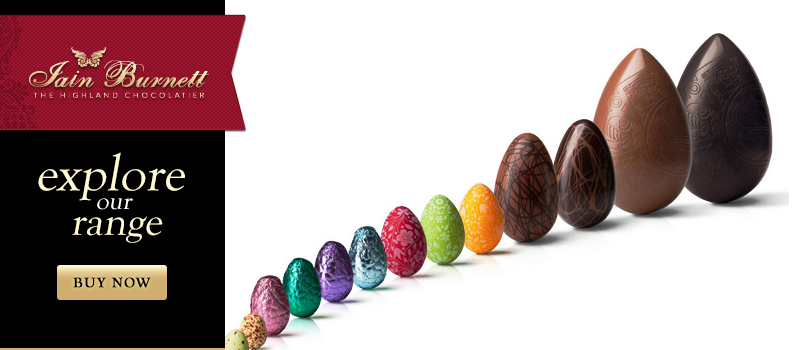 Awarded gold in the World Chocolate Awards in 2015, Iain Burnett the Highland Chocolatier is launching its annual collection for Easter with a handmade range that includes single origin dark chocolate, ornate miniature eggs and caramel-toned milk chocolate.
Chocolate lovers can choose from little gems like chocolate chicks on a bed of eggs for children, to sophisticated Chinese ginger and dark São Tomé (single origin) chocolate eggs. Alongside the range of moulded Easter eggs, Iain Burnett has created boxes and bags of miniature eggs in crisp shells or filled with praline.
The Easter collection comprises a choice of seven large moulded eggs alongside miniature eggs and chocolate chicks including:
Ornate chocolate eggshells and Belgian praline eggs: 40 colourfully decorated white chocolate eggshells and foil wrapped milk, dark and white chocolate Belgian praline eggs in an elegant white and gold presentation box.
Praline eggs and mini crisp shell eggs: a bag of three foil-wrapped Belgian praline eggs with milk chocolate mini eggs encased in a crisp shell.
Milk chocolate drizzle egg: hand-moulded in caramel-toned milk chocolate and decorated with a drizzle of dark chocolate.
Salted toffee milk chocolate egg: a caramel-noted milk chocolate egg dressed with sea-salted toffee.
Raspberry dark chocolate egg: handmade using Iain Burnett Highland Chocolatier single-origin São Tomé 70% dark chocolate and decorated with crushed raspberries.
Luxury Chinese Ginger Dark Chocolate egg: handmade in Iain Burnett Highland Chocolatier single-origin São Tomé 70% dark chocolate and encrusted with pieces of Chinese ginger. It is presented with 6 Belgian praline eggs.
Striped Dark Chocolate Egg: handmade with Iain Burnett Highland Chocolatier single-origin São Tomé 70% dark chocolate and emblazoned with generous splashes of milk chocolate. The egg is presented with six milk, dark and white foil-covered Belgian praline eggs.
Milk Chocolate Chick on Mini Egg Nest: A cute, caramel-noted milk chocolate Easter chick dusted in pink and perched on a nest of milk chocolate mini eggs with a crisp shell.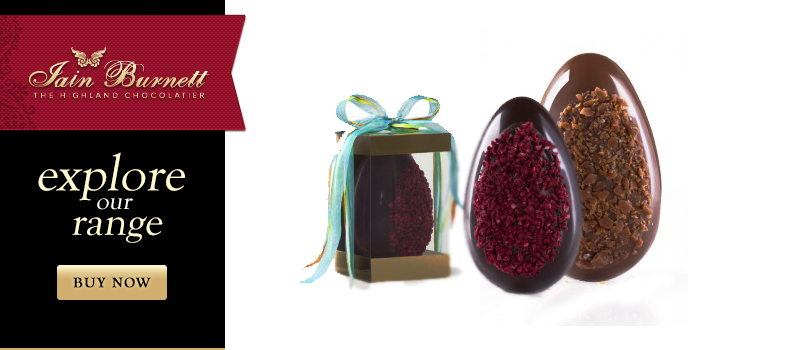 Prices range from £4.25 to £37.95. Everything in the Easter collection can be delivered nationwide and internationally along with a personal message handwritten on a special gift card. The UK Next Day delivery rate is £5.95.
Iain Burnett The Highland Chocolatier sources chocolate from the small African country, São Tomé and Príncipe and use local ingredients including cream from a single herd of Perthshire cattle, Scottish butter and local honey.
Based at Grandtully in Highlands Perthshire, Iain Burnett The Highland Chocolatier was founded in 2006 and is now Scotland's most awarded chocolatier. In 2015 it won worldwide acclaim at the International Chocolate Awards with its Velvet Truffle marked as The World's Best Dark Chocolate Truffle. It also won two further silvers for the Passion Fruit & Mango White Velvet Truffle and the Raspberry & Black Pepper Velvet Truffle. The awards recognise the finest quality chocolate from around the world and reflect international tastes, offering a level playing field for chocolatiers worldwide.
Iain Burnett The Highland Chocolatier is part of The Scottish Chocolate Centre, which runs gourmet chocolate tasting tours. The business is twinned with Legends of Grandtully, a destination for locals and tourists who come to enjoy their coffee house, gift showrooms and gourmet chocolate shop. The second Highland Chocolatier shop runs Tasting Evenings in St Andrews (Fife).
To book tours at the Scottish Chocolate Centre or buy chocolates, visit www.highlandchocolatier.com or call 01887 840775.