Specialist Selection of Decorative Tins
MAY 27TH, 2016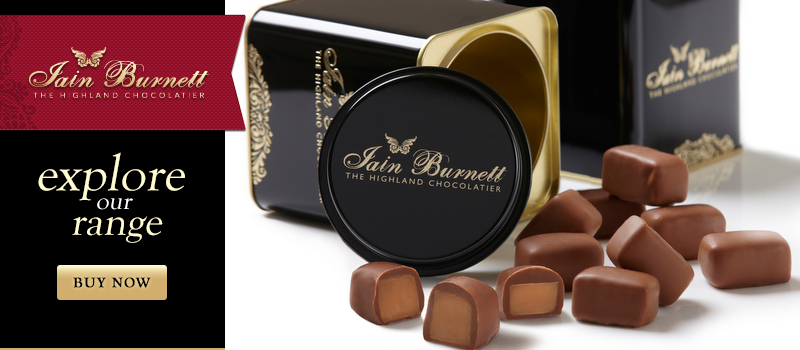 Once, a gorgeous tin of chocolate was preserved only for passing around at Christmas, each of us peering into the beautifully presented darkness in order to choose our favourite, but now you can enjoy an individual chocolate filled tin crafted by the experts at the Highland Chocolatier and filled to the brim with sumptuous sweet treats to delight your senses. These tins are perfect to enjoy on your own, or share as you see fit, though what could be more indulgent than relaxing alone and enjoying the ceremony of opening you very own individual tin of chocolates?
The Perfect "thank you" Gift
Of course, enjoying these delightful chocolate alone is what dreams are made of, but every once in a while, a friend or family member does something for you that deserves an extra special thank you gift. Our luxury decorative tins are the perfect choice to show someone your gratitude. What could be a better minding than you loved ones favourite chocolate presented in our elegant gold and black tins? We offer a great selection and guarantee there is something perfect for everyone's unique tastes.
Brazil Nuts Covered in Chocolate
The dense Amazon forest is the native home of the Brazil nut that we all enjoy today as part of a healthy diet, rich in protein, fats and other essential nutrients the only thing that could make this anymore delicious is if it was enrobed in chocolate, which is exactly what we've done here at The Highland Chocolatier. Our whole Brazil nuts are covered by hand in our signature rich single origin 70% chocolate sourced from the volcanic island of São Tomé and milk chocolate, which enjoys the same recipe but has been expertly combined with fresh Scottish cream and caramel notes to bring a smooth creaminess that compliments these crunchy, sweet treats to perfection.
Luxury Turkish Delight
Be transported back to your childhood with our Turkish delight tin, but not in the same way you once knew it. We pride ourselves on using only the highest quality ingredients and our rose and lemon Turkish delights are flavoured completely naturally. Our individual tins are just perfect as an evening treat after a long day when we all crave the comfort of something sweet. Choose from either of our signature dark chocolate or milk chocolate to enrobe your Turkish delight and slip into the exotic taste of our hand crafted sweets.
Coffee Beans Paired with Chocolate
Two of Britain's great loves are chocolate and coffee. In the UK, we drink approximately 70 million cups of coffee per day, and we eat an estimated 660,900 tonnes of chocolate a year. We truly are a nation obsessed, so of course, our chocolatiers knew the combination of the two would be a winning recipe loved by our customers. The highest quality espresso beans are rolled in rich dark 70% chocolate and is perfect for those who love the bitter-sweet kick that coffee chocolates give when they come together in harmony.
Luxury Fudge in a Decorative tin
Fudge has been a favourite with families for centuries, and our luxuriously smooth recipe is no exception. We offer you vanilla noted caramel fudge presented in elaborate gold and black decorative tins to bring a sense of occasion to the traditional fudge experience you may know. Of course, our fudge can only be improved by covering generously in chocolate. Our creamy caramel-noted milk chocolate, highlights the soft flavours of vanilla our fudge offers. Enjoy our luxury fudge yourself, or as a thank you gift for a loved one.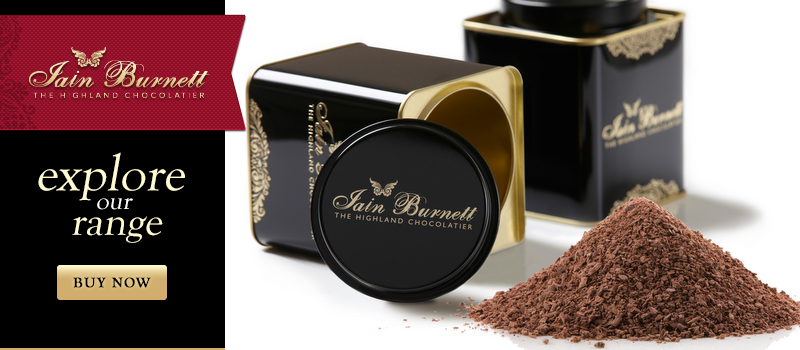 Hot Chocolate Lovers
There is nothing like a warming cup of hot chocolate enjoyed in the evening, it's the ultimate indulgence and our chocolatiers have worked tirelessly to bring you the perfect recipe that makes up our Belgian dark chocolate flakes. Warm with milk over the stove and enjoy the nostalgia of hot chocolate memories from your childhood. What's more, these versatile, sumptuous flakes can be used by the more adventurous in recipes, such as chillies, venison casseroles and as a flamboyant flourish on your favourite desserts.
The Perfect Indulgence
A traditional chocolate bar might be OK for some, but when looking to indulge in something a little bit more special our luxury decorative tins are the perfect choice. Filled with our exquisite flavour combinations and hand crafted gourmet chocolate here at the Highland Chocolatier we know we have everything a chocolate lover needs. Contact us today to discuss any requirements you may have.