Sláinte! Chocolate Pairings For Whisky Month
MAY 23RD, 2017
Sláinte! It's Whisky Month…
---
May is Whisky Month and Iain has been celebrating all of the unique chocolate pairings he has created with various Master Distillers of Scotch Whisky, Gin & luxury Champagne Houses. Interestingly, none of Iain's Velvet Truffles contain any alcohol. However their unique flavours and textures compliment, contrast and enhance some of Scotland's finest Single Malt Whiskies.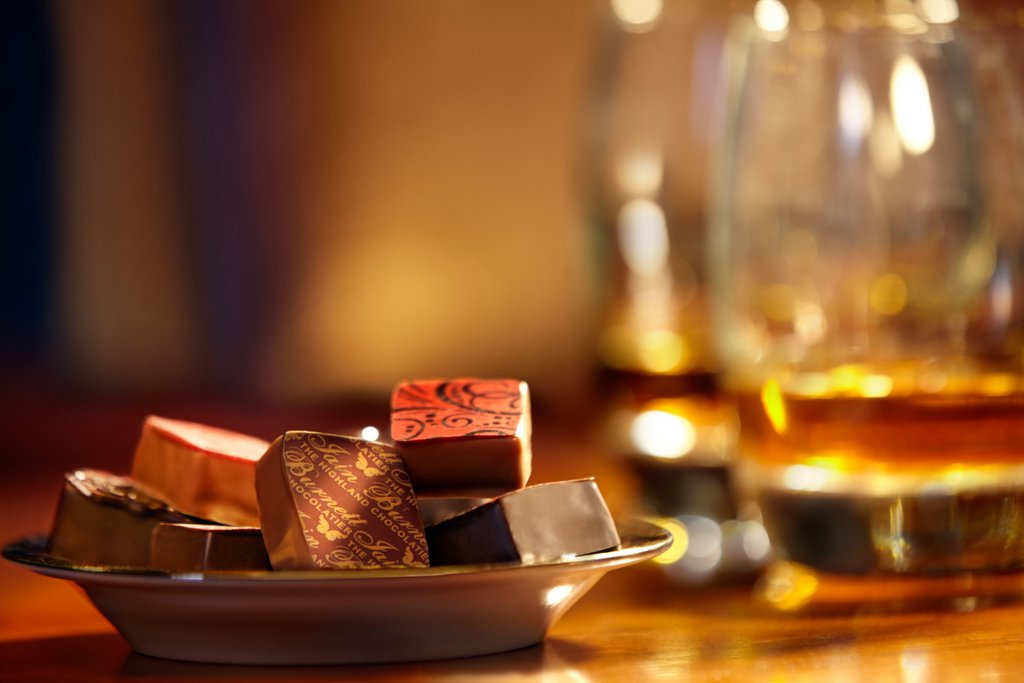 The Glengoyne Selection
A range of dedicated Whisky Pairing Boxes can be found on our website. New this month is The Glengoyne selection!
This special box contains:
Dark Velvet Truffle
Raspberry & Black Pepper Velvet Truffle
(which both pair with Glengoyne 21 Year Old)
Lemongrass Velvet Praline
Milk Velvet Truffle
(which both pair with Glengoyne 15 Year Old)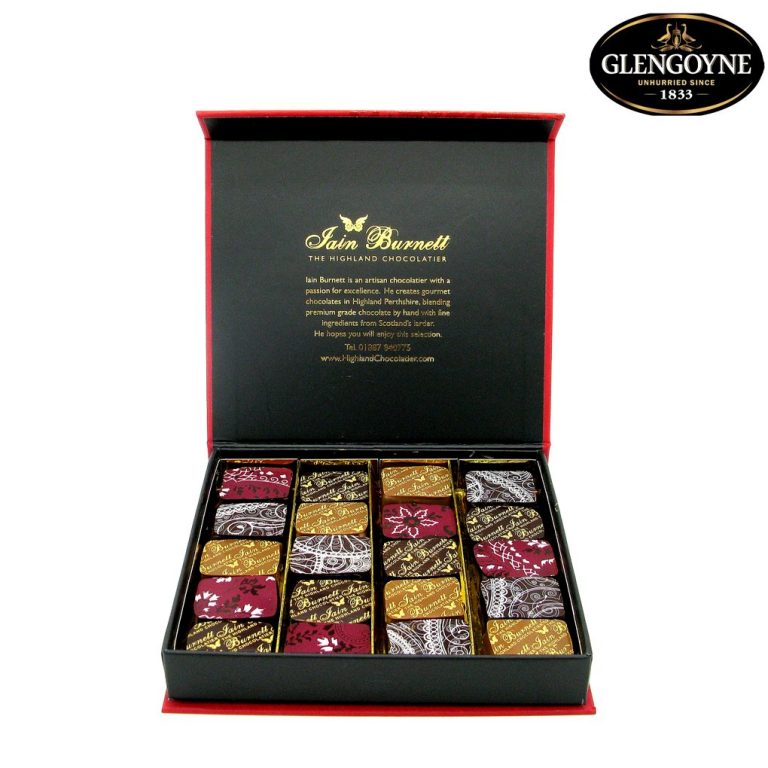 Iain's Special Partnership With Dalwhinnie Distillery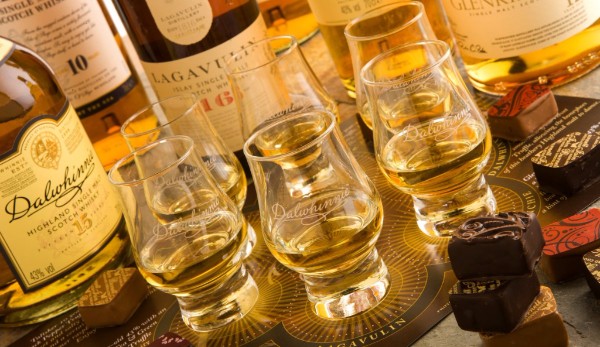 Dalwhinnie was the first distillery to work with Iain Burnett on Whisky & Chocolate pairings about ten years ago, and it has since experienced the most fascinating increase in visitor numbers from year to year. Obviously people are responding well to the idea of whisky paired with chocolate, what's not to like? Some people that visit would have never dreamed of tasting the two together… but when they do, their whisky world as they knew it changes forever! It's amazing to watch people's reaction when they try a whisky paired with one of Iain Burnett's Velvet Truffles;
"The combination of flavours went brilliantly… People that consider themselves 'non-whisky drinkers' try it with chocolate, then say 'I never knew I liked whisky before!'"
– Ewan Mackintosh, Distillery Manager, Dalwhinnie.
However, it's not just any chocolate that allows this unlikely combination to transform itself into a heavenly marriage. The creamy, smooth texture to Iain's Velvet Truffles allows the whisky to glide down your palate, while the sweet, caramel & vanilla notes of the São Tomé cocoa bring out the delicate flavours in Dalwhinnie's 15 Year Old Malt, known to conoisseurs as 'The Gentle Spirit'.
See for yourself how Iain pairs his award winning Velvet Truffles with one of Glengoyne's favourite whiskies!
---
Whilst naturally concentrating on Whisky & Chocolate in May, next month brings the arrival of World Gin Day on the 10th June and with it will come an exciting new selection box to add to Iain's collection.