Scottish Chocolate Bars to Delight All Ages
FEBRUARY 10TH, 2016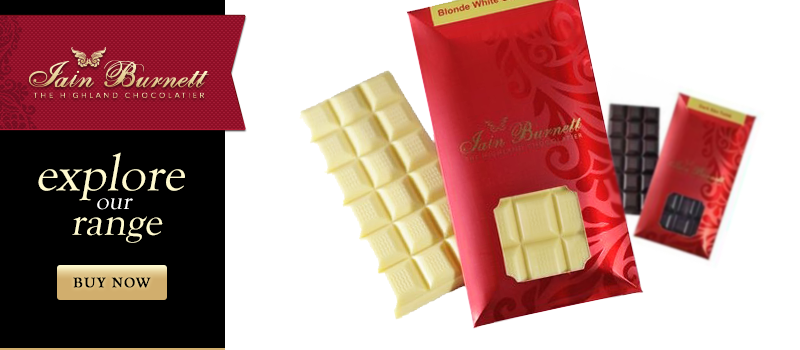 There is something about a bar of chocolate that is almost too tempting. When we see a bar of chocolate, we simply cannot help but to have a little piece that we know is going to be simply melt-in-the-mouth delicious and fulfil those little chocolate cravings. Finding the best chocolate bars can at times be a challenge, but you have come to the right place for luxury chocolate bars that will make a delicious treat or a much-appreciated gift. At The Highland Chocolatier, we have a range of decadent Scottish chocolate bars that will delight even the pickiest of chocolate connoisseurs. Best of all? Our chocolate bars are covered by free UK postage.
Smooth and Creamy Milk Chocolate Bars
Arguably one of the most popular chocolate bars on the market today is the traditional milk chocolate bar. The reason for its popularity can be attributed to its smooth texture and sweetened taste compared to dark chocolate. This makes it a favourite for both children and adults alike. At the Highland Chocolatier, our expert chocolatiers have taken this old favourite and hand-made a chocolate bar that can surely be placed under the branch of luxury. Each 100g milk chocolate bar is subtly spiced with a delicious, soft caramel note to every bite. For the perfect chocolate bar to suit all chocolate lovers' tastes, choose our deliciously simple and creamy milk chocolate bar.
Taste The Sao Tome Difference
Another popular choice – particularly for adults – in chocolate bars is dark chocolate. Depending upon the percentage of cocoa within the bar, they can range from the sweeter end of flavours to something more bitter. Our dark chocolate is specially crafted with carefully selected cocoa from the island of Sao Tome. Chosen for its exceptional taste, our single origin cocoa is roasted and used for our dark chocolate bars to create a unique flavour sensation. What's more, every one of our dark Sao Tome chocolate bars is vegan, meaning even those who cannot consume dairy or other animal products can still enjoy a taste of luxury chocolate straight from the Highland Chocolatier kitchen.
A Smooth Taste Experience
Sometimes milk and dark chocolate are not preferable. For those who are less partial to the taste of our cocoa, we have a scrumptious blonde chocolate bar. Made with our Sao Tome cocoa butter, they are created with fresh Scottish cream and luxurious Madagascan vanilla for one of the smoothest chocolate bars we have made. Made with no cocoa powder, they have a more delicate and creamy taste than those that do have a cocoa powder base. The sweet, milky taste of the blonde chocolate bars mean they make great chocolates for kids. They are delicious for those big kids that have not quite grown up yet, too!
Intriguing Flavour Combinations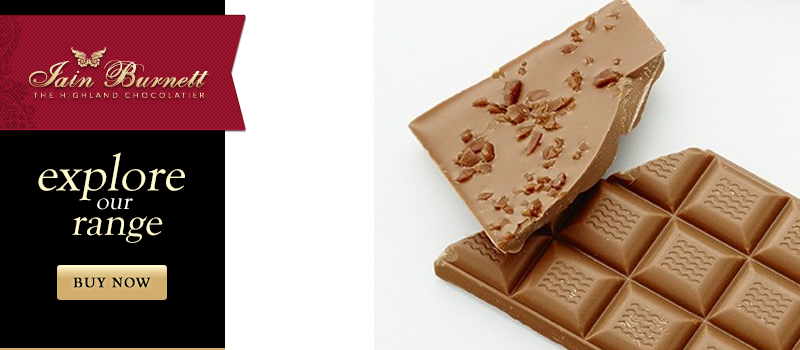 We like to create new products that will delight all of our customers at the Highland Chocolatier. Recently we introduced a delicious new flavour chocolate bar to our range that has proven to be a delicious and unusual-yet-moreish hit with customers. The salted toffee bar takes our caramel noted milk chocolate and plays with the flavour on your tongue with two toppings: toffee pieces and crunchy sea salt. Chewy toffee mixed with sweet, smooth, melting chocolate makes for a texture sensation, and the sea salt ignites your taste buds with an unexpected hit of flavour and crunch between your teeth. This bar is perfect for anybody who enjoys a sweet treat and likes a bit of a surprise in texture and flavour with every bite.
Fiery Chocolate Bars for Adults and Brave Kids
They have tried the blonde and milk bars: too sweet for their tastes. The dark chocolate bar was great, but it was lacking in just a little bit of something extra. We have just the delicious bar for you – and it's a delicious temptation. Our fiery Chinese ginger bar is a bar of our delicious 70% dark Sao Tome chocolate with pieces of hot Chinese root ginger embedded within. Ginger and chocolate make a deliciously well-known pairing and are infused together often. What makes our Chinese ginger bar special is our single origin cocoa in these luxury chocolate bars and the premium ginger that we select. Your gift receiver will delight in this different take on a traditional chocolate bar full of flavour and heat.
Cooking Gourmet Treats with Chocolate Bars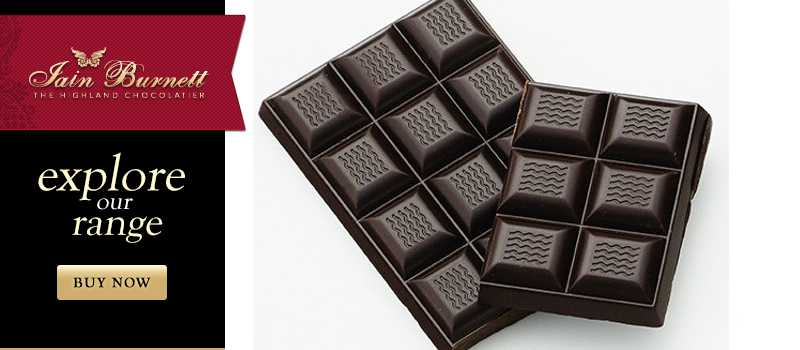 At the Highland Chocolatier we do not only have chocolate bars suitable for nibbling. We also offer a full bar of 100% Sao Tome cocoa. It is not technically a 'chocolate' bar as it contains no sugars or additives and is made up of pure cocoa. The cocoa is conched to become beautifully smooth and is perfect for adding to dishes rather than direct eating. This makes it the ideal companion for a recipe book at any age! Make cakes, sauces, and even meat roasts with it. The only limit is your imagination for flavour experimentation. A little cocoa goes a long way to making a dish rich and delicious.
Gifts for All Ages at The Highland Chocolatier
Our range of Scottish chocolate bars embraces the best of traditional chocolate flavours and become infused with new and exciting combinations. They are wrapped in exquisite Highland Chocolatier designs, making a beautifully presented gift for all ages. Whether you are looking for chocolates for kids or those for a whisky lover, there is something for everyone at the Highland Chocolatier.