Say it with Chocolate – Gourmet Chocolate Gifts Delivered by Post
MARCH 31ST, 2016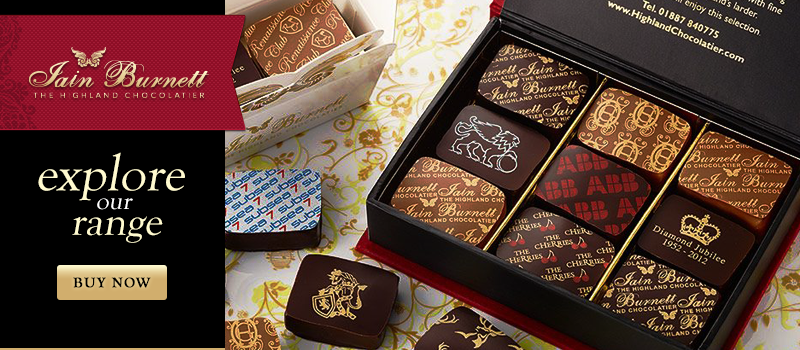 Does the bustling high street fill you with dread? Nothing can be more stressful than pushing your way through the busy streets searching for the perfect tasty accompaniment for your dinner party, or the ideal gift for your loved ones. Thankfully The Highland Chocolatier has the solution, beautifully hand crafted chocolates by post.
Iain Burnett's Highland Chocolatier's luxury chocolate selection is loved the world over and has been recognised through national and international awards. This global recognition has led us to offer a worldwide delivery service so all those who appreciate our exquisite work can enjoy a taste in their own home, no matter the location. Whether as an indulgent treat for yourself and guests in your home, or a special delivery to a distant loved one, the Highland Chocolatier postal service delivers special messages with much more than just words.
You can choose to deliver to your own address, or a different one. Think of the pleasure on your loved ones face as they unwrap the present of our dark and milk salted caramel hearts with a personalised message included. These heart-shaped favourites are filled with a luxurious caramel speckled with the exciting taste and texture of sea salt. Our signature São Tomé 70% dark chocolate sits beautifully with our caramel noted milk chocolate versions. Not only will you receive these moreish treats, but in the centre of the box is a singular disc of dark chocolate for an indulgent treat. This beautiful gift is not only gluten and nut free but finished with a hand tied ribbon in a beautiful white and gold box. No matter where that special person lives, show them how much they mean to you with UK and worldwide shipping all year round.
UK Delivery
Customers are now busier than ever with little time for themselves. Our luxurious chocolate selection by post frees up your valuable time and delivers all your chocolate needs in a convenient way. We aim to deliver our chocolates in perfect condition as quickly as possible. Each item is packaged with extreme care to preserve the contents our small in-house team of chocolatiers passionately create every day. In the UK We deliver Monday – Saturday by Royal Mail and for those who need the perfect chocolate selection in a short space of time, we offer a next day courier service Monday-Friday completely removing the unwanted stress of last minute shopping. The cut off for same-day dispatch of our gourmet chocolate deliveries is 12pm.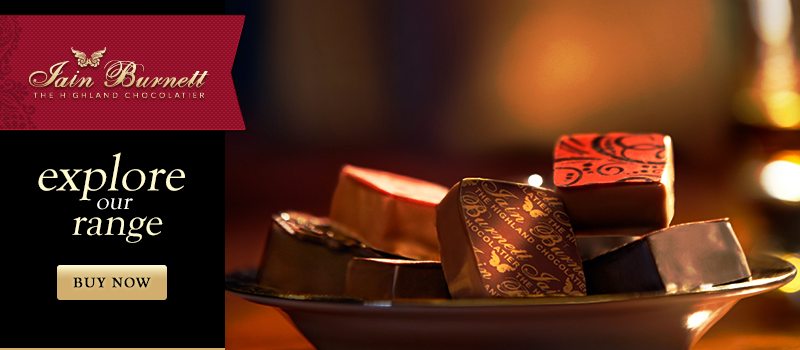 Many of our deluxe chocolate items are eligible for free post making them even more appealing, this will be clearly mentioned as "UK Free Post Item" in their description. These items are posted by Royal Mail Second Class. Not only do we offer many items with free delivery, but customers can also order in advance, specifying a preferred delivery date to guarantee the recipient receives their gift on the ideal date.
Worldwide Delivery
We take special care to ensure our customers outside the UK receive their Iain Burnett Highland Chocolatier Gifts in the same pristine condition as those in Britain. All deliveries are made via airmail courier, though your ideal delivery date cannot be specified with deliveries outside the UK we aim for European deliveries to arrive within 2+ days and the rest of the world will receive their delicious signature chocolates within 4+ days.
Popular Gift Selections
Our most popular chocolates make ideal gifts to send to those who live far away, but still crave the exquisite taste of our luxurious hand-crafted chocolates. Our Award Winners Selection showcases the best of the Iain Burnett Highland Chocolatier range. Each individual mouthful have won awards in their own rights, including the signature dark velvet truffle ,crafted lovingly with single origin dark chocolate and blended with specially selected Scottish cream. These delicate creations took three years to perfect and were once only available to Michelin chefs but now available to chocolate enthusiasts worldwide boxed in an elaborate red and gold container with a magnetic closure. Our award winner selections are all gluten, alcohol and preservative free making them perfect for all who may desire them.
Another popular gift selection is our decorative tins of luxury chocolates, encased in a beautiful black and gold tin that can be kept as a memento, our decorative tin selections include milk chocolate pearls made with our signature chocolate that melts in your mouth and transports you to a place of serenity with each mouthful. For those who love nothing more than a strong coffee with their luxury chocolate, you can now enjoy espresso beans rolled in our signature 70% dark chocolate for a bitter sweet and truly unique flavour.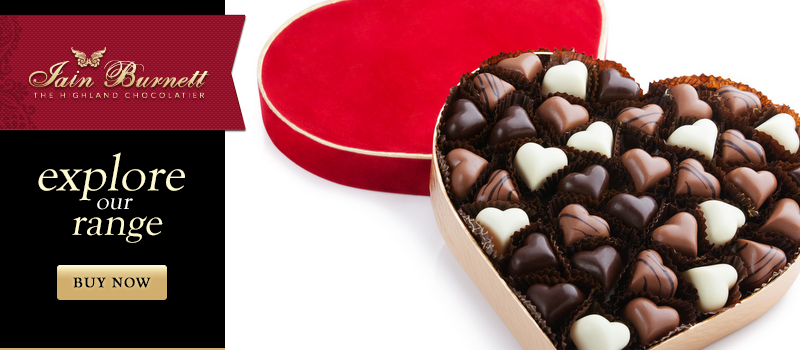 An exceptional gift for those who enjoy the zing of fresh fruit is our dipped fruit selection. Candied in syrup for weeks to preserve their natural flavours perfectly capturing their sweet moreish flavour and presented in a distinctive round to perfectly showcase the glisten of the fruit. Each fruit, though varying in each selection could include a whole clementine and cherries on their natural stalks are hand dipped in our signature single origin 70% dark São Tomé chocolate
The outstanding textures and flavours we produce are thanks to the best natural ingredients chosen with extreme care. The finest aspect of our chocolate creations is the fresh yearly harvest that ensures fresh, unique flavours to our recipes. We are proud to be able to deliver these one-of-a-kind flavours to customers all over the world.
There is not much as widely appreciated the world over as delicious, melt in the mouth chocolate. Here at Iain Burnett Highland Chocolatier we believe that no matter the taste preference or the occasion, whether it be as a thank-you, a birthday treat or anniversary, our gourmet chocolate gifts by post will be thoroughly enjoyed by all who are lucky enough to receive them.