Raising the Bar: Gourmet Chocolate Bars by the Highland Chocolatier
APRIL 11TH, 2016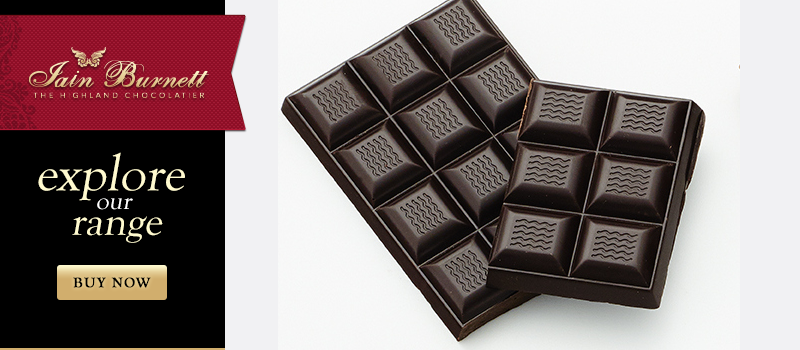 The humble chocolate bar has had a luxury makeover thanks to Iain Burnett the Highland Chocolatier. All of our delicious bars have been tempered to perfection to create a blissful chocolate experience; all you have to do is listen to the snap and hear for yourself. Not only does the snap delight your ears, but the look of these bars are truly delectable with a plethora of toppings and flavour pairings guaranteed to delight all who are lucky enough to have a taste!
100% cocoa
This rich 100% cocoa bar contains no sugar, so isn't technically chocolate, but that didn't stop our master chocolatiers crafting this dark, beautifully smooth bar for you to enjoy. The chocolate is conched until perfectly smooth giving this bar its unique flavour and texture. This bar can be enjoyed as a solitary snack, breaking off a mouthful at a time or added to recipes, both savoury and sweet for a unique flavour. Chilli con carne is made luxuriously rich with a few squares of our 100% bar. Casseroles and other meat dishes can be enhanced in this unique way also. When looking for special chocolates as a gift those who love the moreish delight of dark chocolate look no further than this versatile bar.
São Tomé 70%
The chefs here at Iain Burnett Highland Chocolatier pride themselves on their uniquely flavoured single origin cocoa from the volcanic island of São Tomé. With this intense cocoa flavour an expertly chosen Scottish cream is blended to create our signature 70% dark chocolate bar. With no artificial colours preservatives this luxury chocolate is perfect for those who crave the bittersweet pleasure of this floral, spicy and aromatic blend. Not only does our chocolate taste incredible, but it has the power to do incredible things, by buying this bar is that 10p of every bar is sent directly to Alzheimer Scotland, in order to research, treat and prevent Alzheimer disease across Scotland.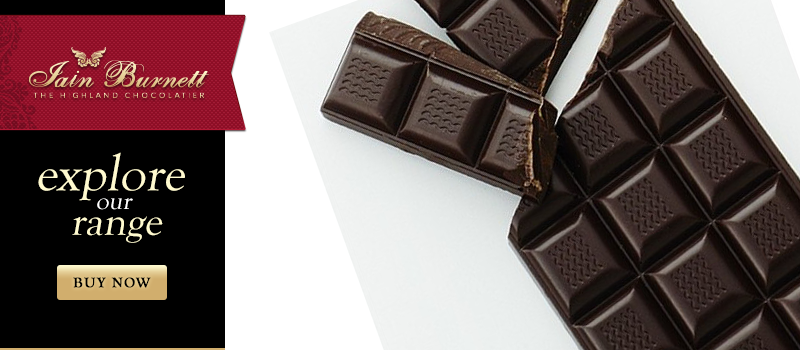 São Tomé flavour pairings
Not only is this stunning flavour available for you to enjoy on its own, we've also painstakingly matched it with several flavour combinations guaranteed to satisfy every chocolate lover's needs. After dinner mints will never be looked at in the same way once you've enjoyed our peppermint dark chocolate bar. Our peppermint crystals provide a crunch that is matched perfectly with the smooth melting chocolate.
What could be more delicious than the fiery taste of ginger paired with rich dark chocolate? We've created a chocolate bar that pairs just that. Indulge in the heat of candied Chinese root ginger embedded in in our signature São Tomé bar for a unique flavour experience.
For those who love the tang of fresh fruit, why not try our signature bar with a scattering of dried and gently crushed 100% natural raspberries? These bars are both nut and gluten free and can be enjoyed by vegans making them the perfect gourmet chocolate gifts.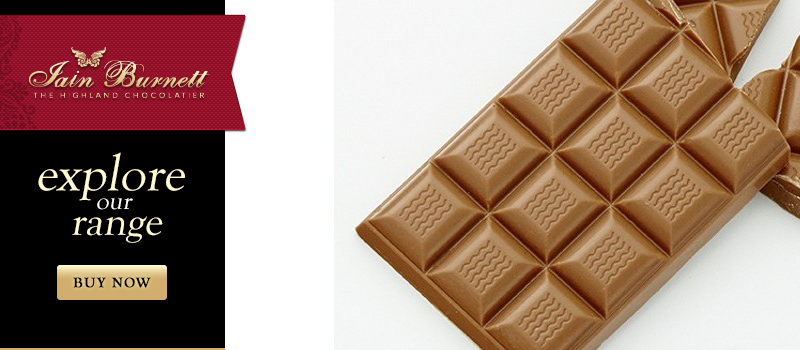 Milk chocolate
Here at the Highland Chocolatier we understand that not everybody loves the bittersweet notes of dark chocolate so our artisan chocolatiers worked tirelessly to create the perfect milk chocolate bar to satisfy our customers who crave something sweet. Our signature milk chocolate bar is subtly spiced with soft notes of caramel to be savoured and enjoyed.
Milk chocolate flavour pairings
Our signature creamy milk chocolate bar is perfect on its own, but paired with salt and toffee makes for a taste that cannot be beaten. The once unconventional flavour has soured in popularity and our customers are proving no different. The expert chocolatiers we employ have matched the crunch of the sprinklings of salt and toffee expertly to the warm caramel noted silky bar.
Mixing chocolate and fruit has been a practice chocolatiers have enjoyed for years. We have expertly matched our signature milk chocolate bar with the chewy sourness of a scattering of cranberries and the plump sweetness of juicy apricot pieces in one of our most popular chocolate bars.
Our newest and already best selling milk chocolate bar is the caramel toffee milk chocolate bar. Dusted with a sprinkling of chewy toffee pieces, this sweet silky award-winning bar is perfect for those with a sweet tooth looking for a taste of luxury.
Blonde chocolate
Not only do we specialise in dark and milk chocolate, our master chefs have worked to create a beautiful creamy blonde chocolate that tastes like no other. The velvety smooth texture of our blonde chocolate is faultless and paired with its unique flavour combination of São Tomé cocoa, Madagascan vanilla and Scottish cream we think this is one of the finest chocolate bars in our selection.
What's more, now the chocolate selection hand crafted by our chocolatiers is even easier to share with all our chocolate bars enjoying free UK delivery! Whether as a gift or as a treat to enjoy yourself our exquisite creations will arrive at your door for the ultimate indulgent experience. With a unique flavour in all our bars, why not order one today to see what you've been missing. For more information on our gourmet chocolate range contact us.