Pairing Gourmet Chocolate and Whisky
MARCH 22ND, 2016
When in Scotland, one if the most popular activities to take part in is, of course, a whisky tour. Our world famous whiskies are known for their superb quality, delicate flavours, and the smooth yet fiery heat they embrace. At Iain Burnett's The Highland Chocolatier, we are also fans of bringing a whole new range of fans to the wonders that whisky can bring – especially when paired with some of our exquisite, delicious chocolates from our range.
Specially crafted and selected to be paired exclusively with some of the most famed whiskies in Scotland, our selections of chocolates are created to compliment the flavours of each whisky perfectly. Our range extends to champagne, also, but for the definitive Scottish experience, choose the Highland Chocolatier. For the best gift for a whisky lover, consider surprising them with gourmet chocolate paired with their favourite drink.
Expertly Paired for Flavour Sensations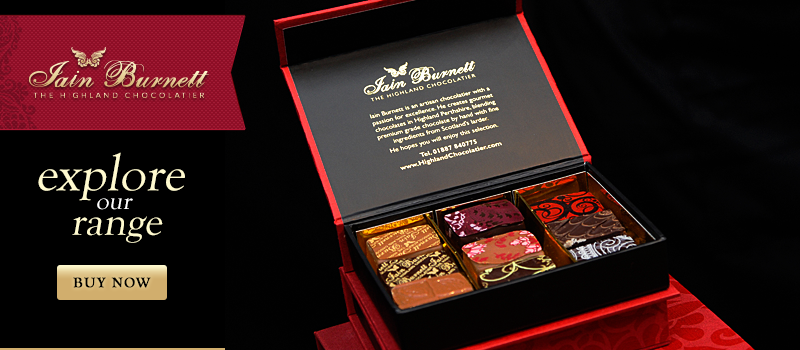 There is nothing quite like a glass of your favourite whisky. For a lot of whisky lovers, not much can beat it. However, at the Highland Chocolatier we believe we have hand crafted some of the most delicate and delicious accompaniments to whiskies that bring out the flavours in both. The chocolates are smooth, sweet, and at times a hint of bitterness lingers, infused with fruits and spices selected to be paired with each whisky's own individual, strong flavours. From the irresistible charms of the smokier variety to sweeter whiskies, there is a chocolate for every favoured glass.
Iain Burnett is an expert in flavour pairing. It takes only a small nose of a whisky for him to know which flavours would work best. That is why each of his chocolates chosen to pair with each whisky bring out the flavours of the malt they are created for. Scottish whisky chocolates have never been quite so luxurious – and it takes an expert chocolatier to be able to bring out the chocolate lover in even the most adamant of whisky lovers.
It is important to note that every chocolate Iain creates does not contain alcohol, contrary to the drink they are to accompany. Every chocolate is alcohol-free. While other chocolatiers may include alcohol as a preservative, Iain firmly believes in bringing out the best in the natural flavours of the chocolate without being marred by preservatives. Every handmade box of chocolates by post and in store are freshly made with fresh ingredients and no preservatives, ready to be taken home and enjoyed.
Scotland's Favourite Drinks Enhanced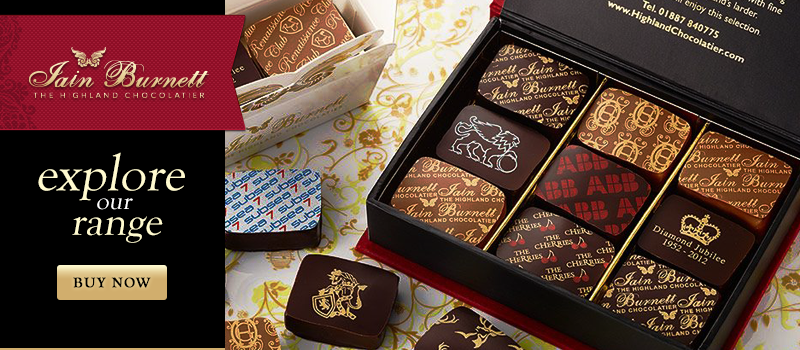 The Highland Chocolatier have chocolates paired with numerous whiskies aged across Scotland. Some even include our chocolates on distillery tours to enhance guests' experiences and be able to taste the full extent of the whisky's flavours. The first to do this was the Dalwhinnie distillery in Inverness. The aromatic aspects of their famous whiskies, particularly the Dalwhinnie 15-year-old malt, pairs beautifully with our All Dark Velvet Truffles. Bitter, dark single origin Sao Tome chocolate flavours bring out the very best in this delicious malt. Now, no Dalwhinnie tour is complete without at least one Highland Chocolatier chocolate available for tasting, and other distillery tours also have our chocolates on hand.
The whiskies our chocolates pair with include the following:
Aberfeldy 12-Year-Old
Cragganmore 12-Year-Old
Glenfiddich 15-Year-Old
Glenfiddich Age of Discovery Bourbon & Madeira Casks
Lagavulin 16-Year-Old
Tullibardine 20-Year-Old
There are many more whiskies our chocolates are paired with among a variety of matured ages. These chocolates are all paired in collaboration with each distillery, and each carefully balanced flavour has been chosen to create the best range of Scottish whisky chocolates on the market.
Introducing New Chocolate and Whisky Fans Alike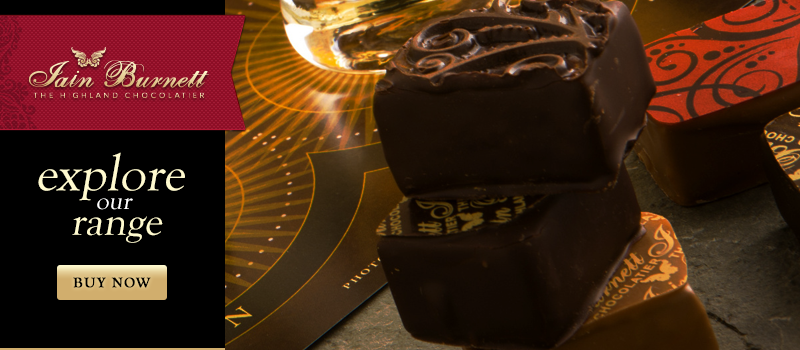 If you enjoy whisky, there is no reason not to try one of our paired chocolates with your favourite drinks. If you are looking for an excellent gift for the whisky lover in your life, why not consider going for something different that they will truly appreciate? Our range of paired whisky chocolates has attracted a number of new fans to both the chocolates and whiskies alike. Our customers have given us some wonderful feedback, including from fans who thought they may not have liked chocolate.
Indeed, our chocolates have brought a wealth of new fans through our paired chocolate delights. Enhanced flavour combinations that are irresistibly fresh and smooth offer the perfect complement to our selected Scottish whiskies. Unsure which whisky is your whisky lover's favourite? We have you covered. Our Whisky Tasting Box of 20 Chocolates contains 20 of our expertly handcrafted chocolates, made to pair perfectly with our select whiskies.
The chocolates include real fruit and natural spice infused truffles, smooth pralines coated in milk or delicious Sao Tome 70% dark chocolate, and our award-winning velvet truffle collection. These chocolates cover whiskies from the Top 50 Malts in Scotland listing, ranging from distilleries up and down the length and breadth of the country. For the ultimate gift, choose this delicious selection box. If you are looking for something extra, why not consider our range of luxury chocolate hampers?
Paired to Perfection
Every chocolate hand-made at the Highland Chocolatier is made with your satisfaction in mind. Made without preservatives and natural ingredients, every chocolate will simply melt in your mouth. Whisky chocolate has never been so good. Contact us at the Highland Chocolatier for more information or to place your order now.