One Month Until National Chocolate Day!
JUNE 7TH, 2016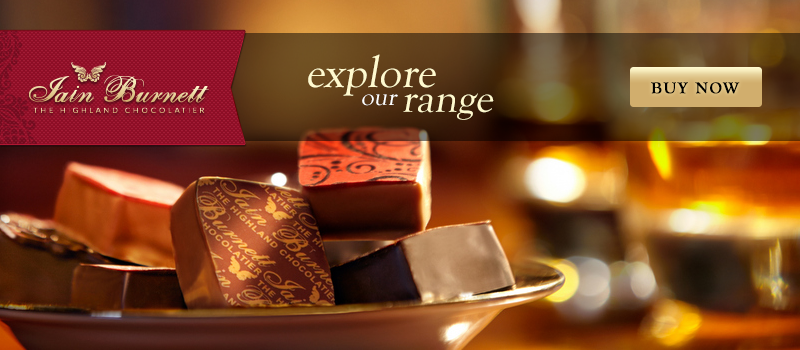 Be prepared for the sweetest celebration of the year: National Chocolate Day UK! Are you prepared for the 7th July? Chocoholics will spend the day treating themselves to their favourite chocolate bars.
Highland chocolatier creates exquisite chocolate made for the finest of occasions in our Scottish chocolatier. Do you know a chocolate lover who will be indulging on the 7th July? Here are some special ideas below that will make their Chocolate Day the best yet!
Chocolate Day UK
What better way to celebrate Chocolate Day UK than with Scottish chocolate crafted in our very own country?
A special occasion is worthy of special chocolate. Imagine enjoying chocolate which has be made from ingredients from all corners of the British Isles. At Highland Chocolatier we have made this possible with our Sandringham Truffles.
These very special chocolates have been crafted for her Majesty Queen Elizabeth's 90th Birthday. This limited recipe has been made with blackcurrants grown in the Queen's very own garden at her Sandringham residence in Norfolk.
Celebrate the Queens 90th birthday and Chocolate Day at the one time! We have searched the UK for the finest ingredients for this one off event and have taken fresh cream from Scotland, butter from Northern Ireland, honey from Wales as well as the unforgettable blackcurrants from England.
If you would like to feel like royalty on National Chocolate Day, do it right with our range of limited edition chocolate boxes.
Dark Chocolate: The Superfood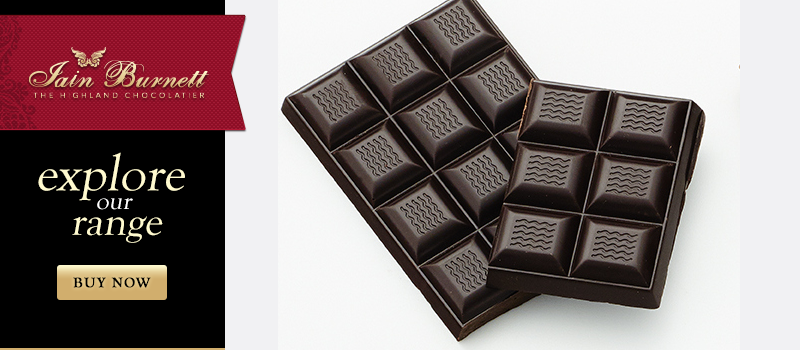 Is it true that dark chocolate can be good for your health? Yes! Dark chocolate is packed with organic compounds which are biologically active and act as antioxidants.
It has also been discovered that in some cases cocoa and dark chocolate contain more antioxidants, polyphenols and flavanols than other superfoods such as blueberries and Acai berries!
Since there is lots of goodness inside dark chocolate it can benefit your heart, lowering blood pressure and cholesterol levels. Why not improve your brain function with dark chocolate from Highland Chocolatier? We use the finest of materials in our special chocolates made with 70% São Tomé dark chocolate. Matched with crushed raspberries our Raspberry Dark Chocolate Bar would be a simple present for a dark chocolate lover on Chocolate Day and it is also a UK Freepost Item!
Relax with Tea and Chocolate
At the end of a long day a piece of Highland Chocolatier chocolate could be all you need to unwind. The smell of chocolate triggers theta brain waves ultimately making you feel more relaxed.
Did you know that in the UK we drink 165 million cups daily and 60.2 billion per year! Our Lemongrass & Hint of Lime Velvet Pralines pair perfectly with Earl Grey Blue Flower Tea.
The lemongrass which features in these delightful chocolate pieces heightens the floral qualities of the light tea taste. With a touch of lime and a thin layer of dark chocolate it is the perfect balance of flavours for a tea and chocolate enthusiast.
Scottish Chocolate and Whisky Pairings
It is not only tea which matches well with our Scottish chocolate but why not pour a dram for the occasion. Scotland is famous for making the world's best whisky and we export 38 bottles of whisky every second.
Scottish whisky is sold in over 200 markets across the world and makes up 78% of Scotland's food and drink export market – it's not only great chocolate that is created here but wonderful malts too!
If you know someone who enjoys the taste of both our Whisky Tasting Box of 9 Paired Chocolates would be a great thank you gift this Chocolate Day. Open up the box to find our award-winning Velvet Truffle, infused with real fruit and natural spice.
This selection also includes our smoothest pralines which are draped in in milk or 70% single origin cocoa chocolate. Here is just a selection of recommended whiskeys that taste great with our unique chocolates.
Bunnahabhain 12 Year Old
Cragganmore 12 Year Old
Caol Isla 12 Year Old
Dalwhinnie 15 Year Old
Glenfiddich 12 Year Old
Glenkinchie 12 Year Old
Lagavulin 16 Year old
Oban 14 Year Old
Talisker 10 Year Old.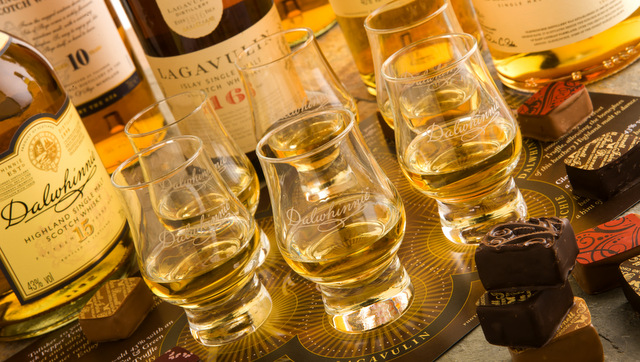 The Ultimate Chocolate Hamper
If you know someone who really enjoys the taste of fine chocolate our chocolate hampers could be a great gift for them on UK National Chocolate Day.
Your loved one will be blown away by one of our gourmet chocolate hampers. We stock our hampers with simply the best, artisan chocolate. Our smallest hamper even includes a box of Nine Award Winning handmade chocolates which you can open especially for Chocolate Day. Dip inside our Gourmet Chocolate Hamper to find;
The Chocolatier's Selection – Box of 9 Chocolates (88g)
1 Decorative Tin of Dark Hot Chocolate Flakes (200g)
1 pack of Luxury Fudge Dipped in Milk Chocolate (115g)
1 Iain Burnett Highland Chocolatier mug.
Would you like to make this National Chocolate Day a special one? With one month ahead be prepared with some of the finest chocolate available in the UK. We would be happy to hear any special requirements you have for a Chocolate Day gift, simply contact us for more information on our chocolate hampers.