Luxury Valentine's Chocolate Hampers
JANUARY 29TH, 2016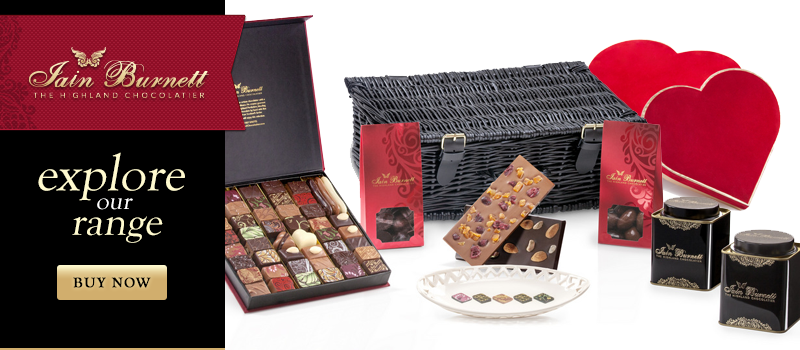 Valentine's Day is right around the corner. It seems like only yesterday it was Christmas and New Year's Eve. Now we are all back to work and enjoying being back to normality – and getting excited for the festivities surrounding Valentine's Day. What better time is there to show your love and affection for that special somebody in your life than this special day? Here at The Highland Chocolatier we have a great selection of chocolates that would make great romantic gifts for her and him. The most luxurious of all? Our luxury chocolate hampers.
Hampers of Sweets and Love
Each one of our chocolate hampers is filled to the brim with handmade gourmet chocolates and chocolate products to really excite anybody who opens up every one of our luxury black wicker hampers. Every chocolate hamper in our range is chosen to fit each individual price range, giving you the option to choose which hamper suits both you and the recipient of your gift. The black wicker and leather straps holding each hamper closed really add to the luxurious feel of the gift, and there's no need for more gift wrapping by you – everything is set nicely in the hamper just waiting to be opened for that perfect collection of valentines day presents.
Why Choose our Luxury Chocolate Hampers?
If your loved one really loves chocolate – or you think they may be quite the chocoholic – why not invest in buying them chocolates for valentines day? Our chocolates are some of the finest in Scotland and we have been recognised at international chocolate awards for our truffle and chocolate range. The same award-winning crafting by our chocolatiers goes into every product in our range, including those inside your gift hamper. Made with fresh Scottish cream from Perthshire and the finest dark Sao Tome cocoa, you have quality craftsmanship and ingredients available right to your – or their! – door.
Small Treats, Big Love
The smallest – yet by no means least value – hamper in our range is the Highland Chocolatier Gourmet Chocolate Hamper. It features a divine selection of our finest artisan chocolates fresh from our kitchens packed straight into your hamper. You will receive not only some of our delicious Dark Hot Chocolate Flakes, a Decorative Tin of Luxury Fudge Dipped in Milk Chocolate, and a Chocolatier's Selection Box of 9 handcrafted chocolates, your loved one will also get a great Highland Chocolatier mug to enjoy their new warm hot chocolate drinks in. Let them enjoy a taste of luxury in this gorgeous black wicker hamper and enjoy your new treats together for an extra special night in.
Valentines Chocolates to Say 'I Love You'
Our hampers are a great way to really say 'I love you' on Valentine's Day. Finding that perfect gift is often a struggle, but with each hamper containing the finest chocolates around, you are sure to find what you are looking for here at The Highland Chocolatier. Let your valentine gift indulge your partner with our Highland Chocolatier Indulge Chocolate Hamper. The upgraded hamper to the Gourmet Chocolate Hamper, your gift will include a fine Chocolatier's Selection Box of 20 individually crafted chocolates to get a real taste of our entire gourmet range in one chocolate box of bite-sized goodness. Think they would like chocolate dipped fruit too? We have that covered with an included pack of strawberries and raspberries rolled in white chocolate for a sweet-and-sour flavour that we cannot get enough of.
The Chocoholic's Perfect Valentine's Day Gift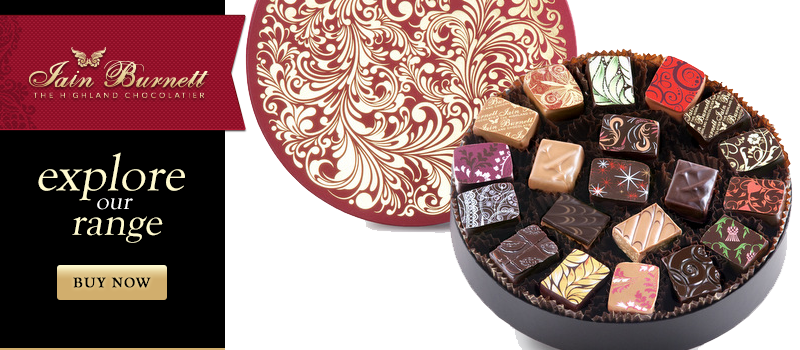 Not enough in that hamper to satisfy the chocolate lover in your life? The largest and most jam-packed full of chocolate hamper in our range is our Highland Chocolatier Opulence Chocolate Hamper. The biggest and best hamper we have in our range, it is the piece de resistance of all Valentine's Day chocolate gifts. Not only does your loved one receive a stunning selection that includes 2 Decorative Tins of Luxury Nougat and Dark Hot Chocolate Flakes, chocolate covered cherries, and two different exotic chocolate bars, they will get a full Chocolatier's Selection Box of 48 truffles. Within it, they will experience our Gold award-winning velvet truffle among our other best-selling chocolates and pralines. Give them the Valentine's Day gift that keeps on giving with this huge chocolate hamper that will indulge their senses and really make them fall in love with chocolate all over again.
All of our hampers can have substituted products for your needs so do not worry if some items are unable to be consumed for allergy reasons – we will be more than happy to help assist you in creating the biggest and best Valentine's Day gift possible.
Make your Valentine's Day Special
We have a variety of other products available from us to you that are made especially for Valentine's Day and are our most romantic gifts. You can give your loved ones the gift of choice with our Gift Cards, sent electronically to your recipient to choose their own unique selection of chocolates. They will be spoiled for choice and you can feel great about giving them something they will love!
Find out more about our exciting range of gourmet chocolates on our website, or Contact Us for more information about our products.