Luxury Thank You Gifts At Highland Chocolatier
MAY 11TH, 2016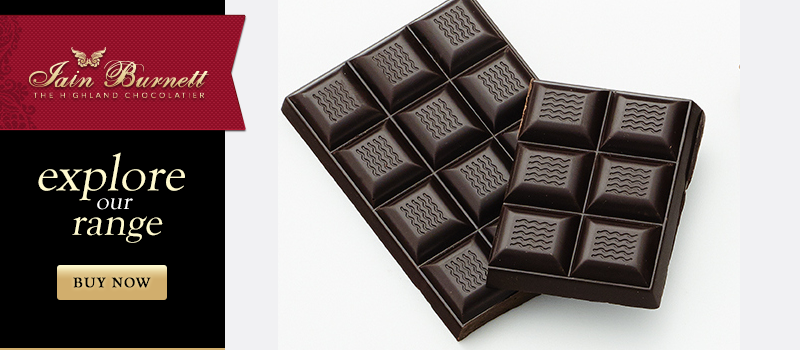 Luxury Thank You Gifts
Our luxury "thank you" gifts come in all shapes and sizes. Are you looking for something small but with lots of taste? Our Iain Burnett Cashew Nuts Rolled in Milk Chocolate are perfect for lovers of a savoury and sweet taste rolled into one.
What about something sweeter? If your friend or family member loves the taste of fruit and chocolate wrapped together, then we have the answer to all of their cravings – strawberries and raspberries smothered in white chocolate, yum!
Chocolate Gift Hampers
Our chocolate gift hampers are so luxurious they make a perfect gift idea for a friend or colleague. Looking for a gift you can send from your work colleagues to a special member that may be leaving you? Or maybe a member of your team is deserving of some special recognition in the form of luxury chocolate? At Iain Burnett's Highland Chocolatier, we can create the perfect Gourmet Chocolate Hamper which includes a selection of artisan chocolates. Inside hold a treasure chest full of delights. Open up to discover a stunning box of Nine Award Winning handmade chocolates made with São Tomé cocoa and delicious Perthshire cream. This is the ideal luxury thank you gift for a chocolate gourmet.
The Chocolatier's Selection – Box of 9 Chocolates (88g)
1 Decorative Tin of Dark Hot Chocolate Flakes (200g)
1 pack of Luxury Fudge Dipped in Milk Chocolate (115g)
1 Iain Burnett Highland Chocolatier mug.
We would be happy to customise your gift hamper to make it extra special. If you have any preferences, please enter them at checkout as "Special Product Requests" or give us a call to see what we can do for you. We have a selection of chocolate hampers ready to be sent, have a look at them and pick your favourite?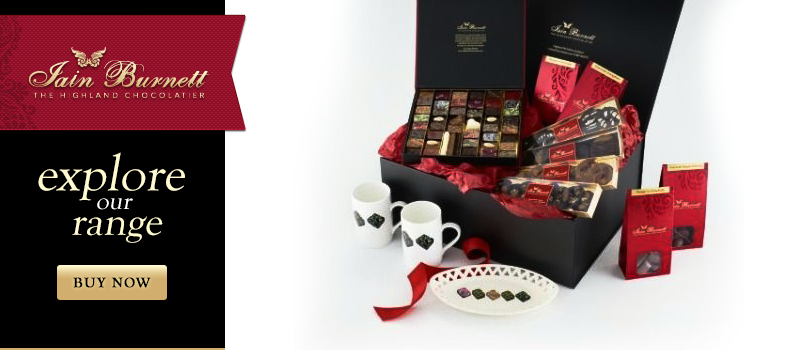 Simply Scottish Chocolate
There is no better way to say thank you to a loved one than with a delicious box of luxury chocolate. Buying a gift for a chocolate lover may seem fairly simple – keep it classic with a box of delicious Scottish chocolates.
Indulge in the taste of our Highland Chocolatier Award Winner Selection, which is one of our most popular products to give as a gift. Winning Product of the Year 2013 as well as Scotland Food and Drink Excellence Product of the Year 2013, Iain Burnett's Highland Chocolatier range is top in the industry. individual chocolates have won additional awards in their own right and this box contains them all. Delve into this box to find a selection of flavoured truffles:
Dark Velvet Truffle
Milk Velvet Truffle
Lime Truffle
Raspberry Truffle
Chai Truffle
Rose Truffle
If you are looking for something with a specifically nutty taste, The Just Pralines selection also makes a thank you gift for those who love rich hazelnut pralines. These mouth-watering chocolate pieces are coated in a smooth caramel-noted milk chocolate and are infused with real fruit and natural spice, creating the most unique praline product– there is no better thank you gift than that!
"Thank You" Gift Voucher
Whether you are looking for something for a friend or a family member, we have luxury chocolate gifts to suit any occasion. Too many options to choose from? Say a special thank you to a loved one with one of our gift cards, which can be redeemed on our range of gourmet chocolate.
Personalise your e-gift card with a message from the heart and have it delivered and issued within a matter of hours! Gift cards are available to be sent out any day of the week so why not schedule your gift card to arrive when you are with the receiver.
At Highland Chocolatier we produce luxury Scottish chocolate which are great for saying "thank you". If you have any special requirements or would like to find out more contact us and one of chocolate experts will be on hand to advise you.