Luxury Chocolate Wedding Gifts for the Big Day
FEBRUARY 15TH, 2016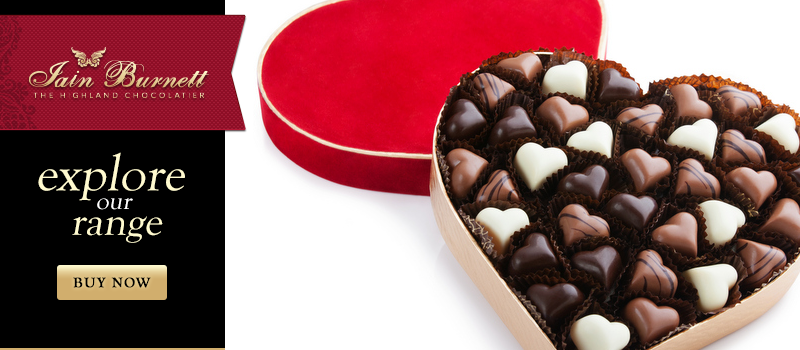 So here you are, in need of a present for a special bride or groom close to your heart. With the wedding season approaching fast you will want to find the perfect gift to showcase the happy couple's love and affection for one another and at the Highland Chocolatier we have plenty of beautiful gifts for newlyweds.
If you are looking over the online wedding gift list that your dear friends have compiled for all of their guests and you can't quite spot the perfect gift, consider chocolate wedding gifts from Iain Burnett Highland Chocolatier. Chocolate is universally loved, and with our wide selection of different flavours and tastes, there is something for everyone. However, the chocolate we have to offer is not universally found but we can assure that it will be loved by anyone you wish to indulge. We can assure this through our food awards both nationally and internationally such as the Scotland Food & Drink Excellence Food Service Product of the Year (2014).
Chocolate Hampers For All Couples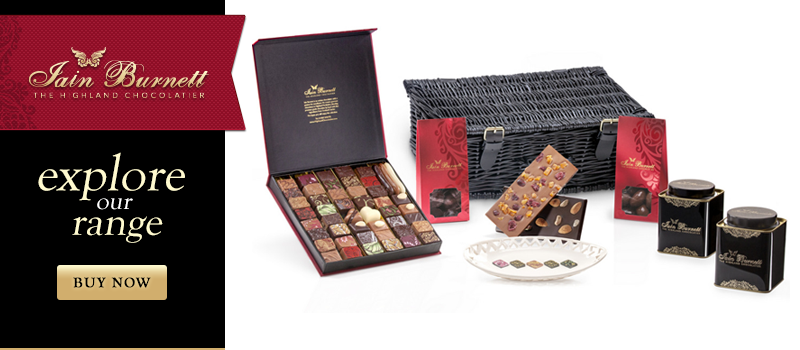 The biggest – and one of the best! – gifts available in our range that would suit a newlywed couple right to a T are our finest gourmet chocolate hampers. The first in the range is the Highland Chocolatier Gourmet Hamper, a black wicker basket containing a Chocolatier's Selection Box of 9 Luxury Chocolates, a Decorative Tin of Dark Hot Chocolate Flakes, a pack of Luxury Fudge Dipped in Milk Chocolate, and a special Iain Burnett Highland Chocolatier mug. Our finest recommendation, however, and top of the list for luxury chocolate wedding presents would be the Highland Chocolatier Opulence Chocolate Hamper.
This indulgent hamper is top of the range, featuring a spectacular Chocolatier's Selection Box of 48 Chocolates, a Decorative Tin of Luxury Nougat, a Decorative Tin of Dark Hot Chocolate Flakes, a Pack of Juicy Cherries Dipped in 70% Dark Sao Tome Chocolate, a Pack of Brazil Nuts rolled in Milk and 70% Dark Sao Tome Chocolate, a Cranberry and Apricot Milk Chocolate Bar, an Almond and Pistachio 70% Dark Sao Tome Bar, and a beautiful Iain Burnett Highland Chocolatier serving plate to enjoy all of these chocolates. Make your gift extra special and offer the happy couple the gift of gourmet.
Award-Winning Luxury Velvet Truffles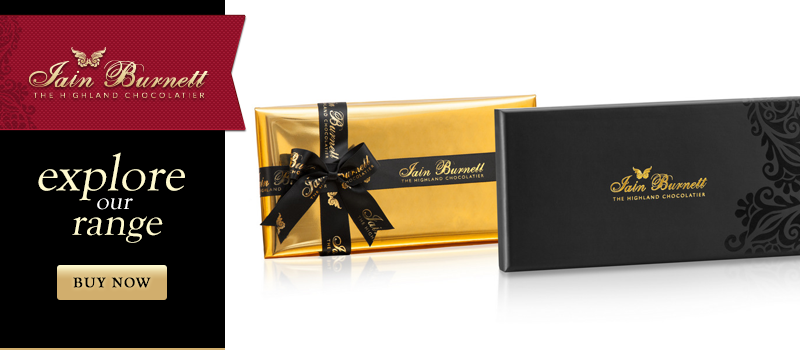 Even if our chocolate hampers do not appear on the wedding gift list, they make for the perfect surprise. However, if you have already bought from the list, we would recommend some of our most decadent products which make for an excellent accompaniment to any gift basket. These products include our award winning truffles from our Velvet Truffle Range, especially the Velvet Truffle Classic. The Velvet Truffle Classic range can be found in a box of twelve, with a taste that blends fresh Perthshire cream with a delicate caramel flavour.
However, if you are purchasing for someone searching for unique flavours, then look no further than our other six flavours of truffle including the Velvet Truffle Strawberry and Star Anise, the Velvet Truffle Dark São Tomé, the Velvet Truffle Caramel with a hint of liquorice, the Velvet Truffle Raspberry and Black Pepper, the Velvet Truffle Passion Fruit with a Touch of Mango and finally the Velvet Truffle White Lime with a hint of chilli. We can assure you that for any chocolate lover, any of our seven types of gourmet chocolate truffles will be the crème de la crème of all gifts received.
Make Their Hearts Flutter with Boxes of Chocolates
If you reading this and are the bride or groom yourself, and find yourself wishing for these goodies, after adding 'chocolate hamper from Iain Burnett Highland Chocolatier' to your gift list, why not invest in luxury chocolate wedding favours. Our recommendation would our Butterfly Box, an adorable and beautifully presented little box containing our chocolate truffles, and at an even more delectable price of only £3.95. These pretty little boxes add elegance and grace to any table they are placed upon.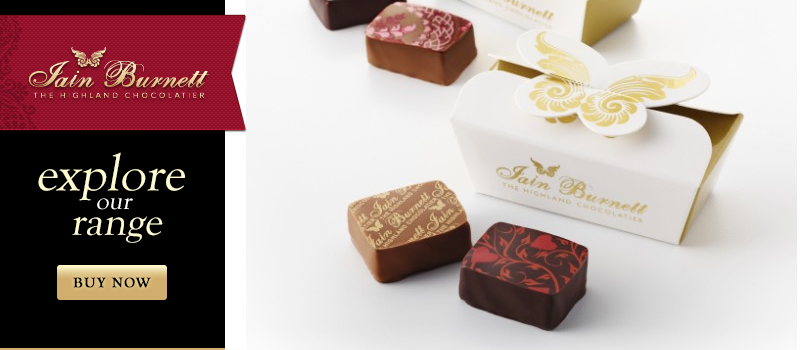 Head over to our Wedding Gifts section for an even larger selection of chocolate wedding gifts including beautiful boxes of chocolates, some coated in velvet and in the shape of a heart, for those of you wishing to give out more of a romantic gift this wedding season. Our Box of 20 Salted Caramel Hearts is shaped in this way, and plays host to twenty chocolates hearts infused with caramel, and with the addition of sea salt crystals to give a taste unmatched by any other. Yet, if you wish for less caramel why not try our romantic selection, in two sizes this selection of chocolates is in a gold heart shaped box featuring speciality chocolates finely selected by our master chocolatier. Both boxes include milk, dark and hazelnut pralines and enrobed truffles and if you so wish, you can pick and choose exactly what you would like these boxes to contain at the checkout option.
Perfect Chocolate Wedding Gifts at the Highland Chocolatier
Find a gift that is special and unique at the Highland Chocolatier. Our vast range of chocolate gifts are perfect for weddings – either if you are a guest giving the gift or a bride or groom giving out favours. Iain Burnett Highland Chocolatier provide excellence every time and an assured quality in every bite of chocolate.