Luxury Chocolate Wedding Favours
MAY 20TH, 2016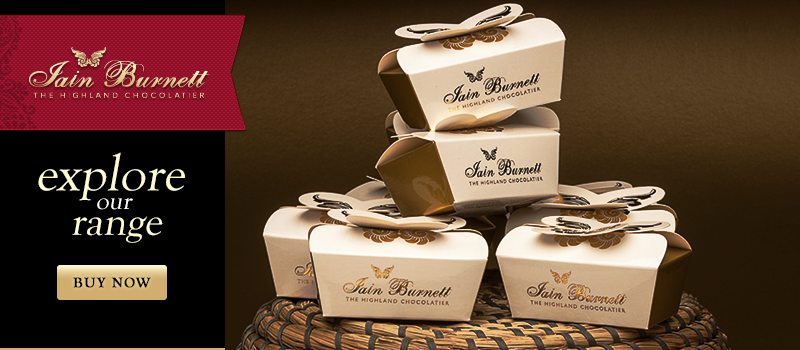 Planning your wedding day can be a roller-coaster, full of emotional highs and lows, and here at the Highland Chocolatier we know it can be a stressful time. Favours are synonymous with weddings and not only do they decorate your tables beautifully, they also allow your guests to take home a lovely reminder your special day. With so many options to choose from out there it can be overwhelming but luckily, we've expertly created some beautiful chocolate favours in order to make the decision a little bit easier. Whether hosting a small intimate ceremony or a large soiree full of friends and family we have offerings that will excite each of your guests.
The Butterfly Box
Today favours are used just as much as a decoration as a memento, so what could be more fitting than our delicate white and gold embossed butterfly box? Continue the classic white wedding theme right through to your favours with these small gifts. They are the perfect memento for your guests to bring home. Watch as your guest's eyes widen as they open the box adorned with a stunning3D butterfly and discover the tantalising treats inside. The deep colour of the rich chocolates inside is a beautiful contrast to the white that encases them. Each butterfly box can be filled with two of our famous Iain Burnett chocolates and pralines of your choice from our gourmet chocolate selection. You can be as adventurous as you like, just a few options include:
Dark Velvet Truffle – Palet d'Or fresh cream truffle of intense São Tomé flavours
Mocha Truffle – Milk chocolate, fresh Scottish cream and a shot of espresso
Milk Velvet Truffle – Famous silky truffle of fresh Scottish cream and rich chocolate
Dark Praline – Smooth gianduja of pure hazelnut praline and chocolate
Cocoa Nib Praline -Crunchy nibs in a rough hazelnut praline on a layer of marzipan
Award Winning Wedding Favours
Your bridesmaids and maid of honour will need something that little bit more special to thank them for all the hard work they've put in and for being part of your wedding. Give your bridesmaids a gift that is thoughtful and sincere, and what could be more thoughtful than award winning chocolate wedding favours? Our smooth rose and dark chocolate velvet truffles are the ultimate indulgence to enjoy after the stress of helping plan a wedding. The single origin cocoa used to create these delights is sourced from the volcanic island of São Tomé and blended by hand with perfectly matched Scottish cream from a single herd of cows in the highlands. What's more, this recipe is gluten, nut an alcohol free making it simply perfect for anyone who wishes to enjoy it. The rose flavour evokes a feeling of romance, perfect for a wedding.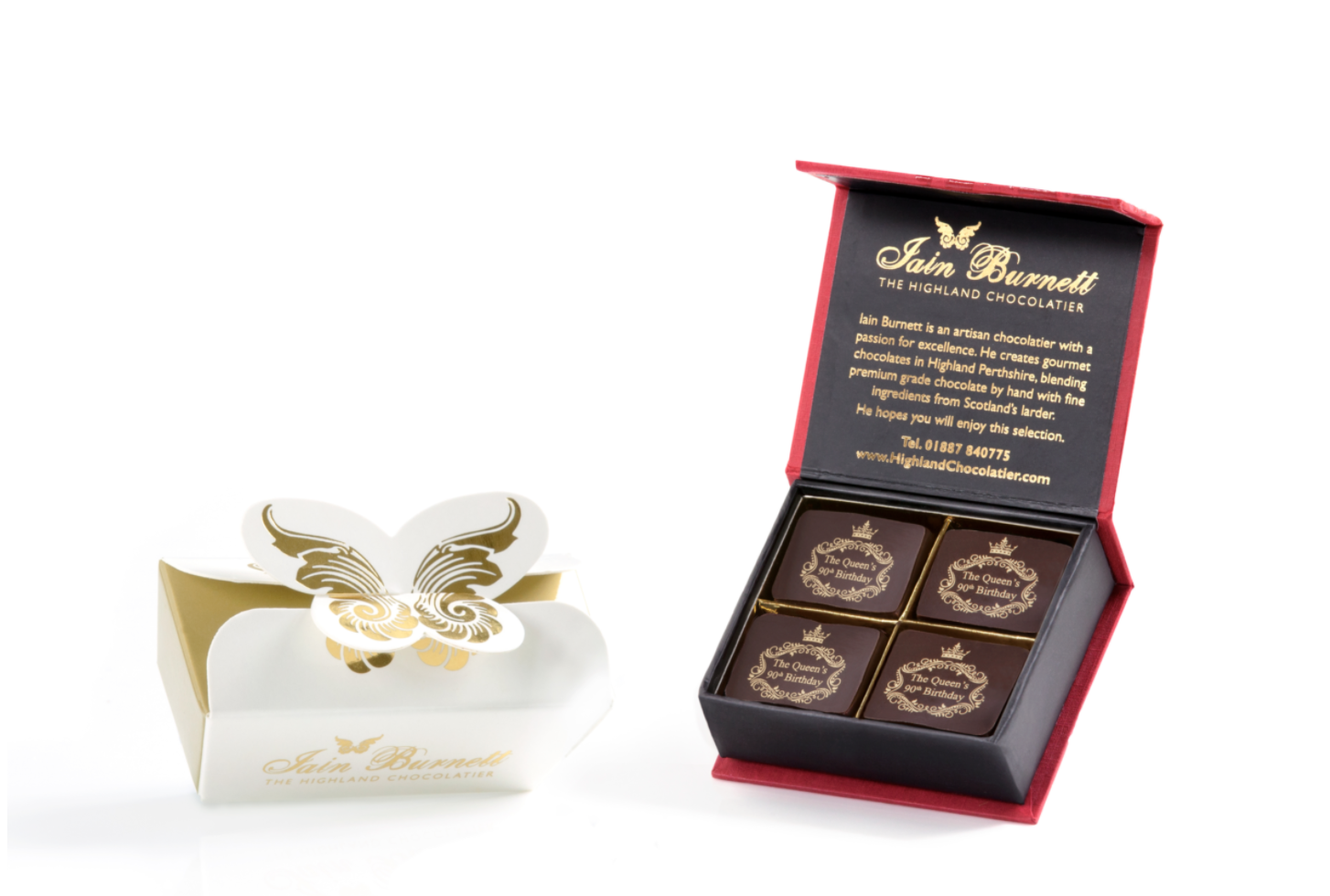 We know that your bridal party have all sorts of different tastes, so for the girl who likes something more exotic why not thank her for all her work with the unique flavour pairing of passion fruit and 70% chocolate. This tangy combination has enjoyed success as a gold winner in the International Chocolate Awards 2015. Perfect for a spring or summer wedding these passion fruit truffles come encased in our exquisite red and gold embossed Highland Chocolatier presentation box, secured with magnetised clasp.
Chocolate Dipped Fruit
Chocolate dipped fruit has long held connotations of romance, and we think our hand dipped chocolate cherries are no exception. Presented beautifully on their natural stalks, our expert chocolatiers candy these sour fruits in order to bring out their natural sweetness and juiciness. Hand dipped in our signature 70% São Tomé chocolate this recipe has been created to be paired with Glenfiddich 30 Year Old malt from Dufftown on Speyside bringing out the subtle flavour notes of both the whisky and the chocolate. Do your groomsmen love a tipple? What could be more fitting before the vows than a nip of whiskey and an indulgent chocolate delicacy?
Why not go one step further and indulge your wedding party with our chocolate dipped fruit selection? Each piece is candied for over a week to preserve their natural juices and enhance their sweet flavour ad presented in a stunning round box, the chocolate dipped fruit selection includes:
1 whole clementine and
3 pairs of cherries with their natural stalks
1 whole Pineapple slice
1 lemon slice dipped in blonde chocolate.
Whether favours for all your guests that will sit pride of place at your evening reception, or thoughtful individual gifts for your bridal party and groomsmen, here at Iain Burnett the Highland Chocolatier, we know we have special luxury chocolate wedding favours that will make your day complete. Contact us today as we are always happy to discuss your specific requirements.