Indulge Your Loved Ones with A Luxury Chocolate Hamper
MARCH 25TH, 2016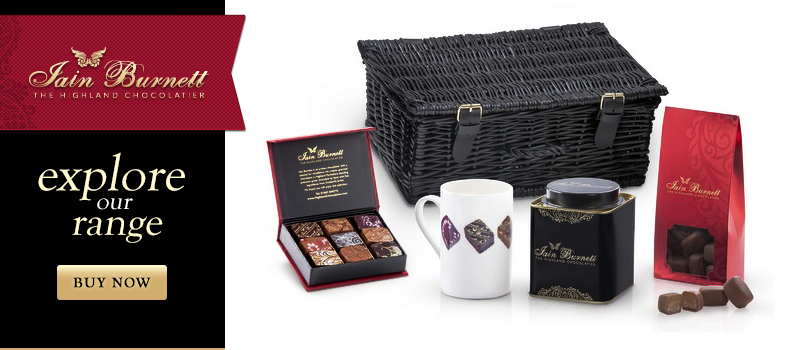 Chocolate is universally loved, so what better way than to show your appreciation for those most special to you than with a luxury chocolate hamper? Ian Burnett alcohol-free hampers are literally chock-full. Containing award winning artisan sweet treats and keepsakes your loved ones can treasure forever all presented in a sophisticated black wicker hamper secured with elegant leather straps.
Making a change to traditional presents that are often discarded, the present of a gift hamper will thrill anyone lucky enough to receive one. With four exquisite Highland Chocolatier selections to choose from, there's guaranteed to be one that suits the lucky recipient who will love delving into all-encompassing chocolate aroma as soon as they possibly can. Our luxury chocolate hampers are the perfect way to indulge the chocolate lover in your life. Whether as a Father's Day gift, a surprise thank-you to a special friend or a unique twist on traditional birthday gifts, we at the Highland Chocolatier guarantee our opulent selection has tantalising treats to suit the chocolate enthusiasts in your life perfectly.
Ian Burnett Highland Chocolatier uses a uniquely flavoured single-origin cocoa from the volcanic island of São Tomé in the South Atlantic giving his chocolates their signature intense cocoa flavour, perfectly paired with specially selected Scottish cream each delectable chocolate will delight every palate, every time.
We understand that not everyone has the same tastes, however, so, If you have any special requirements, we are happy to assist, simply enter your preferences at the checkout under "Special Product Requests" and we will gladly substitute and equivalent to suit your specifications.
The Chocolatier's Selection – Box of 9, 20, 30 or 48 Chocolates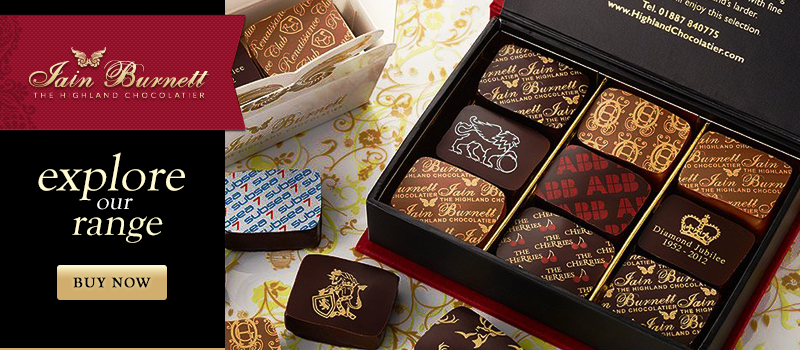 These luxurious treats are perfect for sharing and come in a range of moreish hand-crafted flavours. The small dedicated team of chocolatiers are trained in-house to meticulously hand-craft these delicious chocolates. The flavours include an indulgent raspberry truffle, made exquisite with a hint of black pepper, a cinnamon praline with a hint of sweet spice and the famous milk velvet truffle created with fresh Scottish cream.
Decorative Tin of Dark Hot Chocolate Flakes
–These delicious Belgium chocolate flakes can be used in a number of ways and guaranteed to delight whoever receives it. What could be more appealing than a sprinkling of these flakes adorning desserts? Or why not stir with warm milk heated on the stove to create a comforting real hot chocolate that can be shared and enjoyed with your family. These versatile flakes come in a beautiful keepsake tin that can be used time and again to hold your treasures and to be used a reminder of the beautiful gift received.
Luxury Fudge Dipped in Milk Chocolate
– Fudge has been a firm favourite with families for years, the melting texture dissolves into a creamy vanilla and caramel experience. Of course, enrobing our luxury fudge in smooth milk chocolate seemed only natural, this gluten and nut free recipe is a delightful indulgence for both young and old.
Iain Burnett Highland Chocolatier Mug
– When enjoying your luxury hot chocolate made with the Belgium chocolate flakes there's no better place to drink from than a Highland Chocolatier mug. A hot drink has the ability to take you away from reality and straight to instant relaxation. Whether indulging in a creamy gourmet hot chocolate or enjoying a cup of tea alongside one of the other sweet treats available in the hamper, this keepsake mug allows you the ultimate relaxation your loved ones deserve.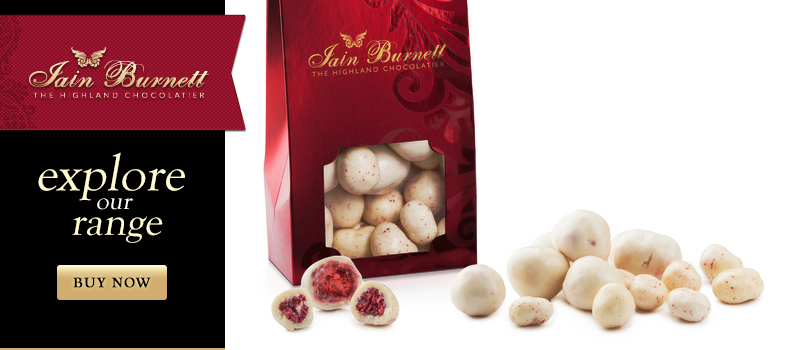 Strawberries & Raspberries rolled in white chocolate
Not only do we stock our hampers with traditional creamy chocolate centres, we also have extravagant fruit enrobed in our finest white chocolate for those looking to indulge in something different. The zing of our 100% natural dried strawberries and raspberries is paired expertly with the cool calm of the glistening white chocolate. The fruit lover will love this unique, refreshing option.
Salted Toffee Milk Chocolate Bar
Salted toffee has grown massively in popularity recently, a once unconventional flavour customers now love the contradicting saltiness matched with the silky sweet flavour of toffee. Our expert chocolatiers know that the flavours and crunch of the toffee and sea salt lend themselves perfectly to our signature milk chocolate bar and have created a delicacy that is truly flawless to taste.
70% Plain and Dark São Tomé Chocolate Bar
A single square of dark chocolate has the ability to encapsulate your mouth in an explosion of flavour. As this bittersweet chocolate melts away you are transported to the South American volcanic island of São Tomé where we source all of our chocolate exclusively. Chosen for its rich flavour and aromatic character our 70% bar enjoys subtle floral and olive notes. Also available in our luxury fruit and chocolate hampers is the same delicious plain chocolate bar encrusted with 100% natural dried raspberries, this sharp addition to the warmth of the original 70% bar is a one of a kind taste, perfect for that special someone who loves the taste of something strong and unique.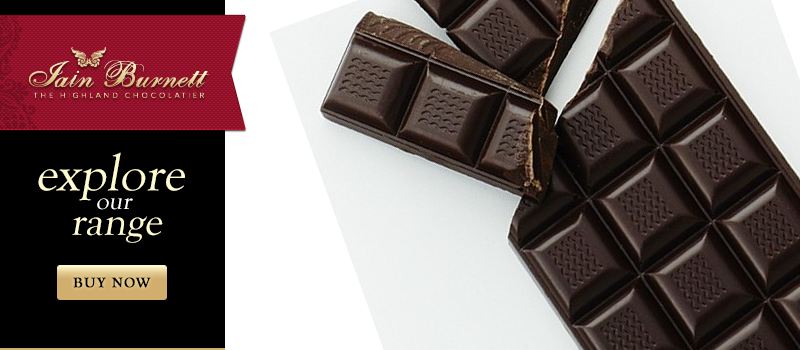 Juicy cherries dipped in 70% Dark São Tomé chocolate
Not only is our delectable 70% dark chocolate available in different bars, we also envelope whole Neapolitan Imperial cherries in this exquisite chocolate. Imported on their natural stocks and hand dipped these sour and sweet favourites are a unique twist on traditional chocolate covered fruit.
Cinder Toffee Honeycomb Dipped in Milk Chocolate
This chewy delight has been a much-loved and popular gift for years, no available as part of our gourmet chocolate gift hampers. The only way to enhance honeycomb is to smother it in our signature luxury milk chocolate. These generous pieces are hand dipped and the perfect addition to any luxury hamper to say "thank you" or as a beautiful birthday gift.
Decorative Tin of Luxury Nougat
The only way to improve sweet, sticky nougat is to hand cover it in our exquisite caramel hinted milk chocolate. These bite size pieces are encased in an elegant Highland Chocolatier decorative tin which can be kept as a sentiment for years to come.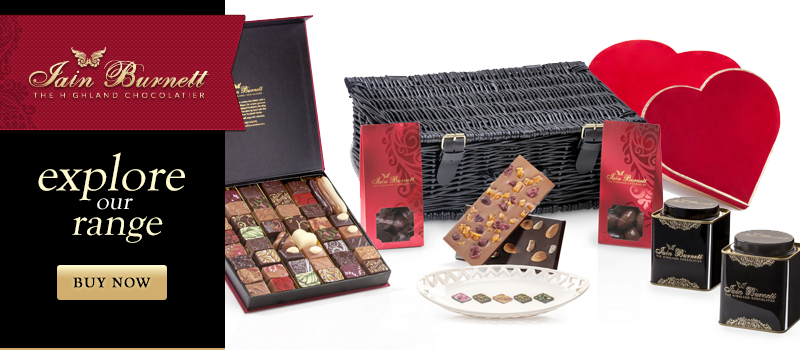 Cranberry & Apricot Milk Chocolate Bar
The chocolate used in our luxury hampers are of the highest quality, the snap lets your ears know you it's been tempered to perfection, and the smooth, glossy finish is a delight to your eyes, letting you know the same thing. Our signature milk chocolate bar has been bejewelled with sweet, chewy cranberry and apricot pieces to add another dimension to this traditional favourite.
Iain Burnett Highland Chocolatier Serving Plate
The only way to service Ian Burnett Highland Chocolatier chocolates is to display them for all to see on a speciality plate. Your friends and family will gaze at the outstanding craftsmanship on each hand finished chocolate, and the plate can be kept forever as a warm reminder of the beautiful hamper that was received.
Why not indulge your loved ones with a Highland Chocolatier luxury chocolate hamper? Ideal for the whole family to share or as a generous gift to be savoured slowly, we have something special to suit every occasion and taste.