Iain Burnett's Award Winning Gourmet Selection and the Academy of Chocolate
JUNE 3RD, 2016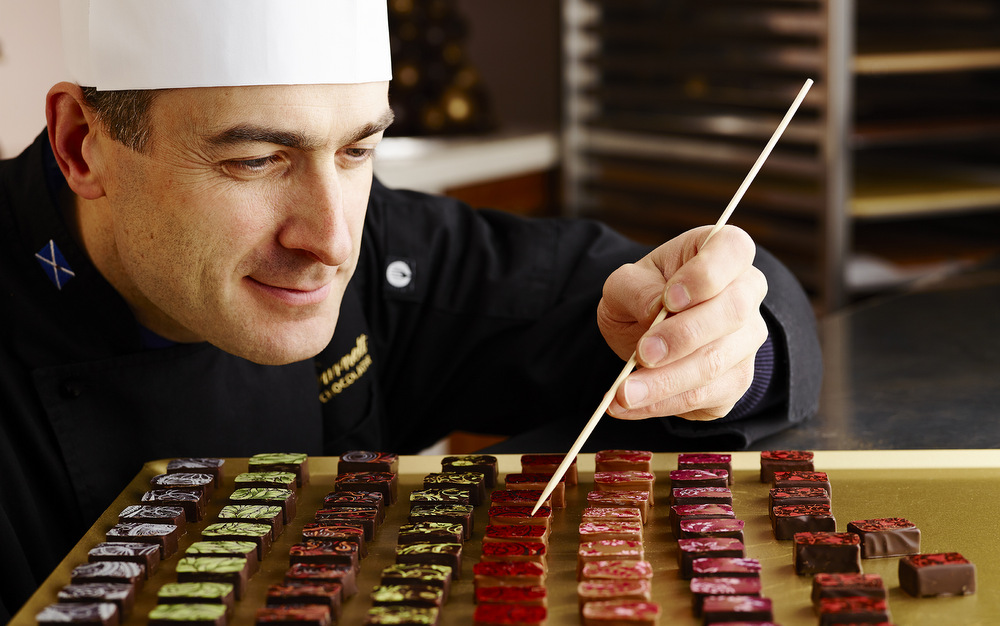 Iain Burnett has been famed as a world class chocolatier and has many awards and accolades to prove it. The Highland Chocolatier's latest awards include winning gold in 2015 in "The world's best chocolate truffle" category for his Velvet Truffle Dark São Tomé. The recipe is so delicious it won without any added flavourings! The winning product was created using the single origin cocoa from the volcanic island of São Tomé. The cocoa flavour is intense and enjoys a subtle spice that compliments the chocolate to perfection. This has been paired expertly with our specially selected Scottish highland cream in order to balance the richness.
The Velvet Truffle Dark São Tomé
These flavours combined create the exquisite naked ganache that is so delicious it doesn't require any extra flavouring. Each box is presented in a beautiful black and gold box, flamboyantly tied with a ribbon and sealed in an oxygen absorbing smart bag. It's this technology that has allowed our velvet truffles to be completely free of artificial preservatives. Our award winning velvet truffles are best served at room temperature using the porcelain truffle forks provided.
The Academy of Chocolate
Not does Iain Burnett continue to wow with awards but he also uses his expertise and passion to join forces with other world renowned chocolatiers. Iain Burnett is a proud member of the Academy of Chocolate which was founded in 2005. Their belief that chocolate is one of the world's greatest pleasures drove the need for a collection of professional chocolatiers to come together in a union.
The patron of the Academy of Chocolate is none other than Michele Roux OBE. The society comprises Britain's leading chocolate professionals. The members meet to discuss and debate all that is chocolate focusing specifically on sourcing, transparency and the journey from cocoa bean to chocolate bar.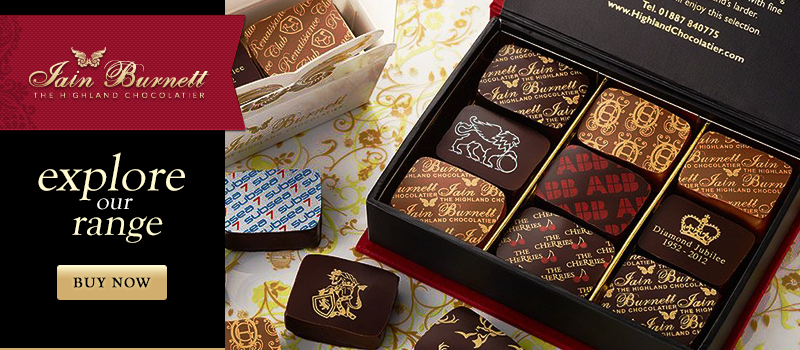 Transparency of Cocoa Production
Did you know that currently only 10% of cocoa beans are used in 'fine' chocolate? The rest is used for mass produced confectionary.
The Academy Of Chocolate firmly believes that with the demand for fine chocolate continuing to grow, this will incentivise better quality cocoa beans. The need for better quality cocoa beans will then impact greatly on the countries that produce them.
With demand for fine chocolate growing, the farmers will be able to take more care over the working environment and production processes leading to a better price for the cocoa beans.
The Academy of Chocolate believes we must pay cocoa farmers a decent price in order to ensure the high quality of the beans.
Not only does underpaying cocoa farmers this have a poor effect on the quality of cocoa and thus the chocolate but it also continues the further destructive effect on the world's environment.
Savour Fine Chocolate Flavours
Iain Burnett and the members of The Academy of Chocolate believe that once the public experience the luxurious taste of fine chocolate they will appreciate it instantly. The Highland Chocolatiers gourmet chocolate selection allows our customers to experience just that unparalleled taste sensation. The complexity of flavours and the varied and rich sensations you will enjoy will mean you will never see chocolate in the way you once did. Becoming a convert to fine chocolate has never been so easy with our delicious treats available to buy online; many of our expertly crafted chocolates can even be delivered to you the next day and make wonderful unique chocolate gifts.
Unique Flavour Combinations
Our expert chocolatiers work tirelessly to create unique flavours and textures to delight your taste buds. Each of our chocolate creations begin with our signature single origin 70% cocoa and are combined with unique flavours we guarantee will suit even those with the most elaborate taste.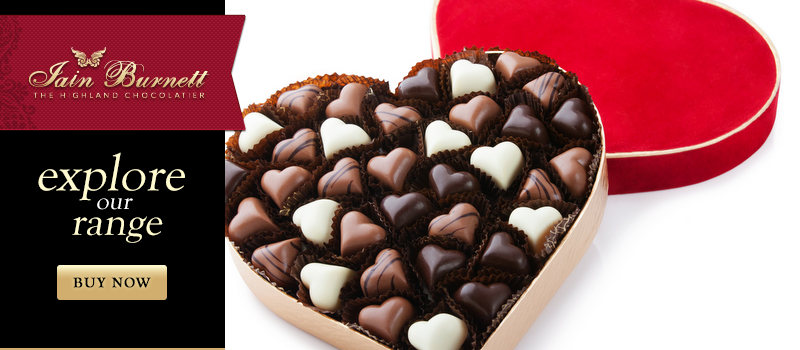 Orange Crunch Praline
Chocolate and orange have been paired together for years, but never quite like this. Our orange crunch praline is perfect for those who love the zing of citrus next to the creaminess of our signature caramel noted milk chocolate. We have expertly matched these flavours with the unique crunch of roasted wheat flakes to bring a unique dimension to our handcrafted praline.
Sea Salted Caramel Heart
What could be more perfect than presenting a selection of love heart shaped chocolates to your loved one? Caramel and sea salt have grown in popularity in recent years and when paired with our 70% dark chocolate the taste becomes even more luxurious. Enjoy a soft caramel centre, sprinkled with sea salt enrobed in a dark chocolate heart, perfect to show someone how much you care.
Sandringham Velvet Truffle
With the queen celebrating her 90th birthday in April we were awarded the accolade of creating her bespoke birthday truffles. With flavours sourced from each country of the United Kingdom this velvet truffle is fine chocolate at its very best. Black currents were picked from her majesty's very own back garden at Sandringham Estate and blended with fresh Scottish cream to create this one of a kind truffle.
If you're looking to experience the unparalleled experience of fine chocolate, why not contact us today. We are always delighted to hear from our customers and love advising you on what chocolate flavours suit your needs best.