Highland Chocolatier Set to Hit a Million after Bumper Year
JANUARY 4TH, 2016
Iain Burnett the Highland Chocolatier is celebrating a bumper year after hand producing over 800,000 chocolates in 2015 and forecasting over a million to be produced in 2016 as they mark their tenth year of business. Twelve tonnes of chocolate were produced this year by Iain Burnett and his team – the equivalent of the combined weight of over 156 people.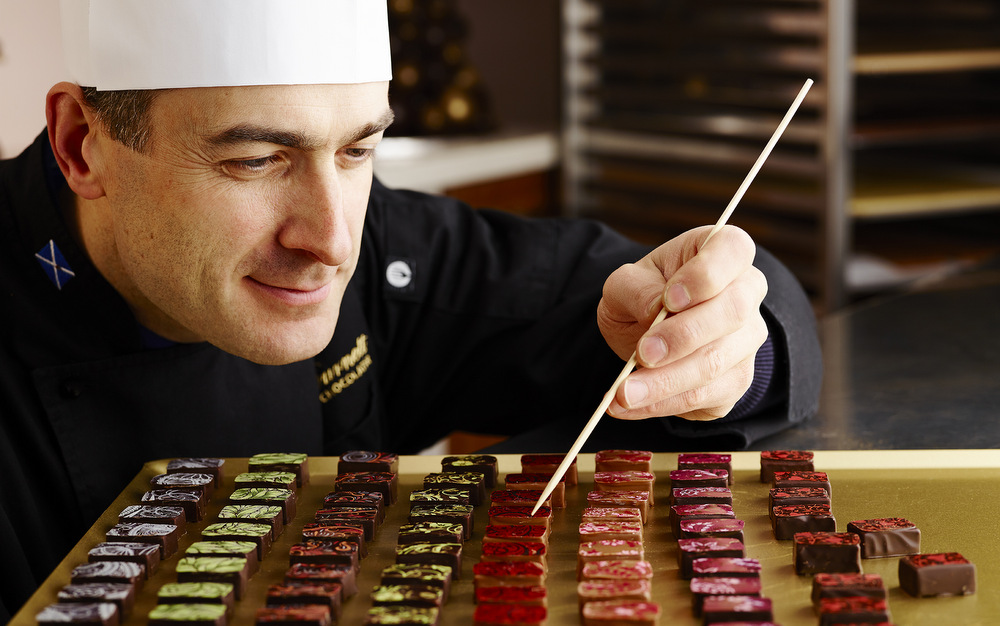 Demand for the luxurious chocolate, particularly their specialist truffle range, has grown with strong international demand from around the world due to their partnerships with British Airways First cabins worldwide. The chocolates have been exported as far afield as Japan, India and the Middle East.
Based at Grandtully, Iain Burnett The Highland Chocolatier was founded in 2006 and is now Scotland's most awarded chocolatier and one of the top three in the UK. This year it won international recognition at the International Chocolate Awards with their Velvet Truffles recognised as The World's Best Dark Chocolate Truffle. It also won two further silvers for the The Velvet Truffle – Passion Fruit & Mango and The Velvet Truffle – Raspberry & Black Pepper. The awards recognise the finest quality chocolate from around the world and reflect international tastes, offering a level playing field for chocolatiers worldwide.
Julie Collier, Commercial Director said:
"Producing this volume of hand-crafted chocolates is a huge achievement and comes at the end of a landmark year for us. As we enter our tenth year of trading, we've received the ultimate recognition on an international scale and I'm delighted that our chocolates are now marked as the finest in the world.
It's wonderful that people worldwide are becoming increasingly refined in their chocolate tastes. We've always used the very best ingredients including cream from a single herd of local cattle, Perthshire honey, Scottish butter and pairings with the finest Scotch whisky. This integrity and natural approach is important for our customers worldwide.
We're looking forward to celebrating our tenth anniversary in 2016 and sharing our chocolates with even more people!"
Iain Burnett The Highland Chocolatier is based at The Scottish Chocolate Centre, where they run gourmet chocolate tasting tours. The business is twinned with Legends of Grandtully, a Mecca for locals and tourists who come to enjoy their chocolate and coffee house, gift showrooms and gourmet chocolate shop. To book tours at the Scottish Chocolate Centre call 01887 840775.