Highland Chocolatier is Top of Truffle Tree
OCTOBER 17TH, 2016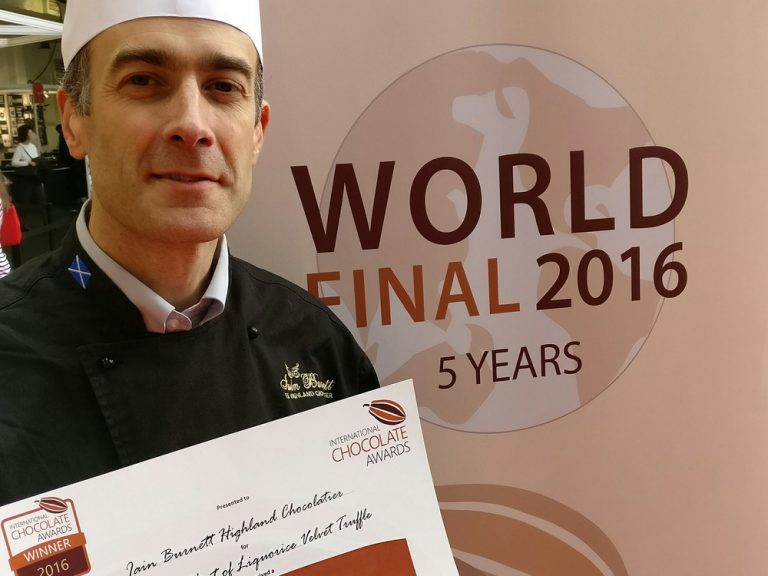 Two successive "Best in the World" awards is huge achievement for a small Scottish business. For a second year running, Perthshire-based Master Chocolatier Iain Burnett received a prestigious gold accolade in the International Chocolate Awards at Olympia, London for one of his exquisite Velvet Truffles.
In competition with chocolatiers from all over the globe, his new Velvet Truffle – Caramel with a Hint of Liquorice topped the board – the only UK chocolatier to win such a distinction in the truffle and praline category this year
Iain Burnett is based in the tiny village of Grandtully in Highland Perthshire, and the Highland Chocolatier has just celebrated its tenth anniversary. In recent years Iain's special expertise in making both "naked" and enrobed (coated) chocolates has made his premises one of the area's leading tourist attractions.
THE SCOTTISH CHOCOLATE CENTRE at Grandtully, opened in 2010, was the first and only venue of its kind in Scotland dedicated to the promotion of gourmet chocolate. Iain Burnett himself is now Scotland's most awarded chocolatiers and one of the top three in the UK.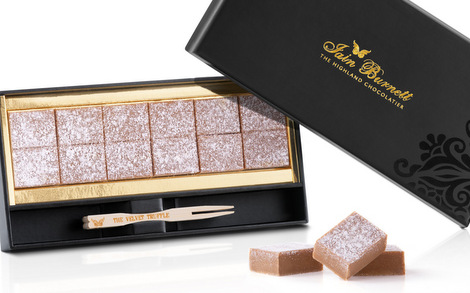 Iain said of his latest success: "I'm really pleased that my new caramelised white Velvet Truffle has been selected. Liquorice is a flavour that sometimes gets a bad press but I've developed a chocolate that uses a gentle hint of liquorice with white chocolate that has been caramelised to complement it. The balance of chocolate and spices is combined to create a complex chocolate that is above all, delicious!"
The truffles cost £19.95 for a gift box and are available in his Grandtully and St Andrews stores, as well as on-line (UK and internationally) via www.highlandchocolatier.com.
The recipe and technique for producing Iain's pure ganache truffle is a closely guarded secret because it is so unique. His Velvet Truffle – Dark São Tomé won gold at the International Chocolate Awards in 2015, marking it as The World's Best Dark Chocolate Truffle. Both his Velvet Truffle – Caramel with a Hint of Liquorice and his original Velvet Truffle – Classic won Gold at the British section of the International Chocolate Awards in June 2016.
The Velvet Truffle Range has won Scotland Food and Drink Excellence Confectionery and Snacking Product of the Year.
The International Chocolate Awards are judged from over 40 countries with literally thousands of entries. They recognise the finest quality chocolate from around the world and reflect international tastes, offering a level playing field for chocolatiers worldwide. For example, the firm winning silver in the white truffle category came from the United States, and five bronzes were awarded to firms from the US, Mexico and Switzerland.
Iain Burnett – The Highland Chocolatier sources chocolate from the small island nation of São Tomé and Príncipe and uses local ingredients including cream from a single herd of Perthshire cattle, and Scottish honey and Scottish butter.