Gourmet Thank You Gifts For Mother's Day
FEBRUARY 17TH, 2016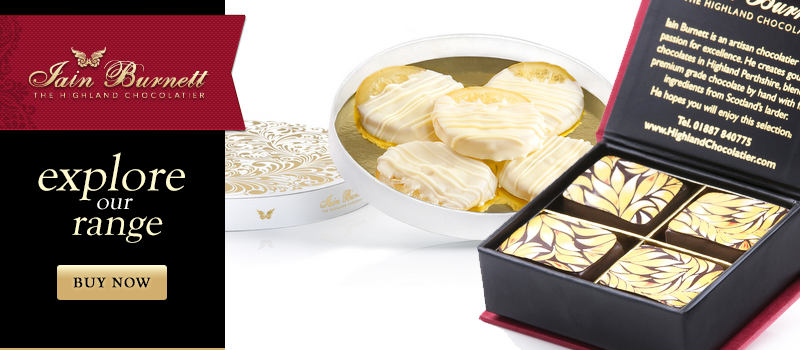 Your mother has done a lot for you. She raised you, made you feel special, and would turn the world upside down to make you happy. It is important to show her that you love and appreciate her for all the time and effort she put in to help you grow up and become the person you are today. Mother's Day is her day to be pampered and appreciated (more than usual!) and finding her a beautiful gift can be a great way to tell her 'thank you' for all that she has done. Saying thank you could not be easier than with the Highland Chocolatier's delicately divine range of Mother's Day chocolate gifts crafted especially for her.
The Gift That Keeps on Giving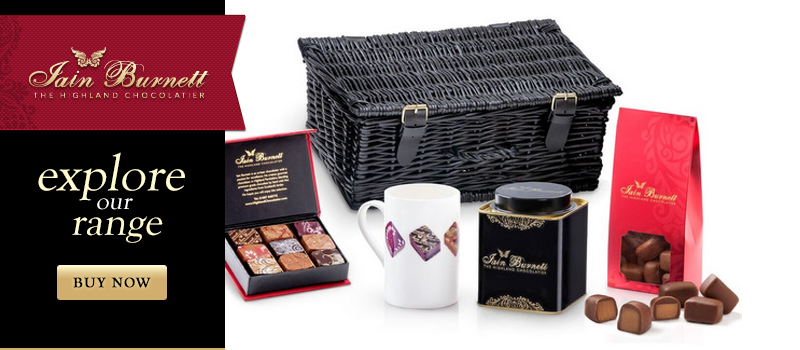 Finding the right gift to say how much your mother mean to you is a real struggle sometimes, especially when you want to give a present that is full of meaning and heart. Sometimes we can't even find ourselves able to settle on just one thing, making the decision all the more difficult. With a fine range of chocolates to choose from here at the Highland Chocolatier, we understand that selecting only a few is difficult, which is why we have created our most luxurious gift idea yet that would make the perfect Mother's Day gift.
Our luxury chocolate hampers are sure to make any mother smile. Filled with only our finest selected chocolate products, each black wicker hamper is packed full of flavour. The most petite in our range is the Highland Chocolatier Gourmet Chocolate Hamper. Give your mother the gift of choice this Mother's Day in this beautiful, reusable hamper. Inside, there are treats for her to enjoy whenever she likes. With nine award-winning homemade chocolates in the Chocolatier's Selection Box, a decorative tin of dark hot chocolate flakes, a pack of luxury fudge dipped in milk chocolate, and a special Highland Chocolatier Mug made just for her to enjoy her new hot chocolate drinks, there is something for more than just Mother's Day inside this hamper that she can come back to again and again.
We also offer slightly larger chocolate hampers at different prices filled with even more chocolates from our award winning range. Browse them today for more information, and contact us if you require any changes or have recommendations prior to delivery. Delivering the perfect gourmet gift to you means everything to us, as your mother means to you.
A Heart Full of Love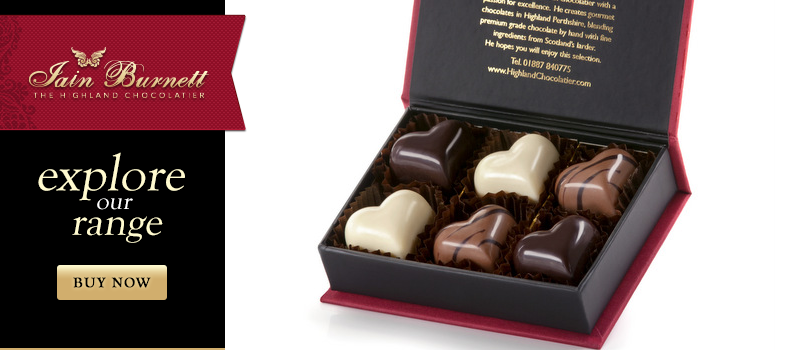 Traditional boxes of chocolates make a great gift for Mother's Day. Yet, if you are looking for something just a little more different and special, the Highland Chocolatier have the beautifully made selection box just for you. Telling your mother that you love her could not be easier than with our beautiful boxes of 6 Loving Filled Hearts. Enclosed in our beautiful red and gold Highland Chocolatier boxes are a selection of three of our most lovingly designed chocolates from our selection.
She will be able to enjoy tasting our stunning Hearts of Gold, beautifully smooth caramel-note milk chocolate filled with the softest oozing caramel centres; Pure White Velvet Hearts, a deliciously creamy blonde chocolate heart with a creamy ganache centre; and Dark Sao Tome Hearts, with just a pinch of sea salt thrown in to really add to their decadent flavours. If your mother would love a box full of choice, this could be the heart-filled box you need.
Let Her Heart Soar with Butterfly Chocolate Boxes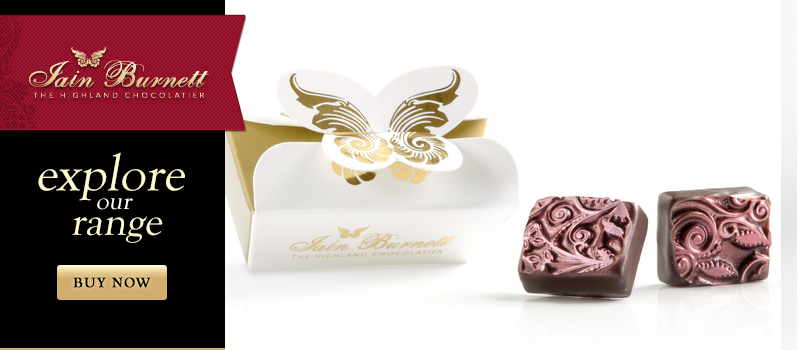 It is not only slices of fruits that offer at the Highland Chocolatier. We embrace the Spring spirit and offer whole candied fruits such as our chocolate dipped cherries. In fact, one of our favourite products is our box of 4 Whole Candied Clementines. Candied to create the sweetest layer of sugar from our delicious syrup to allow the whole fruit's juices to be contained, each bite is sweeter and juicier than the next.
Swirled with a delicate pattern of our single origin 70% dark chocolate and dipped by hand, these individual candied fruits are a real treat for any chocolate connoisseur. If you are looking for a gift idea, all of our fruits – including a whole clementine – are available in our specially selected St Clements fruit selection, decorated especially for Mother's Day gifts.
Mother's Day Chocolate Gifts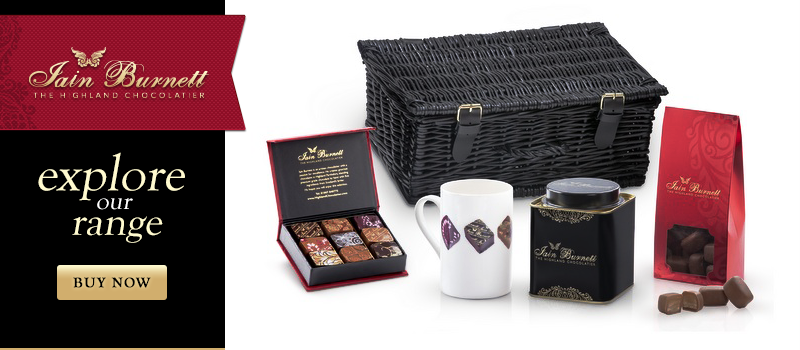 Finding something small as a little treat for your mother to enjoy can brighten up her day. That is why at the Highland Chocolatier we have created our finest little boxes of chocolates that bring out the beauty of the contents. Whether they are a smaller part of a large present, or a little gift to hand to her throughout the day, our expertly decorated Liquorice Butterfly Box filled with two decadent little chocolates makes the perfect treat.
These chocolates are some of our newest we have created. Caramelised white ganache with the finest trace of liquorice truffle is enrobed in our delicious single origin 70% dark Sao Tome chocolate. The taste of liquorice matches perfectly with the sweet and creamy taste of white chocolate, making for an exquisite taste sensation your mum would love. Wrapped up in a small white box with an elegantly designed gold butterfly atop the bundle, there is no more attractive gift on shelves for Mother's Day.
Award-Winning Selections for Her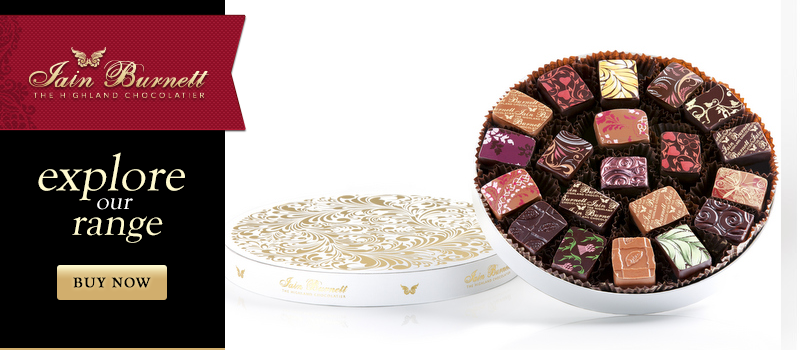 Chocolates can make anybody's day brighter. The Highland Chocolatier offers the finest of Scottish chocolate selections, and with the added benefit of your Mother's Day chocolate delivered to you, there is no reason not to make your online order today. Boxes of chocolates are the traditional choice for any gift, including Mother's Day, so it is only right that we have included our finest chocolate selection box in our range for Mother's Day.
Our Mother's Day Truffle Selection is one of the most elegant and delectable choices for your mother with 20 chocolates presented neatly in a beautiful gift box that requires no extra wrapping up. Each truffle is individually wrapped in delicious milk or 70% dark chocolate and hand decorated to perfection. Included in the box are our finest award winning velvet truffles, chosen at the International Chocolate Awards 2015 to receive the highest Gold award for chocolate truffles. We have also included more flavours from our truffle range for that extra special elegancy Mother's Day chocolate gift. Go on, let her know she means the world and more with this beautiful box of gourmet treats.
Tokens of Love
Looking for the perfect accompaniment to a bouquet of flowers? Take a look at our range of delicious love tokens for more ideas this Mother's Day from the Highland Chocolatier's expert chocolate kitchen. Contact us for more information or for any dietary requirements necessary.