Gourmet Chocolate Guide – Chocolate Gifts for Him
MAY 18TH, 2016
Gourmet Chocolate is the perfect gift for any occasion. Gifts for him are often hard to choose, which seems silly when you think that everyone loves a rich piece of chocolate. Gentleman like to indulge in dark tastes and whisky paired chocolates which are available to order at Highland Chocolatier.
Below are our top picks for chocolate for men which will solve your problem when picking a gift for his birthday, Father's Day or even if you are looking for next year's Valentines chocolate.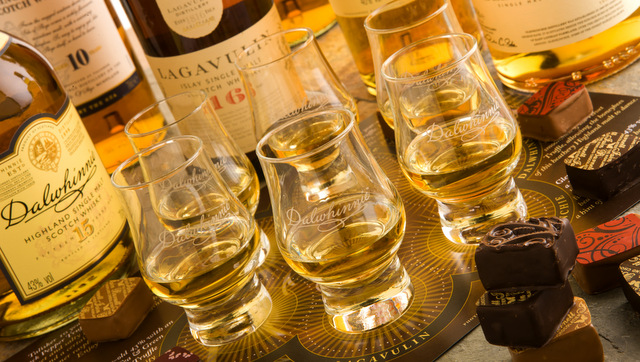 Chocolate Gifts for Him – The Whisky Collection
Does your Dad enjoy a glass of world famous Scottish whisky? Why not pair his love for chocolate and malt together with our "Whisky Tasting Box". This indulgent selection is filled with delights, including our award winner, the Velvet TruffleTM. These chocolates are acclaimed for their real fruit and natural spice truffle taste. He can then delve into the nutty taste of our praline chocolate truffles which are caped in milk or 70% single origin cocoa chocolate.
These delicious chocolates are the perfect match for the following gentleman favourites:
Cragganmore 12 Year Old
Caol Isla 12 Year Old,
Dalwhinnie 15 Year Old,
Glenfiddich 12 Year Old
Glenkinchie 12 Year Old
Lagavulin 16 Year old
Oban 14 Year Old
Talisker 10 Year Old.
Bunnahabhain 12 Year Old
Dark Chocolate for Men
Men love the strong taste of elegant dark chocolate. Our "Just Dark Selection" is made up of 30 chocolates made with special care in the Highland Chocolatier kitchen. Each chocolate is individually smoother in São Tomé 70% dark chocolate.
Don't worry about gift wrap for this gift, this selection comes prepared in a stunning chocolate box. He will be mesmerized by chocolate goodness when he opens up to find some of our most popular chocolate gifts:
The Velvet Truffletm
Real Fruit-Dusted Truflles
NaturalSpice-Infused Truffles
Smooth Hazelnut Pralines
German Marzipans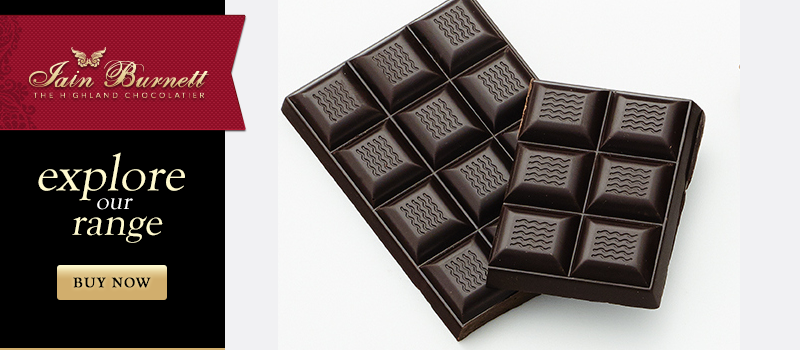 The Maple Syrup & Bacon Chocolate Bar
Is the man in your life always trying new things and likes to experience new tastes? We have the perfect challenge for him! If you are looking for a little something with lots of flavour this is the perfect gift for him.
Our "Maple Syrup & Bacon Chocolate Bar" is rich with premium Canadian maple syrup that it'll have his taste buds dancing in his mouth. This bar is infused with our smooth caramel note milk chocolate and special Scottish smoked reared from the finest Ayrshire pigs.
This chocolate treat is definitely something special and was used to launch the Great British Savoury Chocolate Challenge.
Send your chocolate by post, "The Maple Syrup & Bacon Chocolate Bar" is a UK free post item and can be delivered by Royal Mail second-class post.
Luxury Gifts for Him
If a box of chocolates isn't his style, he is sure to love our "Decorative Tin of Luxury Fudge". Each piece of fudge is equally cared for and dipped in the finest Scottish chocolate. Not only does it look great in the Iain Burnett chocolate tin, but tastes so creamy and delicious. Gifts for him can often become repetitive with him receiving the same aftershave or underwear on every occaision. This is the perfect alternative to just chocolates and would work well as a little extra for your man.
Chocolate Hampers for Men
Gifts for him can be easy to buy if he loves chocolate. If he is obsessed with chocolate and enjoys a little taste of everything, our hampers come in all shapes and sizes.
Our Luxury chocolate hampers from Highland Chocolatier make a generous gift for him or any chocolate lover. At Iain Burnett Highland Chocolatier, we prepare alcohol free hampers which are packed with world class gourmet chocolate. We can substitute products making it a personalised gift fit for your loved one.
A Chocolate gift basket can be a great option any time of year. Our option of hampers that range from small to big can be packed full of the following selection: gourmet chocolate bars, filled boxes with award winning artisan chocolates, attractive tins holding drinking chocolate flakes and parcels of traditional favourites dipped in chocolate:
Dipped Cherries
Dipped Fudge
Dipped Nougat
Dipped Turkish Delight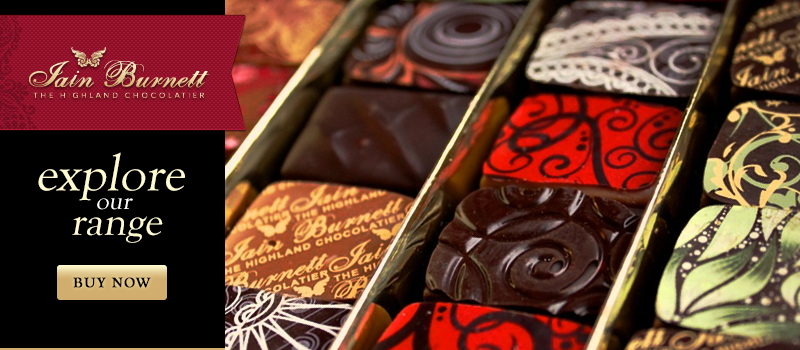 Father's Day Hamper
Even the smallest of our finest selection of chocolate hampers is brimmed with the best of the best Scottish chocolate. This hamper is home to the Chocolatier's Selection Box of 9 Luxury Chocolates, a Decorative Tin of Dark Hot Chocolate Flakes, a pack of Luxury Fudge Dipped in Milk Chocolate, and a special Iain Burnett Highland Chocolatier mug to enjoy your delicious gourmet treats. Perfect for this Father's Day!
Surprise him one of our freshly made chocolate hampers which can be delivered straight to his door in a stylish black woven wicker hamper. It doesn't matter what package you pick we would love to add extra details to your hamper, making it the most memorable gift, if you require any changes or personal touches, contact us and let us know what you require in your order.