Father's Day Luxury Chocolate Gifts for Him
JUNE 10TH, 2016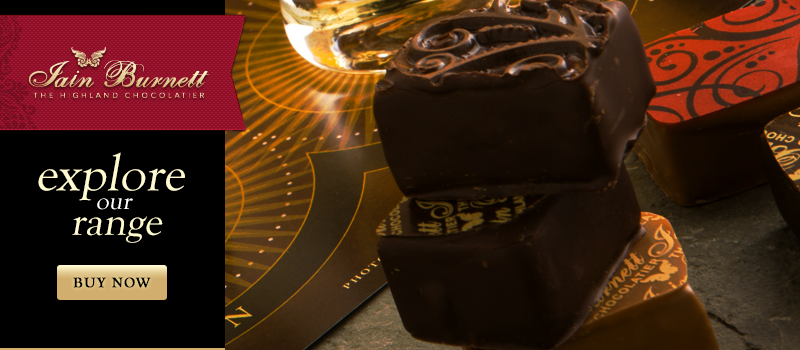 On Father's day, many of us make a special effort to visit our dads and father figures. This special day was introduced from America where we took inspiration from the Mother's Day celebrations. Fathers are often showered with cards and and gifts to show them just how much we care. Of course, most of our dads have been subject to the "World's Best Dad!" mug, or, even worse – socks! So, if this year you're looking for a unique Father's Day gift, then why not indulge in some gourmet chocolate hand crafted by the Highland Chocolatier?
Whisky and Chocolate
Most of our dads like a dram now and then, and for years we have presented fine bottles of whisky to our Fathers each June as a thank you for all they've done for us. Iain Burnett, master chocolatier realised that there is no other luxury like pairing your favourite drink with a perfectly matched chocolate as an accompaniment.
Is your dad passionate about whisky? If so, our whisky tasting box with tasting notes is the ideal Father's Day gift. The beautifully presented box comprises 20 of our exquisite chocolates all enrobed with single source cocoa from the volcanic island of Säo Tomé in either 70% dark chocolate or caramel noted milk chocolate. Each of the gourmet chocolates for him have been chosen to compliment the top fifty malts from across Scotland.
The flavours include the award winning dark velvet truffle, a flavour so perfect it didn't need any other flavourings added to ensure it won gold in the 2015 International Chocolate Awards. Our chocolate selection has been paired with these whiskeys, plus many more.
Bunnahabhain 12 Year Old
Cragganmore 12 Year Old
Caol Isla 12 Year Old
Dalwhinnie 15 Year Old
Glenfiddich 12 Year Old
Glenkinchie 12 Year Old
Lagavulin 16 Year old
Oban 14 Year Old and
Talisker 10 Year Old
If Mortlach whisky is your dad's drink of choice, why not indulge him with our specially created Mortlach selection box? 20 sumptuous chocolates with unique flavour combinations; the Orange Velvet Truffle pairs perfectly with Mortlach 18 Year Old and the Ginger Velvet Truffle has been painstakingly matched with Mortlach Rare Old. For the far-away father missing the taste of home, what could rouse more nostalgia than the taste of whisky from his homeland and a hand crafted chocolate made in the highlands? What's more, each of our gifts for a whisky lover can be delivered next day, and we even delivery internationally.
Father's Day Gourmet Chocolate Hampers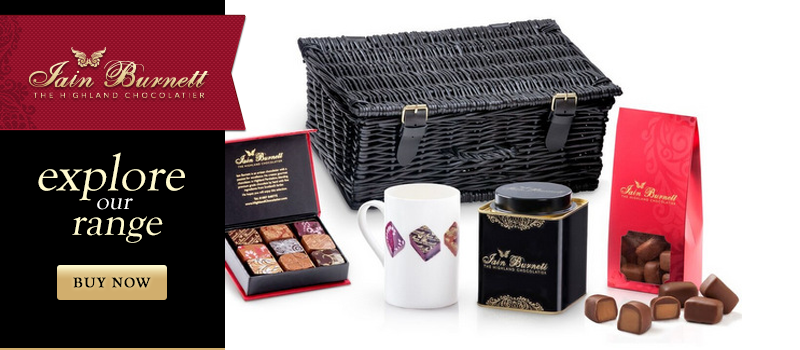 If one box of chocolates simply isn't enough for the special father or father-figure then one of our luxury chocolate hampers could be just the thing to show your love and appreciation. Each of our hampers is made right here in Scotland, their sturdy black wicker and leather straps showing no signs of the delicate hand crafted treats that are resting inside.
Inside, your dad will be delighted to find our award winning hand crafted chocolates and special extras that can only be found in our hampers, such as the highland chocolatier mug, so that he can enjoy a warming hot chocolate made from our Belgian chocolate flakes, and the chocolate serving platter to be kept as a memento once all the gourmet chocolate has been enjoyed. So, what else can be found in our luxury fruit and chocolate hampers?
Cinder Toffee Honeycomb Dipped in Milk Chocolate
What dad doesn't love the taste of honeycomb? The bitter cindered taste contrasts beautifully with the sweet caramel inside, all draped in our finest caramel-noted luxury milk chocolate. We hand dip all our enrobed chewy honeycomb pieces to ensure they are just that little bit more special. It is Father's Day after all.
Juicy cherries dipped in 70% Dark São Tomé chocolate
Of course, our signature 70% dark Säo Tomé chocolate is available in a bar, to snap off a piece whenever you dear dad fancies something sweet, but for real luxury our juicy Neapolitan Imperial cherries smothered in chocolate is just the thing to cure those cravings. Each cherry is kept on its natural stalk and dipped lovingly in our classic chocolate.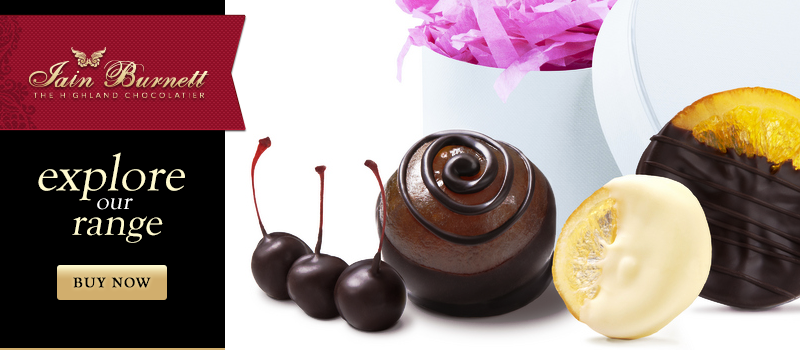 However, we don't just offer cherries as part of chocolate dipped fruit selection. You and your dad will be amazed by the sumptuous juiciness of he chocolate dipped premium fruits available in our luxury chocolate hampers. The finest fruits have been candied over days to maintain the natural juices. Perfectly matched to the sweet notes of the Säo Tomé single origin cocoa chocolate, they have been hand decorated in dark chocolate. The fruits selected also include oranges, lemons, pineapple and whole clementines.
Also inside these luxury hampers :
Decorative tin of luxry nougat enrobed in chocolate
Luxury chocolate barrs
Luxury lemon and rose turkish delight hand dipped in chocolate
Strawberries and raspberries rolled in white chocolate
The thing that makes our fathers so great is their uniqueness; no two are the same; so we're happy to substitute any products with equivalents on request. Simply contact us to discuss your needs; we're always thrilled to hear from our customers.