Exquisite Chocolate Flavour Combinations
APRIL 25TH, 2016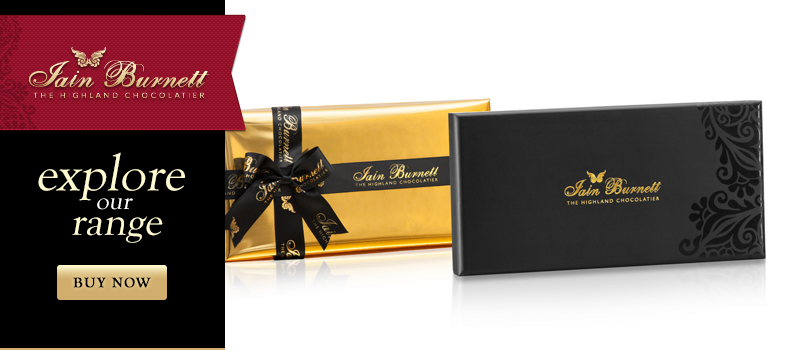 Nothing quite satisfies us as a bite into our favourite chocolate, so when our favourite flavours and foods are enrobed In chocolate it really is a match made in heaven. Here at Highland Chocolatier we've created decadent combinations that will delight your taste buds and leave you wondering why everything can't be covered in chocolate!
Chocolate covered fruit has always been much loved throughout the UK, but not until now has it had the Iain Burnett treatment. Our luxury ingredients create unparalleled chocolate delight for you to enjoy time and again, and with the Queen herself giving her seal of approval on our chocolate covered cherries we're certain you will love them too.
Chocolate Dipped Cherries
Our chocolate covered juicy Neapolitan cherries on their natural stalks are the perfect balance of sweet and sour and have received rave reviews from the customers who've tried them. The cherries are candied expertly for days to bring out their natural sweetness then dipped by hand in our signature 70% dark single origin São Tomé chocolate, blended with fresh Scottish cream. This creation has been painstakingly crafted to be paired with Glenfiddich 30 year old malt with the flavours complimenting each other beautifully.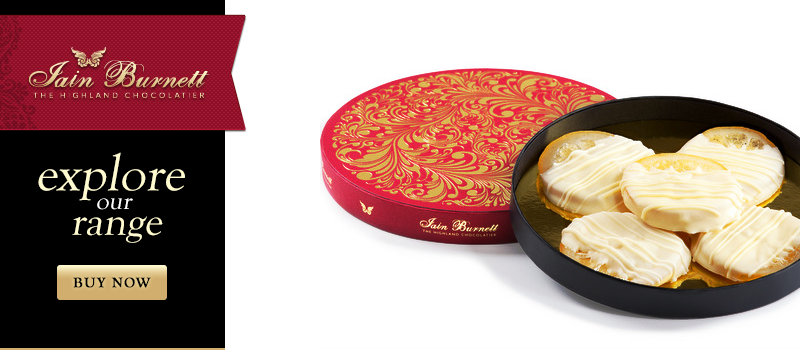 Lemon paired with Blonde Chocolate
What could be more tempting than the zing of a lemon slice expertly coated in our customer's favourite blonde chocolate? Presented in a stunning red and gold embossed round box, this flavour combination is spectacular for all the senses. The real slices of lemon are candied to preserve their natural juices and juxtaposed spectacularly with our creamy blonde chocolate; what's more this delighting flavour combination is both alcohol free and suitable for vegetarians making it the perfect gift to share with almost anyone.
Can you Stand the Heat?
Those who love to bite into something dark and spicy will be thrilled to taste our fantastic handmade Florentines with fiery crystalized Chinese root ginger. Here at Iain Burnett, Highland Chocolatier we source all our chocolate from the Volcanic Island of São Tomé, the cocoa was chosen due to its intense flavour and aromatic characteristics. We pride ourselves on only using the best natural ingredients to create our flavour exquisite chocolate combinations.
Award Winning Combinations
What could be more intriguing than the promise of the taste of a global award winning truffle? Iain Burnett's raspberry and black pepper Velvet Truffle is just that, winning silver in the 2015 International Chocolate Awards. This exquisite textured naked truffle combines crushed raspberries infused with black pepper in our signature single origin chocolate. Each box is beautifully presented with a hand tied ribbon, sealed in a foil bag with an oxygen absorbing bag to keep the fresh cream free from artificial preservatives. These award winning boxes of chocolates come with special truffle forks and should be served and enjoyed at room temperature.

Salted Toffee is a Firm Favourite
This intriguing flavour pairing was an instant hit when it launched, and was the best selling Easter egg this year. These sweet and savoury chocolates bring together our caramel noted single origin chocolate with a chewy scattering of toffee. Sea salt adds another dimension to this fascinating combination. What's more when ordering this delighting flavour online you will receive free postage!
New Flavour Combinations
As part of the Great British Salted Chocolate Challenge launch party, Iain Burnett was commissioned to create a new savoury and sweet chocolate bar. The result was the highly anticipated maple and bacon bar. The caramel noted milk chocolate used in this bar compliments the maple syrup perfectly and enhances the salty caramelised bacon. The syrup was purchased from "master syrupeer" Clarks as part of our mission to only supply the best ingredients for our chocolate creations. We wonder, can this new chocolate bar overtake the popular salted toffee bar next year?
Whether you enjoy chocolate simply, on its own, or would prefer it to be paired to perfection by the master chocolatiers by Iain Burnett's master chocolatiers we have something that will satisfy every customer. Contact us today to discuss unique chocolate gifts for you and your loved ones