Experience the Taste of Champagne paired with Bespoke Chocolate
JUNE 17TH, 2016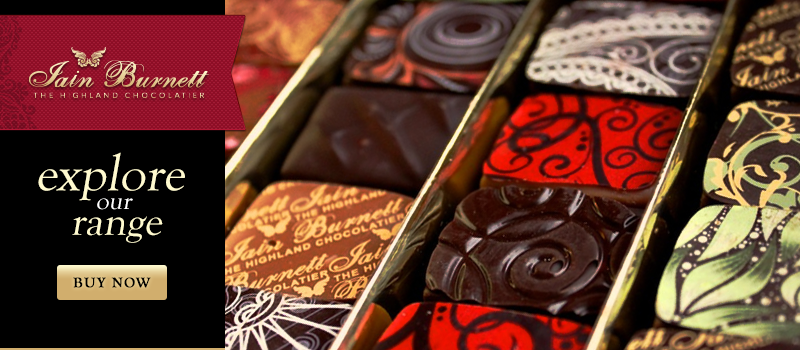 The Romans were the first known community to plant vineyards in the French region of Champagne, with the word "Champagne" deriving from the Latin "Campania" a Province in Rome of which Champagne reminded the Romans of thanks to the rolling countryside hills. Then some years later in 1693, when Bendictine monk Dom Perignon was making wine in the region and couldn't rid it of bubbles, he tasted his accidental creation and exclaimed, "Come quickly! I am drinking the stars!" and so with the legend, champagne was born.Today, many brands of champagne astound us daily with their superior taste and quality with Laurent Perrier being a highly coveted brand. With this in mind we knew we simply had to match our decadent handcrafted creations with this exquisite drink. Champagne and chocolate have long been synonymous with celebration so combining two luxury brands to create taste sensations seemed an obvious choice to the master chefs at the Highland Chocolatier.
Laurent Perrier Cuvée Rosé & Strawberry and Star Anise Velvet Truffle
At one point, creating a non-vintage rosé champagne was unheard of, but thanks to visionary Bernard de Nonancourt this is no longer the case. Cuvée Rosé Laurent-Perrier's bottle design was inspired by the reign of King Henry IV with its structure and soft freshness growing in popularity throughout the world.
To honour this luxurious champagne, Iain Burnett worked tirelessly to find the perfect flavour combinations to compliment the taste. What was created was the heavenly and totally unique strawberry and star anise velvet truffle. The chocolate is encased in our signature caramel noted milk chocolate, made with specially sourced highland cream and single origin cocoa from the volcanic island of São Tomé. Inside the shell is pure fruit strawberry coulis infused to perfection with the warm flavour of star anise. The rose tint of the champagne is beautifully matched with the hand painted decoration that is atop this chocolate creation. This unique chocolate gift can be delivered by post to loved ones who covet and deserve luxury experiences.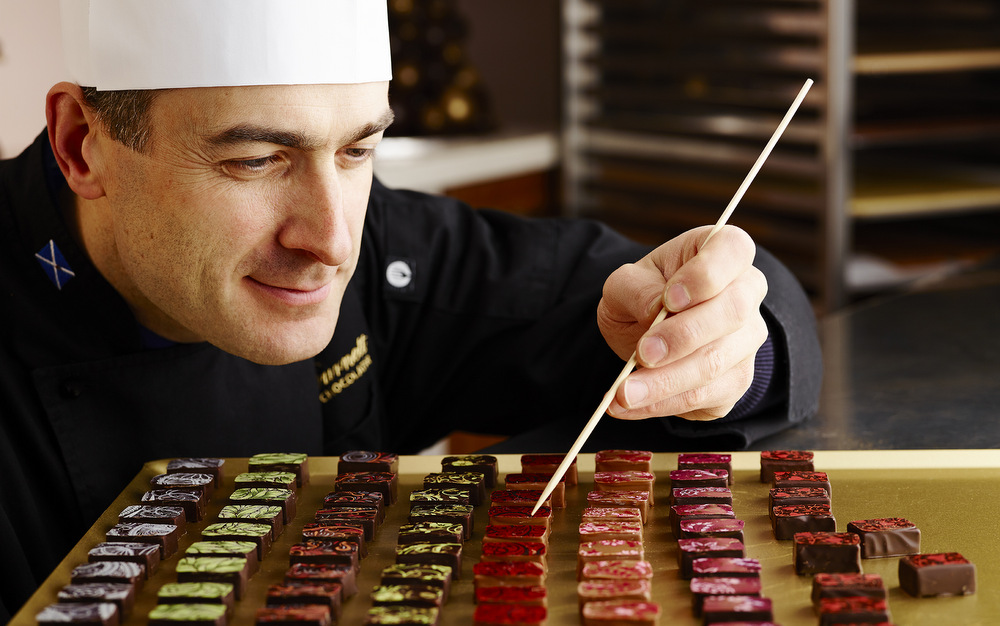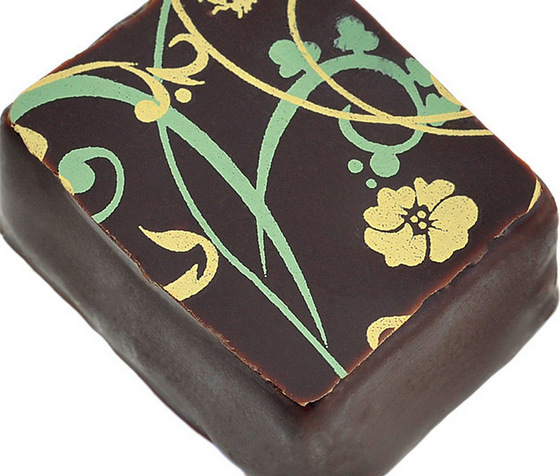 Laurent Perrier Demi-Sec and Ultra Bruit & White Lime and Chilli Velvet Truffle
Champagne lovers throughout the world are enjoying the subtle taste of Laurent-Perrier Demi-Sec, this fresh flavour should be savoured and enjoyed with sweet combinations and is an ideal dessert wine.
The Ultra Brut Laurent-Perrier was inspired by the no added sugar champagnes made in the late 19th century, which lead to the production of this avant-garde unadorned creation. This champagne is known for the delicacy of its blending and long lasting fresh taste. This champagne is Lauren-Perrier at its most pure, crying out to be paired with a chocolate just as pure and innovative.
What could be more luxurious than a dessert of champagne and gourmet chocolates? We've paired the freshness of the champagne with a mirroring fresh zingy lime truffle. This gold award winning flavour combines crushed limes and a hint of chilli with white chocolate all encased in a complimentary shell of 70% dark São Tomé chocolate. This product is suitable for vegetarians and makes the ultimate after dinner indulgence suitable for all your guests.
Laurent Perrier Vintage 2004 & Dipped Clementines
This exceptional wine was created thanks to spring storms and a stunning Indian summer which left the grapes perfectly ripe. This beautiful champagne enjoys a golden yellow robe and bubbles enduringly. The flavours included complex candied fruit creating a freshness the drinker will love. With these flavours in mind, our master chocolatiers knew the perfect accompaniment to this fruit-noted champagne would be our delectable candied clementines. These juicy fruits are expertly candied over days to ensure none of their natural juice is lost. They are then enrobed lovingly with our signature dark São Tomé chocolate. The smooth bitterness of the chocolate paired with the tangy sweetness of the fruit is a flavour unlike any other, and when paired with the complimenting champagne it's an experience you must taste to believe. Our chocolate covered fruit is decorated by hand for a final flourish and is the ultimate gift for the chocolate and champagne connoisseur.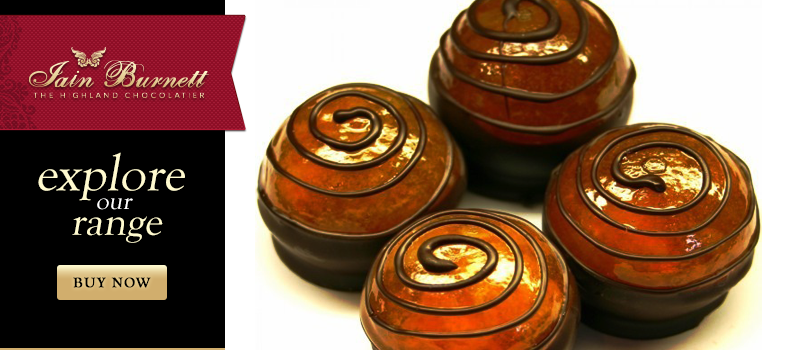 Champagne and Chocolate
When it's time to celebrate, it's worth doing it in style. The chocolates we create are the perfect accompaniment for any party, toast or special occasion. Your guests will be thrilled when they experience the flavour combinations we have painstakingly matched to their favourite tipple.
Each of the chocolates prepared by the master chocolatiers in Ian Burnett's Highland Chocolatier kitchen is completely preservative free and we guarantee only the most exquisite ingredients are used to give you the most enjoyable gourmet chocolate experience. We love to hear from our customers, please contact us if you'd like to discuss any dietary requirements or need advice choosing the ideal chocolate gift to pair with luxury Laurent Perrier champagnes.