Everything Is Better Wrapped in Gourmet Chocolate
MARCH 23RD, 2016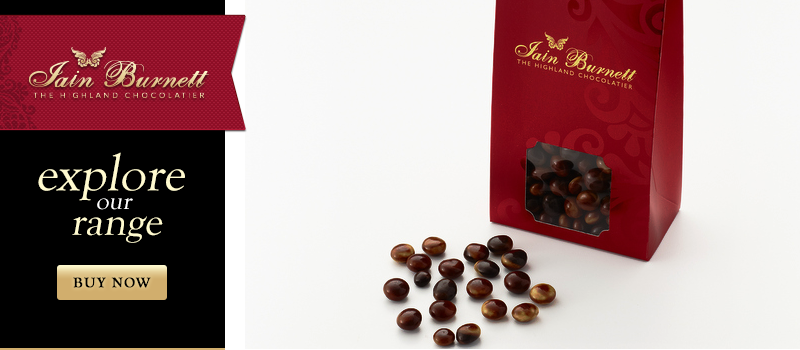 When it comes to finding just the right treat to satisfy our sweet tooth, we may not always reach for a chocolate bar. For many of us, pure chocolate may not sound quite as tempting as another confection wrapped in deliciously silky gourmet chocolate. At the Highland Chocolatier, we have a range of products that are all wrapped in our delectable chocolates. From those who prefer candied fruits to the more curious coffee bean, there is something to satisfy all favourite flavours at Iain Burnett: The Highland Chocolatier.
Enrobing Delicious Confectionary in Gourmet Chocolate
We take some of the country's most beloved confectionary and use a process called enrobing to carefully wrap each piece in our luxury chocolate. Iain uses the very same method of coating his award willing velvet truffles as he does with much of our range of chocolate covered temptations. You can even see this process taking place in our Grandtully Shop through the Chocolate Kitchen window if you happen to visit us for a fun day out. Our small conveyer belt moves each delicate piece of fudge, nougat, and Turkish delight through a curtain of smooth, delicious molten chocolate, carefully wrapping each piece with a thin layer of our famous gourmet chocolate to enhance the natural flavours of the centre.
Is everything better wrapped in chocolate? We certainly think so. There is nothing that does not match with the flavour of chocolate, and we have hand selected only the most delicious of items to be enrobed in our milk, dark, and blonde chocolate couverture.
Chocolate Covered Luxury Fudge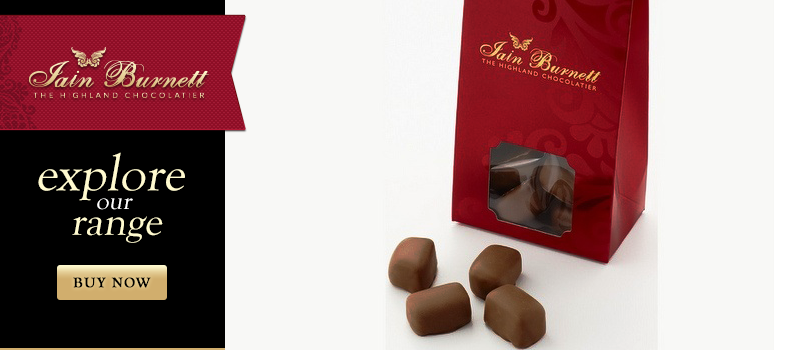 An all-around favourite with many families is fudge. Soft, sticky, and luxuriously smooth and creamy, there is no wonder it is such a favoured treat for so many people. The rich flavours simply melt away on your tongue, and you are left with the most delicious of experiences. Fudge is popular with children and adults alike due to its melting texture and smooth vanilla flavours that run through the caramel. Adding chocolate simply seems like the most natural of choices.
Our fudge pieces are enrobed in our own delicious milk chocolate through the conveyer belt process. The caramel notes of the chocolate complement the fudge's vanilla flavours exquisitely, and both will melt in the mouth. The textures are both smooth and creamy with the chocolate simply melting away to reveal the soft fudge underneath. Our selection is the ultimate in chocolate covered luxury fudge.
Enrobed Turkish Delight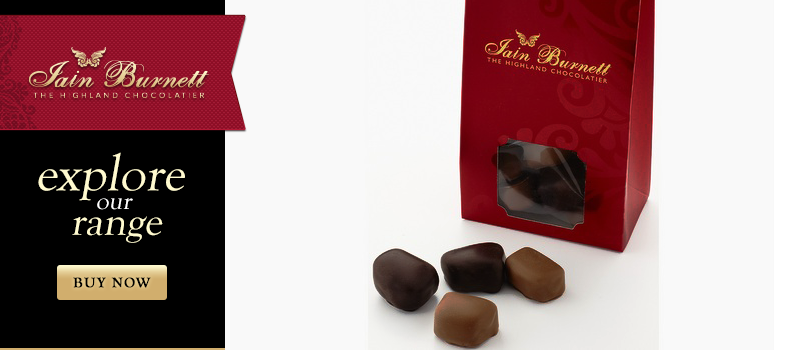 In the United Kingdom, we all have some well-defined favourites in our sweet shops. Fudge is one of them, but another treat we seem to love is Turkish delight. Each small cube is delicately flavoured with rose and lemon, two flavours that come together in the Turkish delight to form a fragrant, sweet taste in the mouth.
The natural fragrances are enhanced by the sweetness of our caramel noted milk chocolate, carefully enrobing each piece within your pack of chocolate covered Turkish delight. However, for those who prefer the rich flavours of dark chocolate, each pack also contains some Turkish delight enrobed in our 70% dark Sao Tome chocolate. For the Turkish delight lover in the family, this is one chocolate gift that cannot be missed.
Strawberries and Raspberries for Fruit Lovers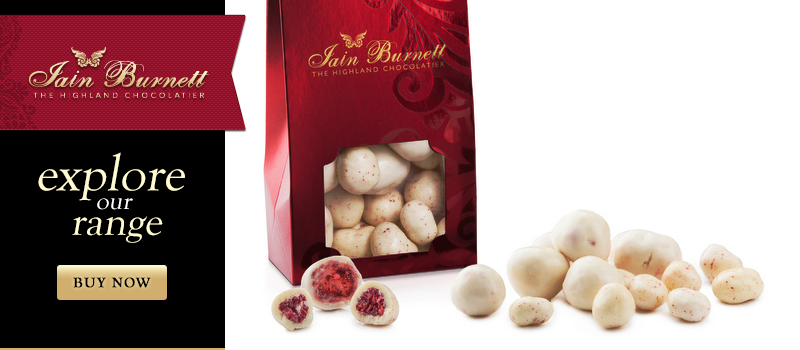 Sometimes we want something just that little bit different to fudge or Turkish delight. One of the most delicious fruits that we love up and down the country is the strawberry. We have carefully taken dried strawberries and rolled them in our most delicious, creamy blonde chocolate. Each fruit has its natural flavours preserved, and the sweetness of the chocolate brings out the flavours superbly.
Not satisfied with only strawberries? Each pack also has a mixture of dried raspberries, another favourite of ours at the Highland Chocolatier. Each raspberry is also rolled in blonde chocolate, complementing the sweet and somewhat sour flavours with our smooth, creamy chocolate that will melt in your mouth. For the fruit lover in your love – or somebody who loves the sweeter side! – try gifting our chocolate covered strawberries and raspberries.
Wake Up with Espresso and Ginger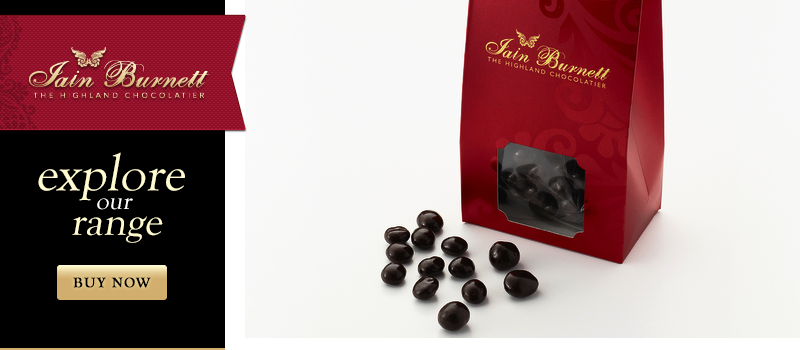 You may be wondering that there can't be many more confections we can wrap in chocolate, but we certainly do have more. In fact, we have some of the most curious and unique flavours available to try, including our quality choice of espresso beans which are rolled in 70% dark Sao Tome chocolate. You might think this is a curious choice, but in actual fact, the slightly bitter flavours of the dark chocolate mixed with the intense flavours of the espresso beans really bring the taste of your favourite mochas to your snack.
If you are looking for a great pick-me-up at work, these do the trick very well. Each coffee bean is filled with caffeine and the rich flavours will ignite your senses to start anew, leaving you feeling – hopefully! – a little more refreshed to continue with your day.
Looking for something that can bring a little more fire into your diet and ignite a new passion for chocolate? Try our new crystallised ginger dipped in dark chocolate. Each piece of ginger is warm and sweet on the tongue, with our 70% dark Sao Tome chocolate enrobing each individual piece for a delicious blend of smooth, melting chocolate and hot ginger. It is one that is not to be missed out on for the adventurous confectionary lover.
Discover Chocolate-Wrapped Treats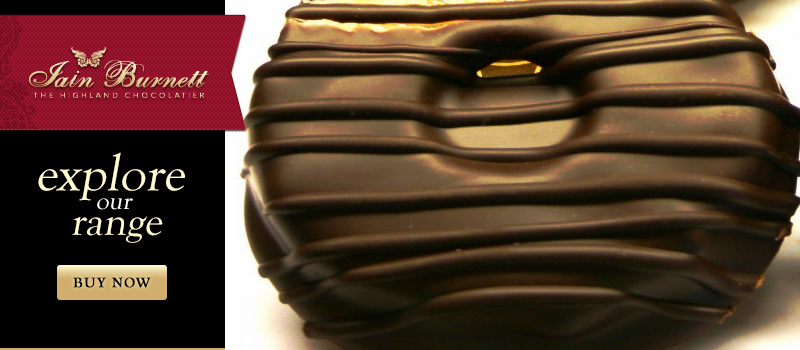 At The Highland Chocolatier we have a number of other chocolate treats for you to try. From chocolate pearls to our delicious, bubbly honeycomb dipped in milk chocolate, there is something for everybody. Contact us today for more information about your favourites. We would be delighted to help you choose from these and our full range of chocolate dipped fruits. Choose the finest gourmet chocolates with the Highland Chocolatier.