Enjoy Whisky Chocolate and Celebrate the Scottish Open
JULY 21ST, 2016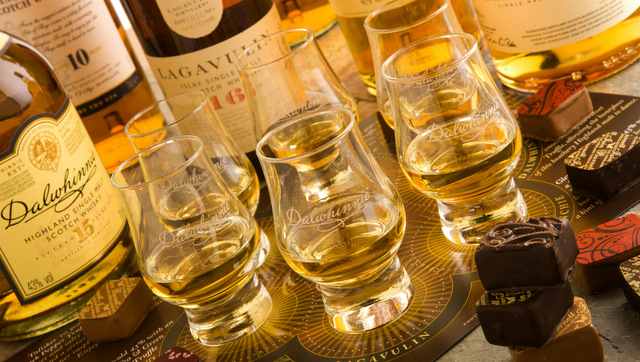 The prestigious golf event, The Open is finishing this week in our home of Scotland and what better way to celebrate than with a box of Whisky Chocolates. The Open Championship returned to The Royal Troon gold course this July and has been the 145th Open Championship.
Tourists have traveled far and wide to visit Scotland for this very special event and box of delicious whisky chocolates is the perfect keepsake to return home with.
Our History and Scottish Whisky Chocolate
Much like Scotland's famous golf history, we are internationally recognised for our gourmet chocolate. We are award-winners of The International Chocolatier Awards and are a dedicated member of the Academy of Chocolate. Our Scottish chocolates have received multiple honours, identifying them as some of the best chocolate goods in the world.
Iain Burnett's Highland Chocolatier is renowned for its multi-award winning Velvet Truffle range, as each individual chocolate is infused with the best seasonal flavours. We are particularly proud to bring you the world's best Whisky Chocolate which can be paired with some of Scotland's finest whiskys. Our whisky chocolate is a taste experience, golf and whisky fans can enjoy both during and after this summer's event.
Our Highland Chocolatier gourmet chocolates match an exclusively picked range of Scottish malt whiskies. Our whisky chocolate has no alcohol or preservatives inside but have been skilfully paired in partnership with the Master Blenders of well-known Scottish distilleries.
The result is a must try Scottish delicacy as the balanced flavours of out chocolates complement the unique characteristics of the individual Scottish malts..
Enjoy Rich Whisky Chocolate
Our skilled team of chocolatiers have created the perfect companion chocolates for Scottish malt whisky. Each flavour in our specially picked chocolates will be enhanced as they have been expertly matched in collaboration with some of Scotland's best known distilleries including:
Cardhu
Dalwhinnie
Dewars
Aberfeldy
Glenfiddich
Knockando
Lagavulin
Talisker
Tobermory
Scotland has over 500 golf courses making it the perfect destination for a summer golf trip. It is not uncommon for golf fans to arrange a whisky tour while they are on their Scottish travels and many fans believe that golf and whisky are the perfect blend. If you are a lover of both golf and whisky you will soon be adding chocolate to that combination after trying our carefully balanced gourmet chocolates. The luxury chocolate whisky pairing Tasting Boxes come with tasting notes which add to this gourmet assortment.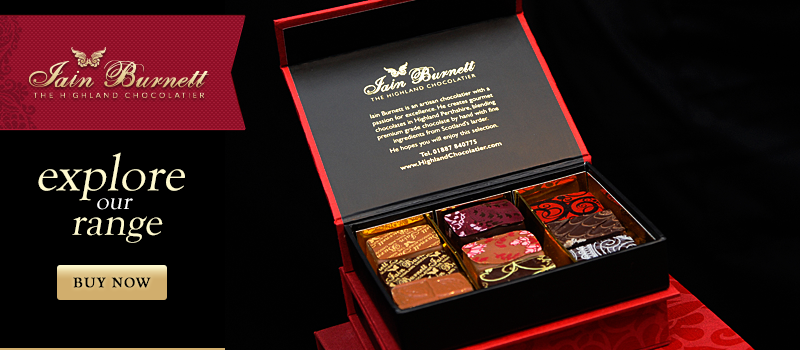 The Special Taste of Scottish Whisky Chocolate
At Highland Chocolatier we are proud of our Scottish history. Scotland is a great nation with wonderful traditions. We are inspired by the creativity and the fabulous warmth of Scottish people and work hard to create the finest chocolates in all of the land.
If you are looking for something extra special to take home our Velvet Truffle Range would make an excelled choice. There pure naked truffles were previously only available to Michelin star Chefs.
We have a range of infused velvet chocolates that are cocoa dusted. The original Velvet Truffle is a modern classic, and has been joined by more award-winning flavours.
The Velvet Truffle Passion Fruit with a Touch of Mango
This gluten and nut free recipe is packed with delicious flavour. The stimulating freshness of crushed passion fruit is combined with a touch of real mango in a creamy white ganache.
This delicious white chocolate and natural fruit is skilfully balanced and melted into a handmade truffle with the most exquisite texture. This product also features no alcohol or artificial flavours or additives and would make the perfect gift for a loved one back home.
The Velvet Truffle Caramel with a Hint of Liquorice
Who doesn't love the mix of chocolate and caramel together? These Caramelized white chocolates are perfected with a touch of liquorice root. This recipe was the clear winner in our customer Taste Tests during Chocolate Week. This unique mix is part of The Velvet Truffle Range, it shares the signature exquisite texture served naked as pure ganache.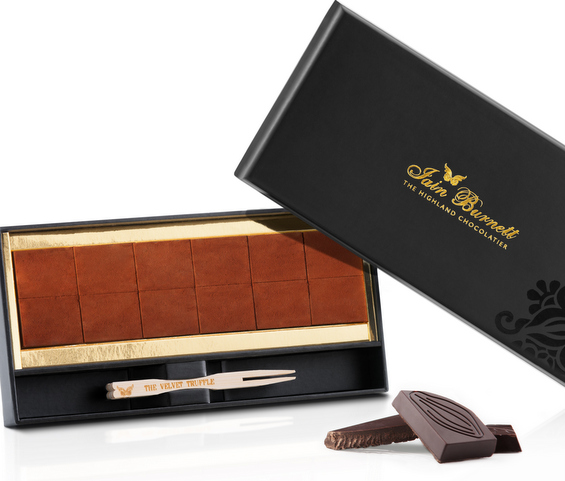 The Velvet Truffle Raspberry and Black Pepper
Winner of The Chocolate Awards 2015, this delicious product is infused with crushed raspberries and black pepper. This handmade truffle is packed with the most exquisite texture and served naked as pure ganache. Perfect for summer this fruit favourite is delicious served with desserts.
The Velvet Truffle Dark São Tomé
This Gold award winner is made with our famous Intense São Tomé dark chocolate as well as notes of spice and cocoa To create the perfect chocolate balance this single-origin chocolate is paired with fresh Scottish cream. Making it hard to choose between our whisky chocolate range and these deliciously Scottish velvet truffles!
Iain's signature chocolates are the perfect way to finish your summer of golf. Our whisky chocolates and velvet truffle range are not only Scotland's best but are world class. Take home a taste of Scotland with Highland Chocolatier as there golden gifts are flamboyantly hand-tied in ribbon, ready to be given as the perfect homecoming present.