Enjoy the Health Benefits of Gourmet 70% Dark Chocolate
JULY 1ST, 2016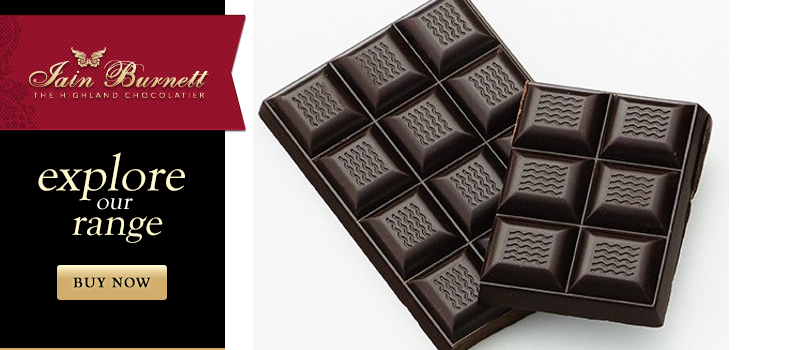 Chocolate has long been known as a comfort food and has been a source of solace for many during stressful times. Chocolate is also associated with romance and is used as a mood-enhancer, but finally it's being recognised for holding multiple health benefits. Dark chocolate with 70% cocoa really is good for us. Here at the highland chocolatier we specialise in crafting chocolates with single origin dark chocolate which has been discovered to be good for the heart, circulation and brain.
Top Health Benefits Gourmet Chocolate Holds:
It's good for the heart and circulation
A study has shown that chocolate is great for increasing flexibility in arteries and reduces white blood cells sticking to the walls of blood vessels; both a common cause of artery clogging. Indulge in one of our luxury Scottish chocolate bars made with 70% dark chocolate sourced from the volcanic island of Sao Tome. This rich bar enjoyed in moderation has the perfect amount of cocoa to bring health benefits to those who are lucky enough to have a taste. What's more, each one of our dark chocolate bars is vegan and are perfect for those with specialist dietary requirements.
It reduces the risk of stroke
Research in Finland discovered that men who consume chocolate with a high cocoa content had a massive 17% reduction in stroke risk. Why not choose one of our expertly crafted chocolate gifts for him for your next anniversary, or just as a special thank you. For the man who loves the intense taste of coffee the perfect treat is our espresso beans rolled in our signature 70% dark chocolate.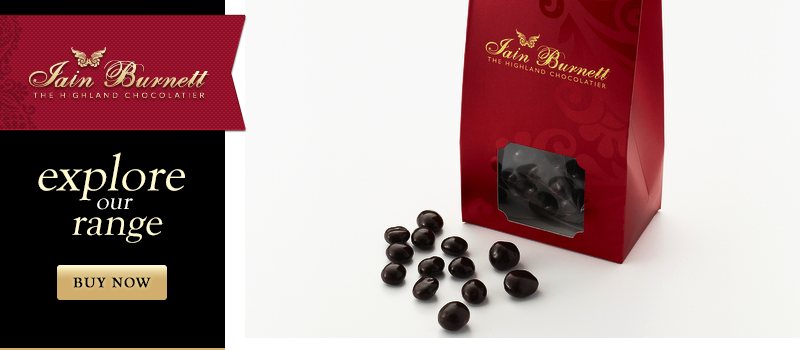 It's mineral rich
Dark chocolate is packed with beneficial minerals such as; potassium, zinc and selenium. One bar of dark chocolate contains 67% of our recommended daily amount of iron. The chefs here at highland chocolatier have lovingly created the 100% dark chocolate bar, perfect for adding into sweet and savoury recipes to add a subtle dimension of flavours and extra minerals. Try out one of our favourite recipes created by our chefs.
Haggis Bon Bons with Gourmet Chocolate Dipping Sauce Recipe
100g Best quality Haggis from your local butcher
1 100g Bar 100% São Tomé Dark Chocolate
1 egg & a splash of milk
A splash of double cream (optional)
Breadcrumbs
Plain Flour
Vegetable oil for deep frying
Method
Finely grate 10g of the chocolate. Remove the haggis wrapping and mix it in a bowl with the grated chocolate. Roll into ten even sized balls, approximately the size of a walnut.
Prepare 3 bowls – 1 with a beaten egg, 1 with flour and 1 with breadcrumbs.
Roll each ball first in flour and shake off excess, then roll in the egg mixture, lastly roll in the breadcrumbs, shaking off excess and patting firmly to ensure good coverage.
Deep fry the balls until they are golden brown and float to the surface.
Break up the rest of the chocolate bar and melt in a bowl above a pan of boiling water. Add a little cream to taste. Serve as a dip alongside the bon bons.
It reduces cholesterol
Consumption of dark chocolate has been proven to reduce the levels of "bad" cholesterol and increase the levels of "good" cholestoral, which could potentially reduce the risk of cardiovascular disease. For those loved ones looking for sweet treats our range of Christmas luxury chocolate has some exquisite dark chocolate choices, including our juicy Neapolitan cherries on their natural stalks dipped by hand in 70% dark chocolate.
It can help you lose weight
Neuroscientist Will Clower has created studies showing that one square of dark chocolate on the tongue will release hormones that mirror the feeling of fullness. By finishing your meals with a square of our vegan chocolate bars you could reduce night time snacking. What's more, our divine chinese root ginger bar is a natural pallet cleanser and a natural choice to enjoy after meals.
Gourmet chocolate is good for the brain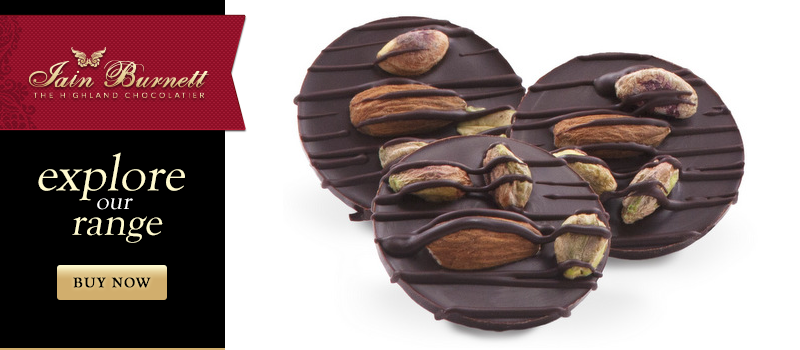 Chocolate contains flavanols which has been though to reduce memory loss in older people. Dark chocolate has even been discovered to be beneficial in treating brain injuries such as concussion. What more reason could you ask for to enjoy our pistachio and almond chocolate rounds? Each dark cocoa disc in encrusted with whole almonds and pistachio nuts, all hand decorated with a final flourish of dark chocolate drizzle and encased in a stunning red and gold embossed presentation box.
Chocolate makes you happy!
Chocolate contains phenyl ethylamine (PEA) which is the same chemical that's released when you're falling in love. Our anniversary chocolates include romantic selections of our award winning luxury chocolates; perfect to mirror the loving feeling chocolate gives us.
Our chocolate is also good for the soul, all our cocoa is sourced responsibly ensuring farmers rights are respected and protected, which is just one more reason why we should enjoy luxury chocolate more often. We love hearing from our customers and helping you choose the chocolate gifts that are right for you. Contact us today to discuss any queries or dietary requirements.