Cooking for Chocoholics: Gourmet Recipes and Gifts
MARCH 30TH, 2016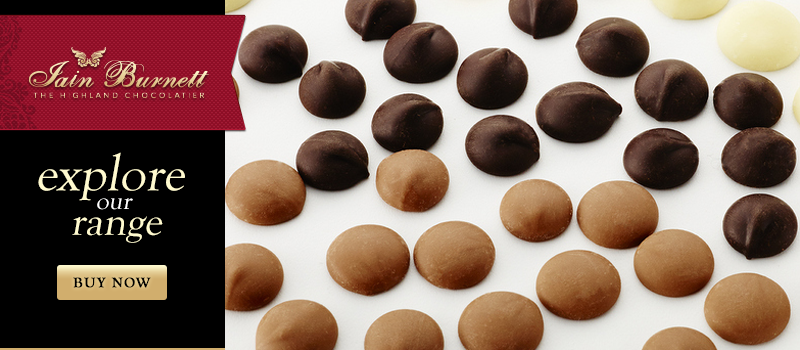 One of the things we love the most about chocolate is how versatile it is. If you are perusing a restaurant menu, you can be sure that chocolate will feature on it somewhere – even in some of the savoury dishes! At the Highland Chocolatier, we always promote the use of cocoa and chocolate in recipes both healthy and a little more indulgent. If it is time to give yourself a little treat, why not consider using our cocoa ingredients for your next luxurious recipe? Or maybe you are unsure which recipe to try out? We have some great ideas to really tickle your taste buds and bring a touch of luxury chocolate to your table.
Our Chocolate Ingredients: Perfect Chocolate Gifts
You simply can't start to think about the process of cooking your new treats without contemplating which ingredients you are going to be using. Iain Burnett's Highland Chocolatier promote the use of only the best ingredients to ensure that you are creating a meal that is removed of unnatural preservatives and other harmful nasties so often present in our store-bought ingredient packages. Selecting the chocolate that you will be adding to your recipe takes some careful consideration.
For savoury dishes, it is often better to use pure cocoa for the rich, bitter flavour of the bean itself. Cooking is better suited to our smooth 100% Cocoa Bar. Use it for melting in a sauce or grate it directly into other recipes for the desired chocolate flavours that you wish to have. We highly suggest you try it in a delectable meat roast for rich flavours that will surely make your meal taste that little bit more special.
If pure cocoa is a little too strong for your tastes and you are looking for something that is a little softer, smoother and sweeter, we also have White and Dark Hot Chocolate Flakes. These finely grated flakes of chocolate contain all the great tastes of our gourmet chocolate bars, while being easy to spoon into a warm mug of milk for a delicious hot chocolate, or to be added to any number of desserts, savoury dishes, or sauces.
Could your meal get any better than with the addition of chocolate? We think there is no better all-round ingredient for those extra special Sunday dinners and desserts. Our chocolate ingredients make great gifts of chocolates by post, and are even great chocolate gifts for him. Why not give them a try?
Delicious Home-Made Truffles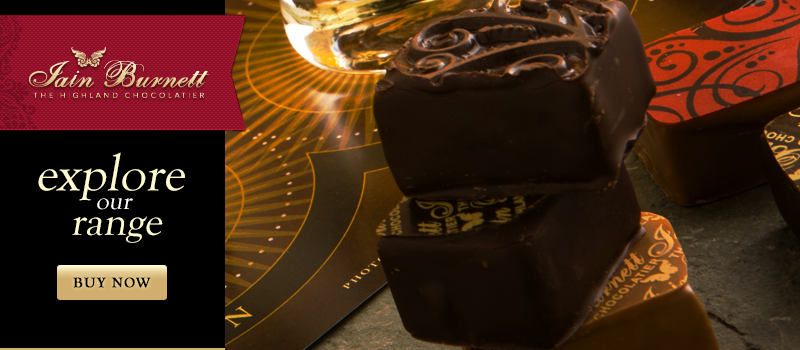 Looking for something that you can make while you await your next delivery of our finest award-winning velvet truffles? We have everything you need to create your own delicious rustic truffles at home with this simple, easy to follow recipe, featuring our delicious dark Sao Tome gourmet chocolate bars.
Gather up 350g of the dark chocolate bar and finely chop it into a pot over medium heat. Stir in around 5 tablespoons of double cream, gently stirring as the chocolate melts. (Trust us, you'll be wanting to eat it as soon as it all starts to melt and blend together!) Once the chocolate has melted and has blended into a smooth liquid with the cream, remove the pan from the heat. If you want your truffles to have a flavour of their own, why not try mixing in your favourite liqueur or flavouring at this point? The dark chocolate envelopes each flavour perfectly.
Pour the mixture into a shallow container or dish, and leave to set in the fridge for around 1 ½ hours until semi-firm but set. Spoon out a small amount, and roll gently into a ball. Be careful, as it will melt all over your fingertips here – but that means some deliciously messy clean-up. Once rolled, simply coat in some cocoa powder, and you are ready to serve. We recommend trying these truffles with our dark chocolate and no flavouring to get the full taste of our delicious single-origin chocolate in every bite.
Haggis and Chocolate: The Unexpected Pair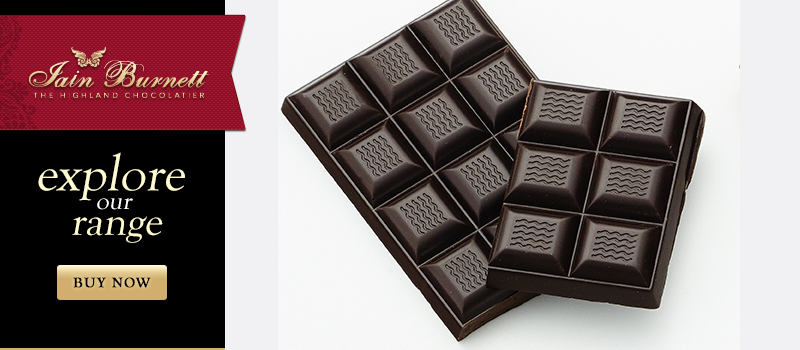 You may be wondering if you read that header right, but you certainly did. At the Highland Chocolatier, we have created a delicious recipe for a chocolate sauce that works well with some of the most delicious haggis bonbons around. This exact recipe was in fact served at the launch of our velvet truffle range and turned out to be a huge hit among our gathered guests.
Our dark chocolate Sao Tome 100% Bar is the staple of the chocolate sauce. Simply break up the chocolate bar in a bowl above a pan of boiling water, stirring until melted. Adding cream is optional, but we suggest adding at least a little to take some of the bitter edge away if that is more to your taste. Add as is necessary for you. That is all there is to this delicious dipping sauce! Cook the bonbons for dipping as noted, and watch as your dinner guests are amazed by the traditional, surprising and rich flavours of your chocolate creations.
Combine Chocolate with your Favourite Recipes
It is known that chocolate can make almost any meal taste richer and far more delicious. Even adding chocolate to savoury dishes such as chilli, or even a rich and delicious tomato soup, can make your meals that little bit more desirable. Make chocolate your secret ingredient!
Visit us at the Highland Chocolatier for more of our gourmet chocolate selections, including our luxury chocolate wedding favours, chocolate hampers, and delicious chocolate gifts for him and her.