Chocolate Selections – The Perfect Luxury "Thank You" Gift
APRIL 20TH, 2016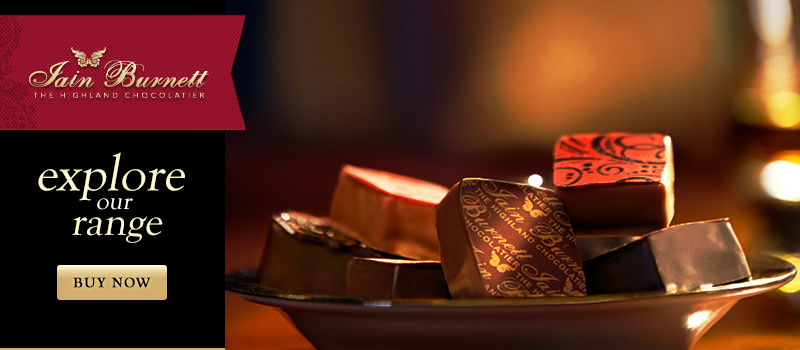 Often words are not enough, and when you want to thank a friend, family member or colleague for something special they've done for you, what better way to show your appreciation than with gourmet chocolate gifts? Today we live such demanding lives, we are often too busy to show the people who care about us how grateful we are for them. Taking the time to choose a luxury chocolate gift shows your loved one just how special they are to you. The Highland Chocolatier's specialist chefs have delighting chocolate combinations perfect for every palate.
Small and Sweet
Cashews are one of Britain's favourite snacks, and what else do we Brits love? Chocolate! If your loved one is deserving of a thank you gift and loves the crunch of these popular nuts our chocolate rolled versions will surely
leave them speechless. Cashews are rich in copper and magnesium giving them multiple health benefits. Popping a few of these delicious morsels into your mouth is almost guilt free with these luxuriously crafted treats. The cashew nuts are rolled lovingly in our signature milk chocolate which has delicious notes of caramel which is made with the finest single origin São Tomé cocoa blended with perfectly chosen unblended Scottish cream. This combination of silky, melting chocolate is paired just perfectly with the nutty crunch of the cashews. What's more, these dreamy chocolate pieces are gluten and alcohol free, adding to the natural benefits and making these the ideal luxury thank you gift for almost everyone.
Tangy and Tasty
Not all of us love the creamy sweetness of milk chocolate and in fact prefer something more exotic all together. When thanking someone you love, what could be better than presenting them with our stunning orange sunrise slices? This gift is perfect for the person who loves the special pairing of citrus and chocolate. The award winning chefs at Iain Burnett Highland Chocolatier craft these delights by candying real zingy orange slices for days before hand coating them in the signature 70% dark São Tomé chocolate we're famous for. Finished with a final drizzling of dark chocolate as one final flourish makes this chocolate selection appealing to not only the taste buds, but the eyes too. These tangy, tasty treats are suitable for vegetarians and are alcohol free.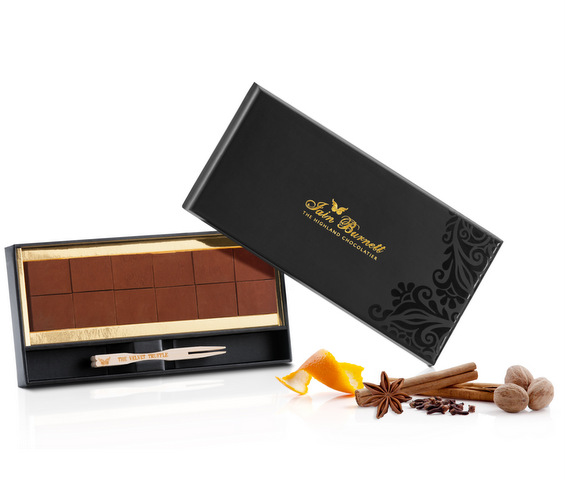 Award Winners Selection
Iain Burnett Highland Chocolatier has been recognised globally as a world-class chocolatier, an every year our collection of awards grows. We are proud members of the Academy of Chocolate. When looking for the ideal thank you gift, what could be more impressive than a selection of our award winning truffles and luxury chocolates? One of our most popular gifts, each individual chocolate in the box have won awards in their own rights, not many other gifts have that amazing accolade. These stunning chocolate boxes contain exciting flavours such as chai, rose and lime all presented in a beautiful red and gold embossed box, sealed with a magnetised clip.
The World's Best Dark Chocolate Truffle
This luxurious gift is perfect for the chocolate lover in your life who enjoys nothing more than the intense São Tomé dark chocolate taste. This exquisite handmade product won the 2015 International Chocolate Awards in the "best dark truffle" category. Each box is beautifully hand-tied with a ribbon and sealed in an oxygen absorbing gold bag created to protect your fresh cream truffles from artificial preservatives. Inside this flamboyant packaging lies the true treasure, naked, pure ganache truffles that have a texture so exquisite they have to be experienced to be believed. The truffles are crafted, as with all our chocolate products with single origin chocolate and specially selected Scottish cream.
Luxury Chocolate Hampers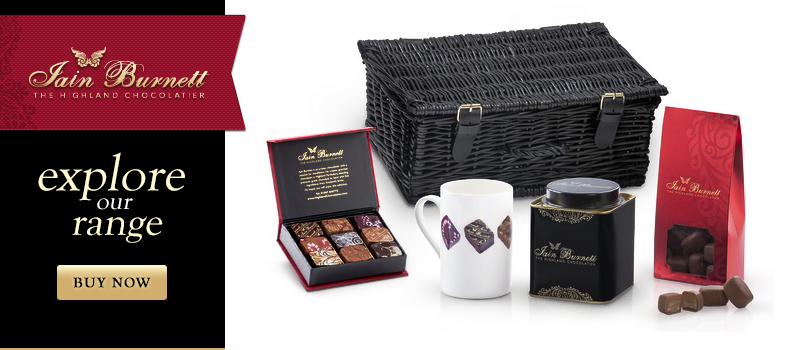 When looking for an extravagant thank you gift, look no further than the Iain Burnett Highland Chocolatier chocolate hampers. Your loved one will be incredibly touched to receive such a luxurious package from you, and will hopefully be inclined to share the wonders that lie within. Our fruit and chocolate hampers come presented in stunning black wicker sealed with robust leather straps and contain a plethora of gourmet chocolate treats guaranteed to excite all that are lucky enough to receive one. Once you delve inside you'll be greeted with out award winning artisan chocolates which come in specially crafted decorative tins that can be kept as a memento for years to come.
The hampers include specially chosen indulgences such as chocolate drinking flakes, expertly tempered chocolate bars with a variety of flavours and toppings and decorative serving plates a china mugs
We can all agree that anything covered in chocolate instantly makes it more appealing, so our hampers include hand chocolate dipped cherries, fudge and nougat, all created lovingly with our signature single origin chocolate. With four different hamper options to choose from and the ability to substitute products for those you'd prefer we're confident this luxurious gift will be greatly received.
Why not contact us today for advice for the perfect luxury chocolate gifts? Whether you're looking to splash out on an extravagant hamper, or a minding in the shape of one of our smaller delectable delights we will help with any queries you may have.