Chocolate Gifts for Men for Any Occasion
JANUARY 7TH, 2016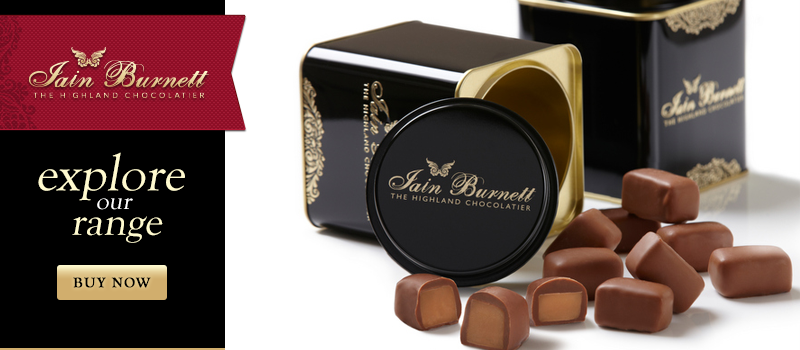 We all know that "the way to a man's heart is through his stomach", but if you are reluctant to spend hours and hours in the kitchen making his favourite dishes then Iain Burnett The Highland Chocolatier has the solution – luxury chocolate gifts for men. Everybody loves chocolate and your beloved man is not an exception. It is all a matter of choosing the right chocolate gifts for him, ordering them, receiving the chocolate by post and then surprising him. The great thing about gourmet chocolate is that it is the perfect gift for any occasion.
Give him the sweetest Valentine's Day yet
If you have just met Mr. Perfect and you are preparing for a romantic Valentine's Day together then it is time to get some expert advice on chocolate gifts for men. Choosing the most appropriate gourmet chocolate gift for the new man in your life could be a challenge, mainly because you do not know what kind of gourmet chocolate he likes. That is why The Highland Chocolatier suggest getting our Award Winners Selection – Box of 20 Chocolates. These acclaimed enrobed gourmet chocolates are one of our most popular gifts and are ideal for your first romantic Valentine's Day. Each chocolate in the box has won awards for quality and taste, and will not disappoint. The box contains the Dark Velvet Truffle, Milk Velvet Truffle, Lime Truffle, Raspberry Truffle, Chai Truffle and Rose Truffle, each of them expertly prepared form the highest quality products, with no preservatives. These award-winning chocolates are the ideal chocolate gifts for him, when you do not know what kind of gourmet chocolate he prefers.
Choose luxury dark chocolate for his birthday
Whether it is your boyfriend, husband, father or another special man in your life the luxury Just Dark Selection – Box of 30 Chocolates will not disappoint. It is the ideal birthday gift for someone who prefers the bitterness of dark gourmet chocolate to the sweetness of milk chocolate. A selection of award-winning truffles enrobed in single origin São Tomé 70% dark chocolate and presented in an elegant box… What else could he want? The dark chocolate is expertly combined with real fruits, infused with natural spices, mixed with smooth hazelnut pralines and mouth-watering German marzipans. Our Just Dark Selection is available in a range of boxes from 4 chocolates to 48 chocolates and makes for an unforgettable chocolate gift for men.
Sweeten your anniversary with luxury fudge
You have been together for years and for this anniversary you want to surprise him and do something nice? Then the Highland Chocolatiers chocolate gifts for men are the ideal option. If the man in your life likes fudge and sweet milk chocolate then our Decorative Tin of Luxury Fudge is the ideal gift. An all-time favourite, this gourmet chocolate gift contains pieces of smooth luxury fudge that have been hand dipped in milk chocolate and packed in a beautiful decorative tin. It is the ideal sweet gift for your beloved man.
Make him smile with gourmet chocolate and whisky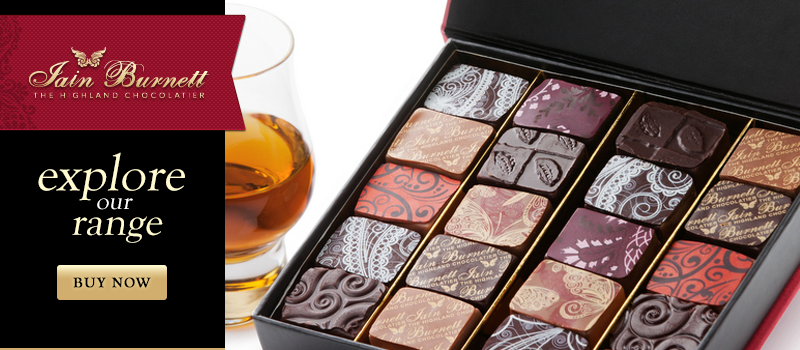 If you are looking for the ideal chocolate gifts for men then the Whisky Tasting Box of 20 Chocolates – Gift for a whisky lover should be on the top of your list of ideas. The selection of luxury chocolates includes award-winning truffles, spices, real fruits and pralines that have been perfectly paired with some of the top Scottish whiskies. If the man in your life is a whisky lover then this is the ideal gift for him.
Buy chocolate gifts for men from the Highland Chocolatier
If you are ready to surprise your loved one with chocolate gifts for men all you need to do is contact the Highland Chocolatier. We send our chocolate by post so all you need to do is browse our Chocolates For Men variety and select the best gourmet chocolate for your needs.