Celebrate Your Special Occasion With Gourmet Chocolates
FEBRUARY 11TH, 2016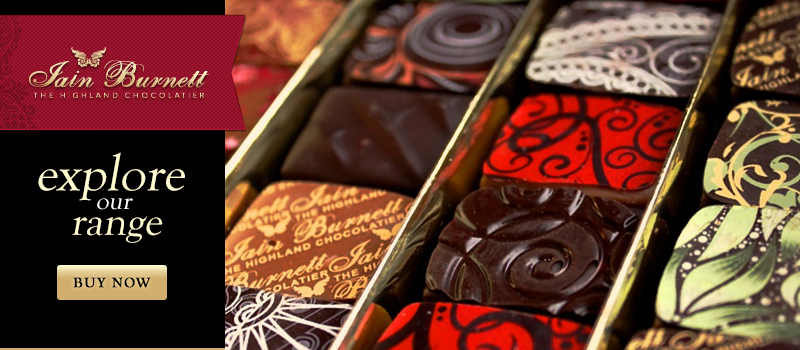 The date is set for your party and your guests are going to be arriving soon to help you celebrate your big occasion. What you need to find is that perfect little something to take their breath away; a chocolate treat for all ages to enjoy. Many people also enjoy spreading cheer through giving gifts, and when it is somebody else's special occasion, you can't help but look for the most fitting and luxurious gift possible to make them smile. At the Highland Chocolatier, we adore being able to make your special occasion one to remember, and with our range of gourmet Scottish chocolates available to make your gift a 'wow' moment, we sincerely hope our selection of gifts and party favours are ideal for your choice.
Make Their Birthday Special with Award-Winning Chocolate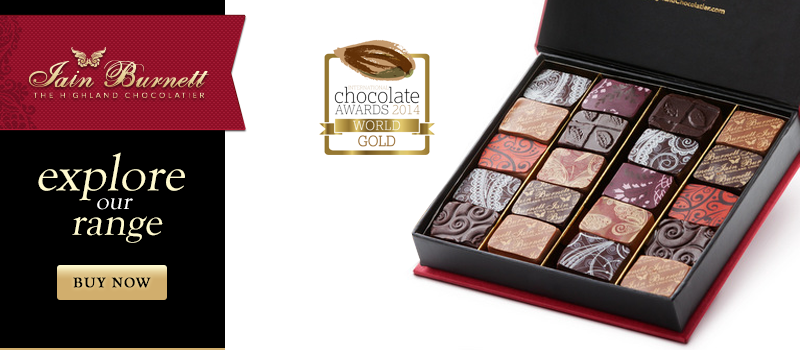 Almost everybody adores the taste of chocolate, that is hard to deny! Chocolates are one of the most popular gifts given on birthdays due to the universal popularity of chocolate as a treat and the variety of shapes, sizes, flavours, and packaging choices that fall under the range. The Highland Chocolatier offers some of the most dazzling displays of fine chocolates in Scotland. If you are looking for a box of chocolates that is just that little bit extra special for the birthday boy or girl, then look no further than us.
We are delighted to offer our best, award-winning range of chocolates in our Award Winners Selection Box of 20 Chocolates. Contained within a pristine and elegantly decorated box are 20 individually handcrafted and designed chocolates made to tantalise the taste buds and make a great eye-opening impression upon opening the box. Each chocolate has been hand selected from our award winning range, giving a taste of our internationally renowned flavour combinations all in one handy little box. What's more, the box as a whole itself has won the Scottish Food and Drink Excellence Product of the Year 2013 making this selection a truly winning box of delights.
The flavours wrapped up in your gift box include flavours from our glorious velvet truffle range. These include a dark velvet truffle, milk velvet truffle, lime truffle, raspberry truffle, chai truffle and a stunningly exquisite rose truffle. Accompanied by a number of our other handmade chocolates, your give will be a sure hit for all different flavour preferences.
Chocolate Gifts for Kids To Make Them Smile
Sometimes, as adults, we aren't quite sure what to expect when heading to a child's special occasion. Yet what we do know is how to buy them a great gift! At the Highland Chocolatier we have a range of kids chocolate gifts made especially for little fingers that are shaped and made with children in mind. Who says starting off a gourmet chocolate connoisseur can't start young?
For kids who just can't get enough of dinosaurs, we have an extra special selection of chocolate button-filled dinosaurs made to make kids smile. Available in strawberry, white, and milk chocolate flavours, there are more than enough buttons for them to share with their friends. The reusable containers can be used for all sorts of crafts, or even make a really good pocket money penny jar for saving up for their next big treat!
Speaking of pocket money jars, if dinosaurs don't quite fit what you need, we also offer a great little chocolate piggy bank filled with deliciously sweet and creamy strawberry chocolate buttons. With a little slit for dropping your pennies inside, it makes an enjoyable gift both while enjoying the chocolates and after they are gone!
We offer our delicious range of chocolate buttons in simple cone shaped packaging too for a chance to give the kids a little re-fill of their new favourite chocolate containers. Chocolate gifts for children don't come much more delicious than this.
Luxury Chocolate Gifts for Anniversaries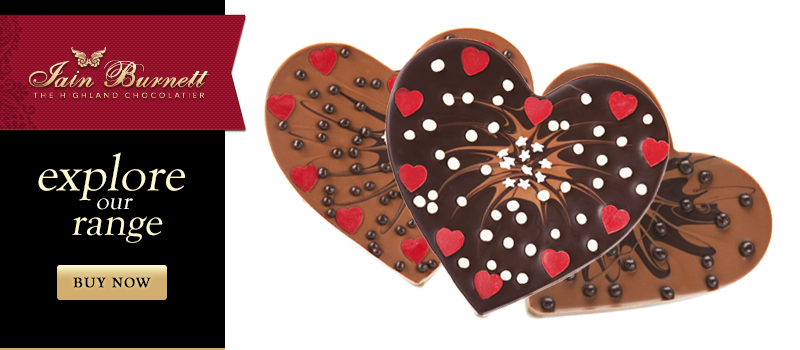 Celebrating your love and commitment to your partner needn't be a huge event. Sometimes it is the simpler of celebrations, a private dinner for two or a relaxing evening, that can make a special occasion even more enjoyable for the pair of you. Yet, when we want to show love and affection, we often love to do so in the form of giving gifts. That is why the Highland Chocolatier we have created a range of romantic chocolates suited just for moments like these. You have come a long way together since first meeting – it's time to celebrate.
What is a more perfect way of saying 'I love you' than a beautifully decorated heart-shaped box of chocolates? Go the extra mile and make your selection one that they will truly love to be given. Our Romantic Selection Box of 39 Chocolates fit the bill perfectly. Stored in a luxurious red velvet heart shaped box, these chocolates are selected from across our range of decadent hand-crafted chocolates. To really make it special and unique to your partner, however, you can make certain preferences at the checkout.
Simply choose from Just Milk, Just Dark, Enrobed Truffles or Hazelnut Praline Selection when checking out your item and you can make sure you get a box of chocolates that is tailored for their tastes. We cannot think of any better way of showing our love and appreciation than with this delicate, hand-selected box.
Cosy Late-Night Party Favourites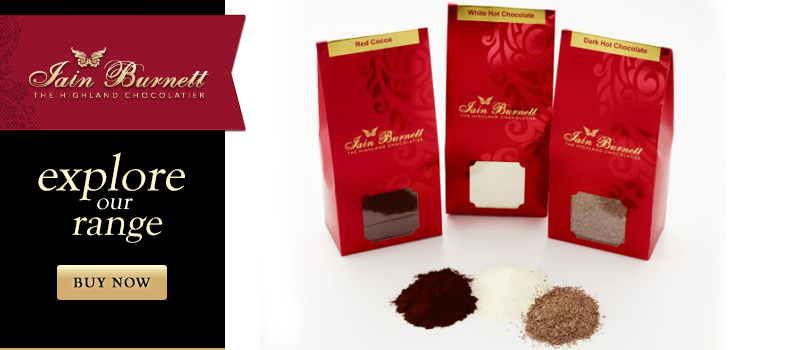 Sometimes the best way to celebrate a special occasion is a perfectly good, quiet night in with friends. A movie, some food, and a big bowl of popcorn can really make a night stand out. All you need to add is the warmth and laughter! Want to make it extra special? Simply mix in some delicious mugs of our dark hot chocolate flakes. Top them off with some cream and marshmallows, and you have a real sleepover remedy for winter blues that you and your friends will enjoy time and time again.
Across our range of products at the Highland Chocolatier we have items suitable for all kinds of special occasion. Find out more by browsing our delicious range today.