Celebrate The Queen's Birthday With Gourmet Chocolates
JUNE 15TH, 2016
With the Queen's birthday celebrations coming to a close, let's take a look back at her Royal Majesty's 90th birthday. We are delighted to be a part of this very special celebration as we have designed a recipe which is devoted to this occasion.
Would you like to be a part of the Queen's 90th Birthday celebrations with our finest Scottish chocolate? Our Sandringham Velvet, Blackcurrants and Cream Truffle chocolates are made with ingredients from the 4 corners of her Majesty's Kingdom – only the best for this Royal event.
Before we unravel our selection of Sandringham truffles let's have a look back on this historic event.
Why does the Queen Elizabeth have two birthdays?
Did you know that the Queen has two birthdays? It has become a tradition for the British monarchs to celebrate on a day which is not their actual birthday.
You may be wondering why this tradition started and of course it is linked to Britain's temperamental weather conditions. For an occasion so grand the Royal family need the weather to be at least dry for a birthday parade in the summer.
This tradition started during the reign of King George II in 1748. King George II was born in October however the annual military cavalcade was held in the summer and it soon became a celebration of both the king and the armed forces.
Still to this day The Queen's official birthday is celebrated with a military parade which is known as "Trooping the Colour on Horse Guards Parade" always held in the Queen's home in London.
The Queens 90th Birthday Celebration
The Queen was born on April 21st. As summer always arrives slightly later in the UK her official birthday is held on a Saturday in June each year. This year was no different as the Queen's official birthday was on Saturday 11th June.
To celebrate such a festive occasion, the mall outside Buckingham Palace was turned into rue UKs biggest street party as people from all over the world travelled to join in on picnic fun and street performances for over 10,000 guests.
Many held their own street parties to celebrate the Queen's birthday at the weekend and we are sure lots enjoyed our Sandringham chocolates with a cup of British tea.
The Royal Family Celebrate The Queen's 90th
While we sat at home enjoying a selection of our luxury chocolates made for the day , after Trooping the Colour, the Royal family join together to oversee a military fly-past from the balcony of Buckingham Palace.
On the day Members of the Royal family young and old joined the Queen on her very special day. Her grandchildren the Duke and Duchess of Cambridge and Prince Harry also took part in the celebrations by greeting well-wishers on The Mall. Prince William also gave a speech where he praised the Queen for her hard work and dedication to charities

The Queen's 90th Sandringham Truffles
Our Sandringham Truffles are the perfect taste of summer. With the finest ingredients harvested from the whole of the UK, it will be another lifetime until something this British is created again.
These delicious special chocolates are prepared with creamy Butter from Dale Farms in Northern Ireland, raw wildflower honey from Hilltop Farm in Wales, Scottish fresh cream from Iain Burnett's dedicated herd of Friesians in Crieff (Perthshire) and the ripest Blackcurrants from the Queen's garden in Sandringham, England.
Enjoy this historic occasion with the tastes of The Highland Chocolatiers Sandringham and experience the exquisiteness of the Queen's fruit first hand.
The Sandringham Selection
If you are looking for sheer chocolate fit for a Queen, The Sandringham Selection will not disappoint. This is one of our most sought after selections yet as the Highland Chocolatier chocolates inside are made with blackcurrants picked from the Queen's garden in Sandringham.
This very special selection was created to celebrate the Queen's 90th birthday. Inside this box you will also find an assortment of chocolates created by Iain Burnett. Iain Burnett is renowned in the luxury food industry for his Award Winning chocolates.
Have a taste of the Highland Chocolatiers luxurious Truffles and Pralines along with chocolates fit for a Queen. These fine chocolates are matched together in a regal white and gold round box, which is finished with a hand tied ribbon with the colours of the union jack.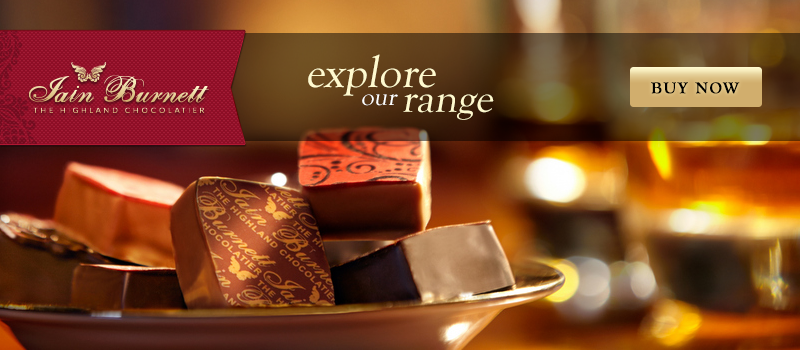 Gourmet Chocolates Made In Scotland
At Highland Chocolatier we have a selection of gourmet chocolates ready for you to order for any special occasion. At Iain Burnett Highland Chocolatier our chocolates are made with no alcohol or preservatives.
We have a selection of gourmet chocolates which have been paired perfectly with premier Champagnes and malt whiskies and make a wonderful gift for a loved one who enjoys the taste of fine alcohol and rich chocolate together.
If you would like to order our Sandringham Truffles or any of our gourmet chocolates we would be happy to help you choose a selection which can be ordered for delivery. Get in touch today before the Queen's birthday celebrations are over for another year.