Celebrate National Chocolate Day with Luxury Chocolates
JULY 6TH, 2016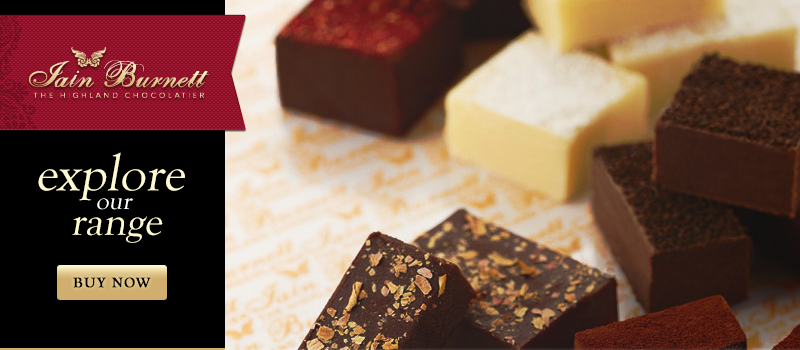 July 7th is National Chocolate Day in the UK and what better way to spend it than with than luxury chocolates from Highland Chocolatier. At our Scottish Chocolatier it is Chocolate Day every day as our small dedicated team of chocolatiers are trained in-house to meticulously hand-craft fresh chocolates.
At Highland Chocolatier we create the finest award-winning artisan chocolates developed by Iain Burnett. Iain is one of Scotland most trained chocolatiers and has worked Master Chocolatiers of the Belgian, Swiss and French nationalities.
Our award winning Velvet Truffle is internationally renowned. This Chocolate Day enjoy the taste of fresh cream truffles and spiced pralines, a recipe which took over 3 years to get just right. We take care to create the best Scottish chocolate and have something for everyone. Here are our top picks for National Chocolate Day.
Boxes of Delicious Luxury Chocolates
At Highland Chocolate we create beautifully boxed individual chocolates. The first modern box of chocolates was made in 1854 and in it was reported that 1868 for the first time a box of chocolates was made in a heart shape for Valentine's Day. Still to this day we celebrate the romance of a heart shaped chocolates with our Romantic Selection. This stunning mix of of 20 beautiful gourmet chocolates is set-off by a red velvet and gold heart shaped box.
Who could resist? Each of our handcrafted chocolates are designed with impeccable attention to detail, from the recipes which take years to perfect. At Highland Chocolatier we want to make every box just as special elegant luxury packaging. Our Velvet Truffles and Spiced Pralines offer an award-winning range of exquisite flavours and textures. We also have a stunning selection of Christmas Chocolate Boxes which would be great for sharing with guests over the festive period.
Decorative Tins of Chocolate
The tradition of chocolate gift giving has also been around since the 1800s and in 1899 Queen Victoria sent chocolate tins to the soldiers that were fighting in the Boer War in South Africa to wish them a Happy New Year going into 1900.
At Highland Chocolatier we stock a range of decorated chocolate tins perfect for any occasion. Our flaked dark Belgian chocolate is perfect for sprinkling on luxurious desserts, for using use in sauces or make real hot chocolate.
Did you know that the first chocolate style drink was not sweet but bitter and spicy? The Mayans created a chocolate drink which they referred to as "foam water". To get the perfect chocolate taste they pour the liquid back and forth, until the drink was extremely rich and frothy. The Mayans recipe was much different from today's hot chocolate recipe and was infused with chili pepper, cinnamon, and vanilla.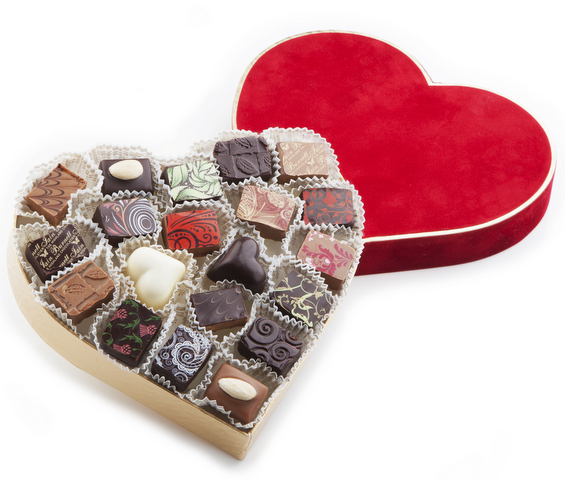 Celebrate with Rich Cocoa
The cocoa bean has been praised as a super food that reduces indigestion and boosts our moods. The celebration of the cocoa bean dates back to ancient times as even the Mayans and Aztecs worshiped its taste.
In 1631, Doctor Antonio Colmenero de Ledesma revealed the book "A Curious Treatise of the Nature and Quality of Chocolate" and not only did he praise the health benefits of chocolate, but revealed the first written chocolate recipe:
"Take one hundred cocoa beans, two chillies, a handful of anise seed and two of vanilla (two pulverized Alexandria roses can be substituted), two drams of cinnamon, one dozen almonds and the same amount of hazelnuts, half a pound of white sugar and enough annatto to give some colour. And there you have the king of chocolates."
At Highland Chocolatier we have deliciously infused chocolates suited to all kinds of pallets. Here is just a selection of flavours we create using the freshest ingredients at our Scottish chocolatier.
Rose & Dark Velvet Truffles
Raspberry and Black Pepper Truffles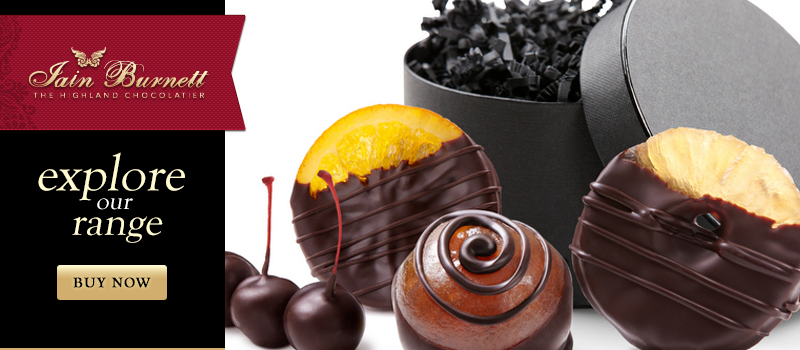 The Ultimate Chocolate Hamper for This Special Occasion
In modern society we celebrate birthdays, Christmas, Easter and special occasions with delicious chocolate hampers. At Highland Chocolatier we have a selection specially picked chocolate hampers which would be great to share this Chocolate Day.
Enjoy the taste of our selection of luxury chocolates that hampers from Scotland make a delightful Christmas gift for the chocolate lover or a treat at any time of year.
Iain Burnett Highland Chocolatier alcohol free hampers are brimming with gourmet artisan chocolate. Chocolate gift baskets of luxury black wicker hampers with leather straps contain gourmet chocolate treats including luxury bars, exquisite boxes of award winning artisan chocolates, decorative tins containing drinking chocolate flakes and packs of traditional favourites dipped in chocolate such as Dipped Cherries, Dipped Fudge, Dipped Nougat and Dipped Turkish Delight. There are four different hamper options to choose from and we are happy to substitute equivalent products on request.
Whatever you are doing this Chocolate Day we hope you enjoy it! At Highland Chocolatier we make luxury chocolates that are perfect for any occasion. We would love to help you with your next celebration, contact us today!