Best-Selling Chocolates From The Highland Chocolatier
MARCH 14TH, 2016
There is not much else that can beat a delicious bite of chocolate, that much we are very certain of. In terms of the most luxurious gourmet experience you can have, the Highland Chocolatier offer some of the very best luxury chocolate gifts in Scotland that you need to try. With an extensive list of available products, it can be hard to find the product that you are looking for. However, we are here to help to make your gift-giving decision that little bit easier.
Among our chocolates, there are some that have proven to become best-sellers. From our delicious chocolate hampers to our exquisite velvet truffles, the Highland Chocolatier have the very best gifts of chocolates by post you could possibly choose from. Need more information? Keep on reading to find out which products our customers cannot get enough of.
The Award Winners Selection Box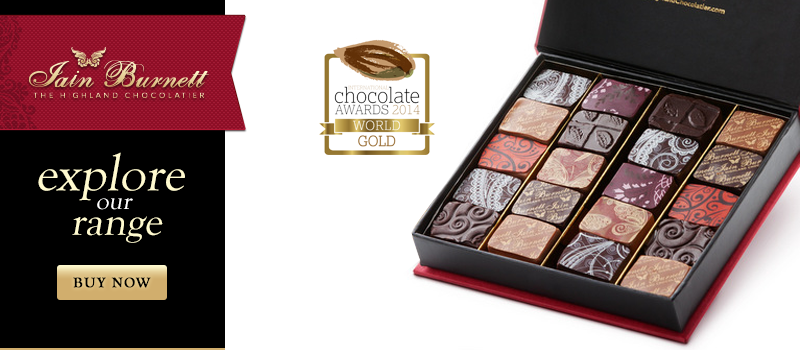 With a name that defines the contents, our Award Winners Box of 20 Chocolates has soared to the top of our customers' list of favourite purchases. Perfect for passing around after a dinner party, or for some private indulgence with a glass of fine malt whisky, this box of 20 hand-crafted and designed chocolates is as visually stunning as it is delightful to eat. You may even feel a little bad tucking in to your first few pieces, but trust us, you'll find them far too moreish to stop!
Featuring some of our award winning chocolates, your box comes with the Scottish Food and Drink Excellence Product of the Year 2013 Award under its beautifully crafted lid. The box contains our dark velvet truffle, milk velvet truffle, lime truffle, raspberry truffle, chai truffle, and rose truffles – to name a few! If you are looking for chocolates by post that will delight your gift receiver, look no further than this award winning selection box of our most favoured treats.
Delightful Chocolate Hampers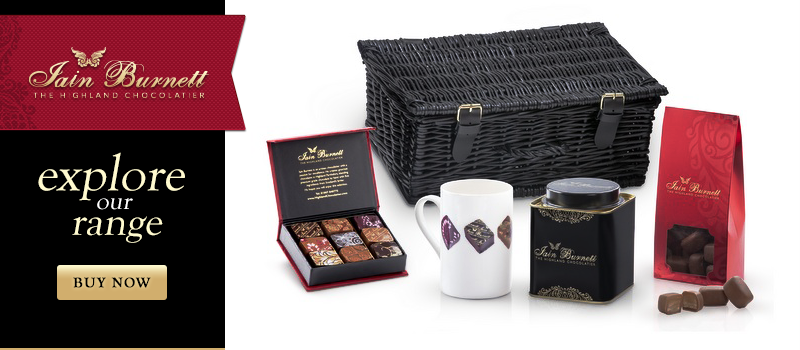 No list of our best sellers would be complete without a mention of our divine selection of the finest chocolate hampers. Each black wicker basket is crafted with beautiful black leather straps, keeping your chocolate goodies contained and hidden away until the last moment. Protected and secure, your chocolate hamper will arrive to give your gift that extra bit of sparkle and light up their day.
Each of our chocolate hampers comes with different contents, and can be altered to suit dietary requirements if needed. We have four different sizes of hamper available: Gourmet, Indulge, Deluxe and Opulence. With contents including dark hot chocolate flakes, chocolate dipped fruits, and our chocolatier's selection box of chocolates in varying sizes, there is something for everyone with these exceptionally crafted chocolate hampers.
The World's Best Chocolate Truffles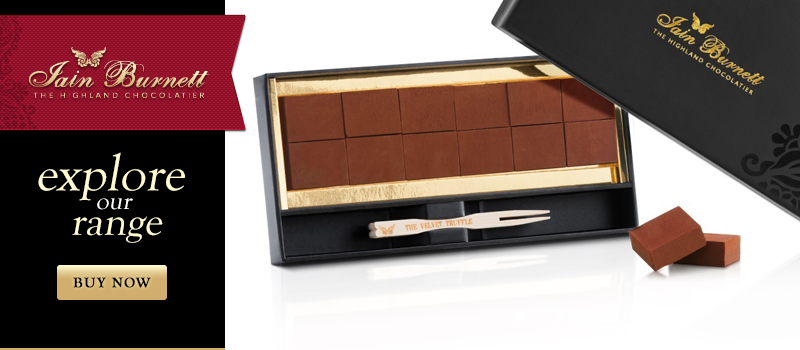 Did you know that the Highland Chocolatier are the holders of the title for the World's Best Dark Chocolate Truffle Award 2015? Our velvet truffles are internationally recognised for their decisively smooth textures, stunning flavours, and luxurious craftsmanship. As Iain Burnett's signature chocolates, you can understand why these are internationally renowned.
The world's best dark chocolate truffle is awarded to our Dark Sao Tome Velvet Truffles. Completely nut and gluten free, they make the perfect gift for everybody to enjoy. With notes of spice and the dark flavours of our single origin Sao Tome dark chocolate, our all-natural velvet truffles simply melt in your mouth and are the perfect accompaniment to an end of dinner cup of tea – or a glass of something stronger, if you wish! These chocolates simply have to be tasted to understand just how exquisite they truly are.
Chocolate Accompaniments for Whisky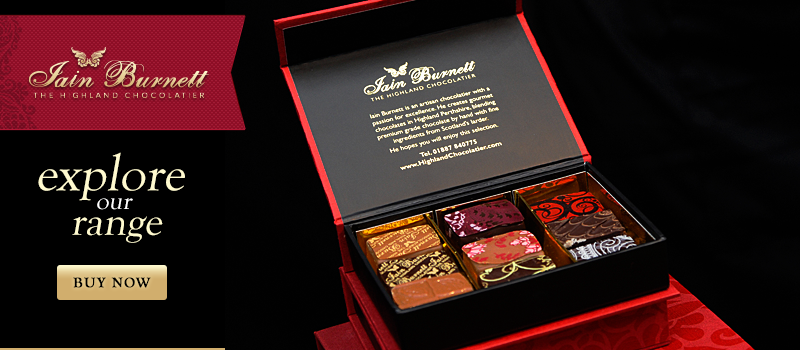 As we are based in Scotland, we are of course privy to the best whisky in the world. With the best whisky in the world in mind, we have formed a selection box of chocolates that suit whisky from across Scotland. No matter your favourite tipple, these chocolates are simply delicious with your glass.
Our whisky tasting box of 20 chocolates is ideal for the whisky lover in your life. Including our award winning velvet truffle, real fruit and spice infused chocolates, and the smoothest pralines all enrobed in the finest dark and milk chocolate, is there anything better to allow yourself to indulge in? This selection has been chosen to pair with the top fifty malts from across Scotland. Sound like the ideal gift? Have your chocolates by post with next day delivery.
Select the Finest Chocolates
Every chocolate crafted at the Highland Chocolatier is made to lovingly fulfil all gift requirements and give you the best gourmet chocolate experience possible. Our most popular choices are just some of the many products we have available that could be the perfect gift, or the ideal treat for yourself. There is never a more appropriate excuse for having a little chocolate for yourself!
Treat yourself and your loved ones to the Highland Chocolatier's gourmet treats today.