April Luxury Chocolate Showers: Gifts for The Family
APRIL 6TH, 2016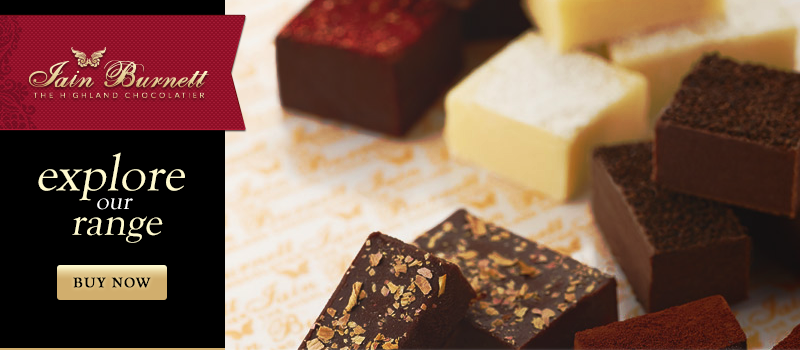 We are now fully underway in the Springtime here at the Highland Chocolatier. The flowers are blooming, colour is returning to the trees, and our delicious range of chocolates are here to make those still slightly chilly evenings just that little bit warmer. Whether you are looking for a delicious luxury chocolate hamper to dig into, or a few bars of your favourite kind of chocolate, we have everything you need to have a warm and pleasant April. Is your Spring snack cupboard stocked up yet? We have just the treats to tempt you with.
A Chocolate Hamper for Everyone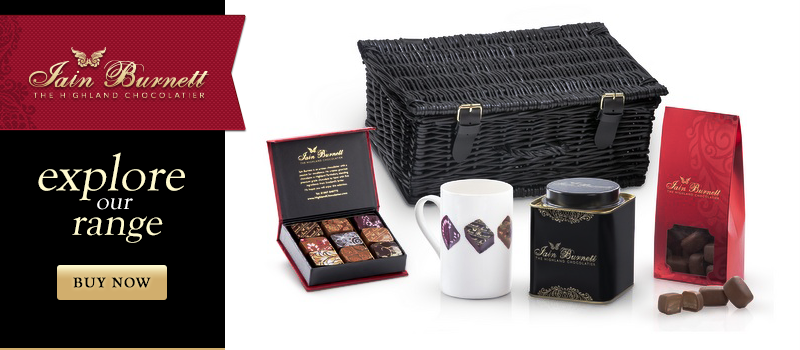 Our chocolates are just too good not to share with the rest of the family. (We won't tell anybody if you sneak a few away just for yourself. Promise!) For the gift that keeps on giving, filled with near-endless treats that can be restocked again and again, choose a luxury chocolate hamper. What is great about our hampers is the black wicker hamper that all of our selection arrives to your door in. Once your chocolates have been enjoyed, simply fill it back up or use it to take for a picnic or road trip with the family!
We have four different sizes of hampers to choose from with our Gourmet, Indulge, Deluxe, and Opulence chocolate hampers all available for purchase online and in our Grandtully shop. The petite option is the Gourmet hamper, which includes a delicious decorative tin of our single origin dark hot chocolate flakes, a Chocolatier's Selection box of 9 individually handmade chocolates, a pack of luxury chocolate dipped fudge, and a special Iain Burnett Highland Chocolatier mug to enjoy your warm drinks in again and again!
The top of our chocolate hamper range features the Opulence hamper, stocked full of some of our favourites, and those of our customers. A truly tantalising array of artisan treats are placed within this black leather-bound hamper. Including a Chocolatier's Chocolate Selection of 48 chocolates, a decorative tin of luxury nougat, a pack of juicy cherries dipped in 70% dark Sao Tome chocolate, and much more, this chocolate hamper is truly the most opulent of all chocolate options. Whether you are looking for gifts for him, her, or for the family to share, our luxury chocolate hampers are the cream of the crop.
Break Off a Piece of Our Chocolate Bars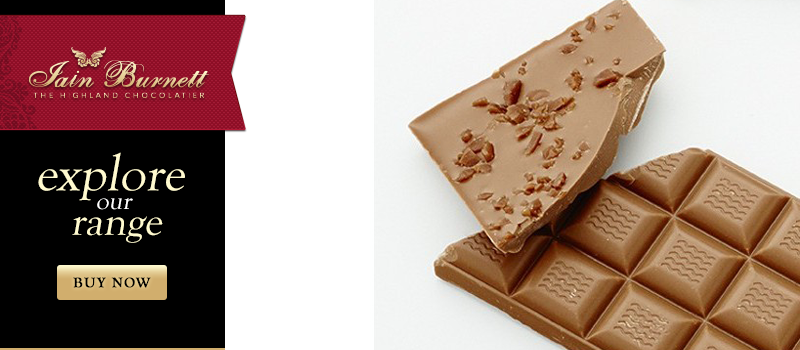 One of the best ways to share chocolate around your family is by buying a chocolate bar. We all have fond memories of sitting together for a family movie night or after-dinner talk, passing around snacks and, of course, there are often chocolate bars. Chocolate is a match made in heaven for a family night in, and at the Highland Chocolatier we have a full range of some of the most delicious and flavoursome luxury chocolate bars on the market.
If your family loves dark chocolate, look no further than our 70% dark Sao Tome chocolate bar. Our single-origin chocolate is full of flavour. Aromatic and floral, this dark chocolate whisks you away to islands full of summer sun and adventure. What is even better about buying this bar is that 10p of every bar is sent directly to Alzheimer Scotland, reaching out to research, treat and prevent Alzheimer disease across Scotland. You can feel warm inside from knowing you have done a great deed while enjoying your chocolate treats.
Looking for something more exciting and different? We also have a range of truly irresistible chocolate bars with flavours beyond your wildest imagination. Our salted toffee bar is made with our delicious caramel-noted milk chocolate, with chewy toffee pieces scattered on top. A few pinches of sea salt added on top really make the flavours burst in your mouth – you have to try it to understand it! For families who are a little on the adventurous and daring side, we also have a bar of our 70% dark chocolate with fiery Chinese root ginger embedded on top of it for a deliciously hot bite. For families who enjoy ginger, this is one chocolate bar you cannot afford to miss.
Boxes of Chocolates to Share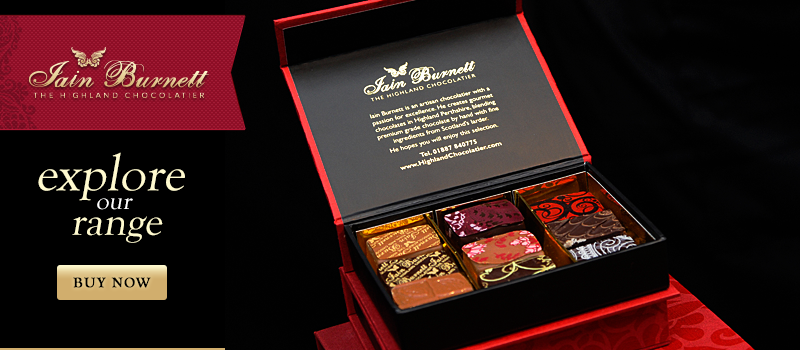 Besides chocolate bars, there is nothing better to pass around the family than a box of everybody's favourite selections of chocolates. At the Highland Chocolatier, we create only the finest and most luxurious chocolates for our customers, using fresh ingredients and locally sourced produce. Your chocolates by post will be delivered the very next day, fresh from our kitchens and straight to your coffee table.
Our chocolates are award-winners, and our best of the best selection is within our Award Winners Selection Box. The box won Scottish Food and Drink Excellence Product of the Year in 2013, and each individual chocolate inside has won its own award too. From our dark velvet truffle, milk velvet truffle, and lime truffle, this box has it all. These 20 delectable chocolates will have the whole family feeling a taste of luxury.
Share with the Family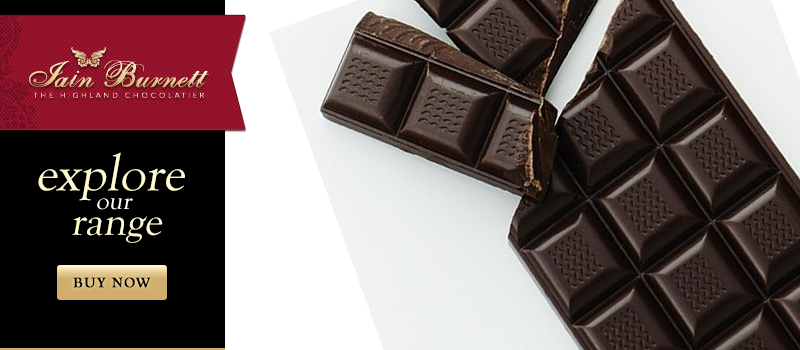 All of our chocolates are suitable to share among friends and family and make the perfect gift for anybody who loves chocolate or simply deserves to be treated to a delicious gourmet treat. We are available to contact for you to find out which chocolates are best for you, so don't hesitate to get in touch. Whether you are looking for a delicious chocolate hamper or some of our smaller sweet treats, we will help find the perfect family gifts for you.