An Exclusive Velvet Truffle to Celebrate the Queen's 90th Birthday
APRIL 12TH, 2016

A special occasion deserves a special chocolate. We're celebrating Her Majesty the Queen's 90th Birthday with an exclusive recipe: Sandringham Velvet Truffle. Having established a professional relationship with Mark Flanagan, the Queen's chef at Buckingham Palace, Iain Burnett Highland Chocolatier is extremely proud and privileged to have been supplied with a small quantity of blackcurrants grown in the Queen's own garden at Sandringham House, Norfolk. This uniquely special ingredient then became the inspiration for a truly exciting recipe.
Iain set to work immediately to create a Velvet Truffle worthy of the occasion and fit to be presented as a birthday gift to the Queen herself. The multi-award winning truffle specialist and maker of the World's Best Dark Chocolate Truffle, combined his skill and expertise to create a classic flavour that he was assured the Queen would enjoy. Having come up with the concept and refined a recipe based on a tangy blackcurrant puree, white chocolate ganache and honey, Iain had the brilliant idea to source ingredients from all four countries of the realm. The resulting Sandringham Velvet Truffle uses fresh Scottish cream from Perthshire, butter from Northern Irish Dales Farms' pastures, wildflower honey from Hilltop Farm in mid-Wales and of course the blackcurrants from England. The distinctive truffles are exquisitely smooth, as you would expect from the Highland Chocolatier kitchen. The ganache is enrobed in single origin Dark Sao Tome couverture chosen to enhance the red fruit notes and each truffle is decorated with a regal emblem. They will be presented to the Queen by her chef, on behalf of Iain Burnett Highland Chocolatier for her birthday.
Iain said, "I'm honoured to develop these truffles from the Queen's own blackcurrants. Discussions with the Queen's chef were an inspiration and great kindness in sharing a personal store from Sandringham made this possible. They are exceptionally full bodied and tangy enough to balance well with fresh cream – even the truffle itself is a vibrant Royal purple! The Queen is already a fan of our chocolate dipped cherries and I hope these will also meet with regal approval!"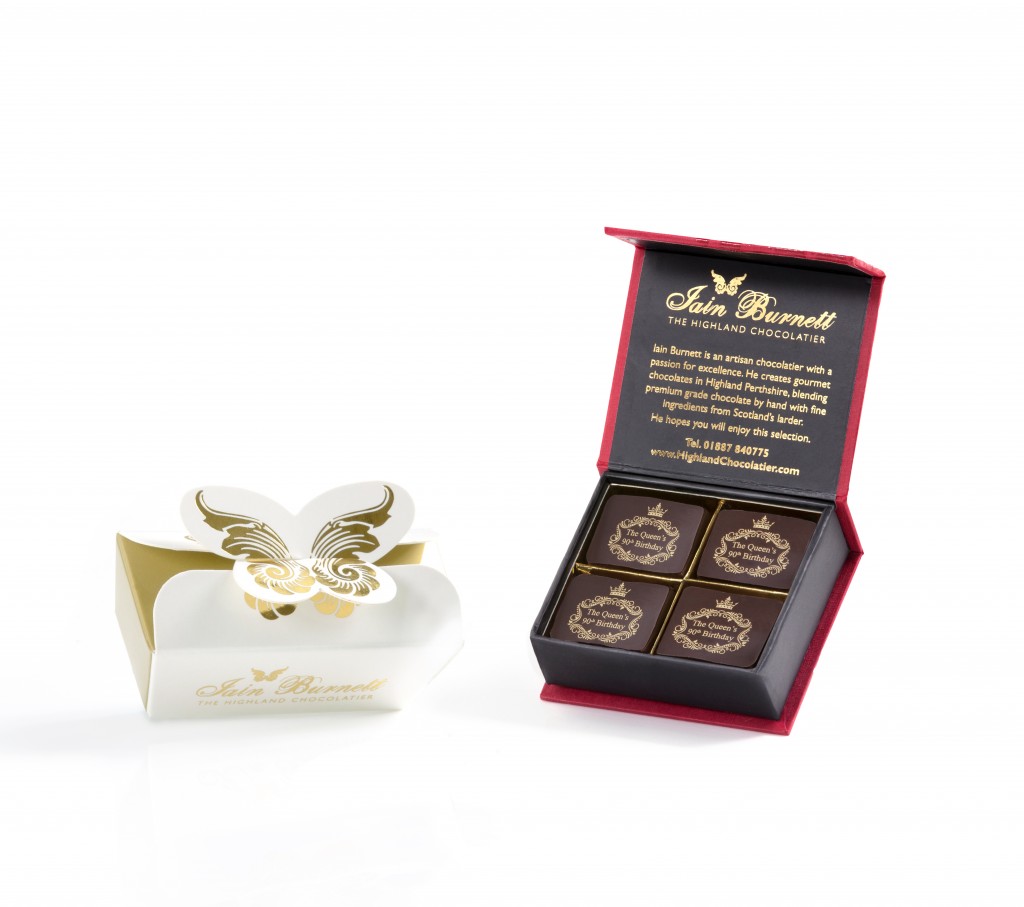 We have created a range of limited edition boxes so that you too can share the taste experience. They are available to pre-order online now for delivery on 21st April, the Queen's 90th birthday and will be available in our shops in Grandtully and St Andrews from 21st April …. for a limited time only. So take a moment of luxury for yourself or treat someone who would really appreciate this prestigious selection. Sandringham Blackcurrant Velvet Truffles are in short supply, so if you would like to share this taste experience don't delay!