All Hallow's Eve 2017
OCTOBER 26TH, 2017
Halloween and Chocolate: A Frightfully Thrilling Mix
Originating as the Celtic festival of Samhain, where Scots would light bonfires and wear costumes to ward off ghosts, Halloween is now inextricably linked with candy and sweets. However, the intoxicating brew of Halloween and chocolate is actually a relatively recent one.
As traditions from various cultures began to mix, Halloween became the one night of the year where pranks would be tolerated, where tricks ranging from playful to ghoulish might ensue.
The more modern form of trick or treating dates back to the 1930s and 40s, when costumed children going door to door would spirit away with a wide variety of treats, ranging from fruits and nuts, to toys and coins.
In the 1950s, spotting a diabolical opportunity to boost candy sales in the autumn season, candy companies cackled at the chance to cast their spell over the holiday, offering an affordable and convenient reward for witches and wizards appearing on doorsteps.
By the 1970s, chocolate and candy was regarded as the official Halloween fare, and today, approximately £1.5 billion of chocolate is sold at Halloween.
Whether you're braving the eerie night, or warlocking your doors and curling up against the cold, Iain wishes you a very Happy Halloween.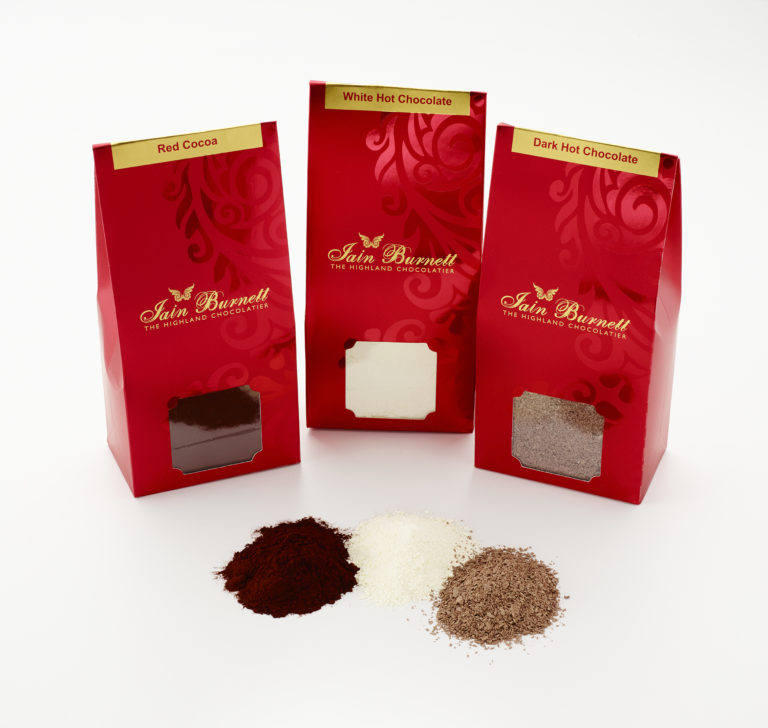 Elements for a Devilish Potion
For the ultimate Halloween hot chocolate, use some of Iain's Dark Hot Chocolate flakes mixed with hot milk.
Add in some chili or cinnamon to taste, and a dash of black food colouring for a bewitching brew.
Or, combine some of Iain's White Hot Chocolate with pumpkin spice mix, if available, or mint.
Stir in some green or orange food colouring for a wickedly warming Halloween treat.